Friends. Foes. Friends again.
September 30, 2011 - 4:03 pm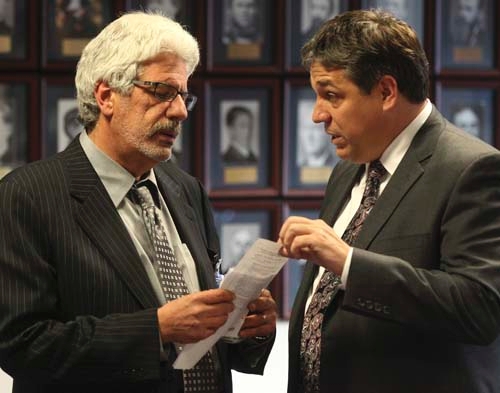 The ups and downs of the relationship between Las Vegas PR titans and onetime business associates Billy Vassiliadis and Sig Rogich were first noted in my Aug. 2, 2007 column about personal and business reasons why they stopped speaking to each other that year.
Both reasons were linked to decisions by then-Gov. Jim Gibbons, decisions based on his loathing of Vassiliadis, who had worked to elect the governor's Democratic opponent, Dina Titus, and never was shy about badmouthing Gibbons.
Gibbons kicked Vassiliadis' wife, Rosemary, deputy director of the Clark County Department of Aviation, off the Nevada Homeland Security Commission, and her husband believes it was payback to him.
Before that, Gibbons decided to take a run at the revenues of the Las Vegas Convention and Visitors Authority, Vassiliadis' biggest client.
At the time, Rogich was advising Gibbons and the Las Vegas Sands honcho Sheldon Adelson, who despised the LVCVA and was happy to see its pocketbook raided to pay for state transportation needs.
Vassiliadis thought Rogich should have done something to prevent both the run on the LVCVA budget and the disrespect to his wife.
Four years ago, Rogich told people that Gibbons' Chief of Staff Mike Dayton was responsible for Rosemary Vassiliadis' removal. Even then, that sounded unbelievable. The young chief of staff was there to carry out Gibbons' wishes, not tell him what to do.
"Sig wasn't correct in saying what he did about me," Dayton said Thursday.
He said he never advocated for Rosemary Vassiliadis' removal, although he was the person who called her, and when she asked why, he answered she served at the governor's pleasure. " I think the world of Rosemary and she should be on the commission," Dayton said. (Governor Brian Sandoval just re-nominated her, as I detail in my Oct. 3 column.)
Dayton remembered that while Rogich was active advising the governor in 2007, "Sig said the governor shouldn't do this."
He speculated that Rogich might have blamed him because at the same time Rogich was urging the governor to appoint Richard Bunker to his 12th term on the Colorado River Commission and Dayton was proposing George Ogilvie III, who was appointed in 2007 and is chairman of the commission.
Rogich relishes his reputation for winning gubernatorial appointments for his clients and friends and one of the reasons he fell out with Gov. Kenny Guinn is that Guinn began rejecting Rogich's recommendations.
Dayton's recollection is that the governor's staff may have come up with the idea to take from the LVCVA, even though the Las Vegas Sands supported the idea enthusiastically.
The plan that passed the Legislature that year would raise $1 billion over 20 years by taking up to $20 million each year from the hotel room tax as well as taking from rental car and property taxes. The $65 million total was expected to service bonds worth $1 billion to help Nevada's roads. And it didn't entail raising taxes by "No Tax" Gibbons.
In fact, Dayton said the Interstate-15 South Design Build Project south of Tropicana Avenue is paid for by that pot of money.
Multiple sources at the time said Vassiliadis thought Rogich should have done something to stop that effort and felt betrayed by his friend, even though Rogich said he had nothing to do with the room tax diversion plan.
Vassiliadis said recently he and Rogich are back on happier terms. "We've been friends a long time, there's too much history, too much crossover, too many common friends. People were getting caught in the middle." They move in the same social and business circles and their coldness was making it uncomfortable for others.
Plus Vassiliadis' personality is not vengeful. "I don't have a memory when I get slighted."
While that's admirable, I'm not that way. I forget the details, but I remember when people lie to me.
Frankly, it's a fairly long list.