Irreplaceable tax maven Carole Vilardo fought for fairness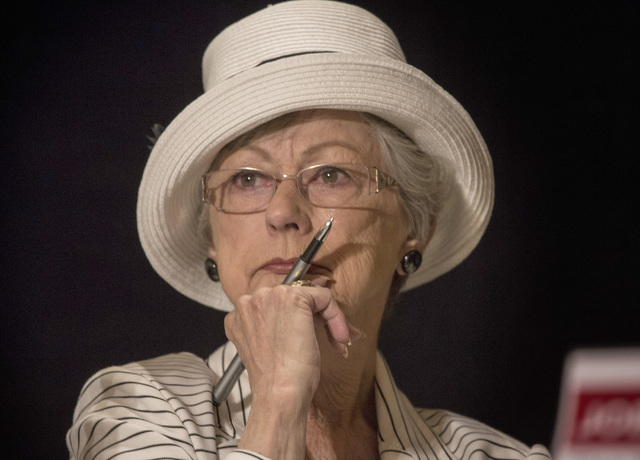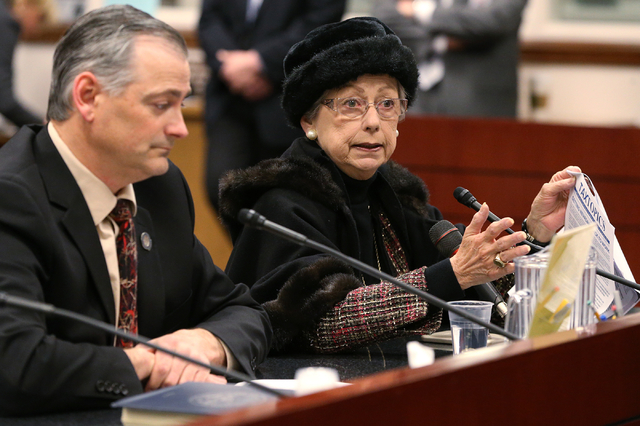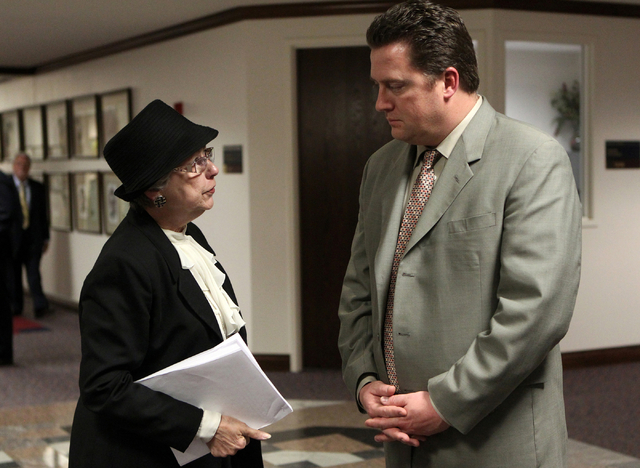 For new Nevada legislators of all parties, it's been a rite of passage to connect with Nevada Taxpayers Association President Carole Vilardo so she could explain the intricacies of the state's ever-shifting tax laws.
She would explain there is no perfect tax, otherwise everyone would have found it. And she knew that there are almost always unintended consequences in any tax bill, often a tax that hurts one group of people and helps another. She was a strong opponent of carving tax exemptions out for one group. And she didn't like taxes earmarked to go to one special need. All those policies created inequities.
Legislators trusted her. The press trusted her. Editorial boards trusted her.
The public benefited from her expertise. Without her as a tax policy watchdog, special interests would have slipped in language for their own benefit.
Vilardo spent her lobbying years for NTA fighting for tax fairness.
She wasn't there to protect the gaming industry, or big business or small business or working stiffs or union bosses. She was there to improve Nevada's tax laws and watch the state's spending.
Last week, following her recent retirement after 30 years with the NTA, Vilardo was honored by a crowd at the Gold Coast that included people who had worked with her for decades, always spotting her from afar with her stylish hats.
Vilardo, 75, the New Yorker who never lost her accent, received lavish accolades from four people, one from the left of the partisan line, Clark County Commissioner Marilyn Kirkpatrick, and three from the right, Rep. Mark Amodei and former senators Ann O'Connell and Randolph Townsend.
Words like "honesty" and "integrity" are not uttered lightly in today's world of politics and lobbying, but were said with sincerity about Vilardo.
Elected to the Assembly in 2004, Kirkpatrick admitted, "I had no idea what I was getting into." The Democrat struck up a friendship with Vilardo because they were both smokers. Plenty of time to talk taxes when you're puffing in the cold of Carson City.
"She was the balance that kept us all together and the state is a much better state because of Carole," Kirkpatrick said.
Vilardo began her career with NTA in 1986, assigned to lobby on issues including taxes, spending and regulating business.
Her greatest skill was her ability to explain complex issues in direct terms. Lawmakers appreciated it, and journalists relied on it. She could examine a few words in a bill and explain how those words had tremendous impact.
When the 2013 Legislature was working a bill to give tax credits to filmmakers in Nevada, Vilardo was blunt. "This is totally open-ended where the laundry list of everything in the world would be open for exemptions," she said.
Vilardo didn't tell lawmakers what to do; she just told them what would happen.
In many ways, she knew more about issues than most elected officials. Need a committee to figure out how to make government more efficient and cut spending? Vilardo served, trying to improve the state, Clark County, even Washoe County. Sometimes the elected officials didn't have the guts to follow the recommendations of these commissions, but Vilardo always knew how one change made a difference, whether the issues were taxes, water funding or transportation funding.
State workers disliked her cost-cutting ideas because she argued that the public employees pensions are unsustainable.
During legislative sessions, Vilardo and O'Connell shared an apartment in Carson City. The two Las Vegas businesswomen first met in 1971 and teamed together to create tougher shoplifting laws. After they succeeded, they worked from 1972-1986 to hold Clark County commissioners more accountable. County staffers were told to "report sightings of Carole or me," O'Connell said.
Vilardo's sister, Ann Marie, who ran the NTA office in Las Vegas, is also retiring and their friends raised $15,000 in private funds to send the duo to New York as their retirement gift. Vilardo was shocked and during the program was so touched she shed tears.
Many thought Vilardo should run for office, but that was never her desire.
Former Republican Sen. Townsend showed praise on Vilardo's lobbying skills. "She had no agenda other than the facts. She didn't donate money or make promises."
She simply explained the ramifications of a bill.
Readers probably think Nevada's tax system stinks, but it would have been far worse without Vilardo and her efforts over the last 30 years.
You may not know her, but count on this, you're going to miss her. Carole Vilardo is simply irreplaceable.
Jane Ann Morrison's column runs Thursdays. Leave messages for her at 702-383-0275 or email jmorrison@reviewjournal.com. Find her on Twitter: @janeannmorrison