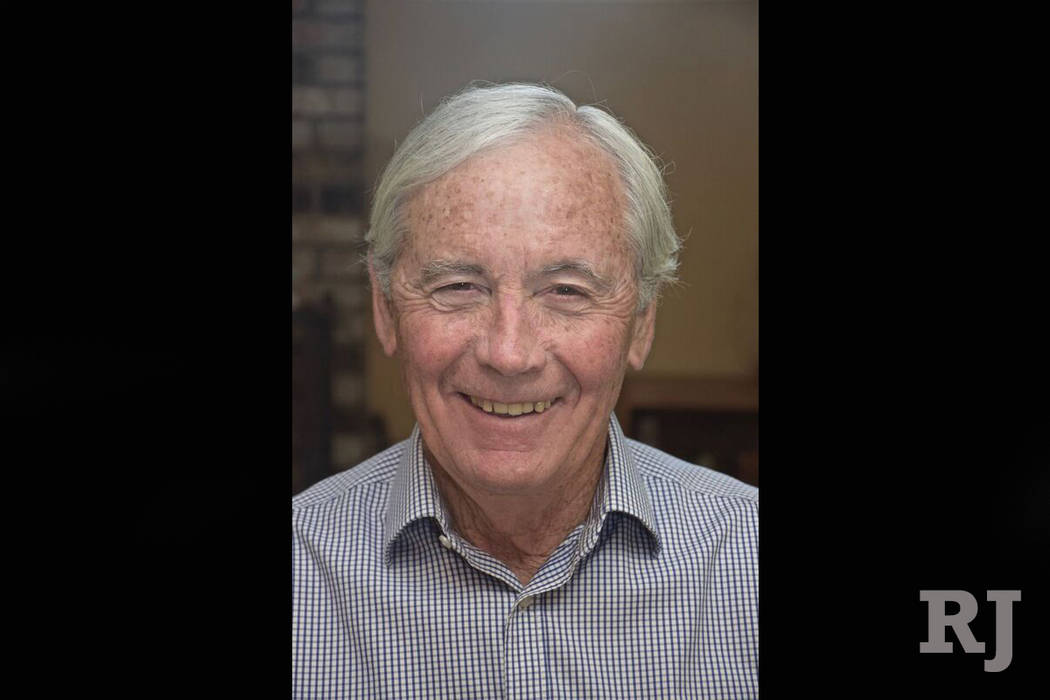 Some historians like to gloss over a city's dark underbelly, where prostitution was rampant, illegal gambling was uncontained, and political corruption allowed crime to flourish. A city with murders and mobsters.
Don't assume I'm talking about Las Vegas.
Nope. It's Vallejo, California, where historians were hesitant to write about the seamy side.
Except for retired journalist Brendan Riley. He remedied that this year by writing the first book about the ugly, vicious yet fascinating side of Vallejo, which parallels the same rough side of Nevada's gambling centers and involves some of the same characters.
The retired reporter who spent 37 of his 39 years with The Associated Press in Carson City, knows his hometown well.
"In its own way it (Vallejo) was rougher than Nevada," Riley said.
Riley, 72, grew up with stories of the wicked ways of lower Georgia Street, and when his job took him to Nevada, he saw parallels between the two areas. Political corruption that allowed illegal acts. Mobsters. Drugs. Hookers. Gambling.
He'd like to see Vallejo create something along the lines of the Mob Museum in Las Vegas and capitalize on its wicked days by taking advantage of its dark history. "I keep chatting it up," he said.
Rilly has already laid the groundwork for such a venture.
His carefully researched book "Lower Georgia Street: California's Forgotten Barbary Coast" details the wild times when two blocks of Georgia Street offered easy access to brothels (known as disorderly houses), bars, drugs, and gambling dens.
The book covered the time period between 1854 to 1996, the period when the Mare Island Naval Shipyard operated just a short boat ride away from a two-block area with more than 100 bars, casinos and whorehouses. It wasn't until the 1960s that redevelopment changed the liberty port's reputation for wild times. Sailors, soldiers and Marines who served in World War I and World War II and workers who built ships didn't need to go 30 miles south to the Barbary Coast in San Francisco when Vallejo was so easy to reach.
One schoolmate shared an experience that never made the papers. Jack Stiltz Jr. told about how his father, Sheriff Jack Stiltz, who tried to reform Lower Georgia Street, went out for a New Year's Eve party with his wife in 1949 or 1950 and was tipped not to go home through the front door because two shooters with machine guns would be waiting for him, intending to kill the couple. They lived and the shooters were captured.
"Dad got the threats because police were closing up all the gambling joints and the prostitution," the son told Riley.
The Kefauver hearings on organized crime in the 1950s sparked a crackdown by the California Crime Commission. A lot of California gamblers moved to Nevada, mainly Reno and Lake Tahoe. Vallejo was even called Little Reno. "The smart guys moved to Nevada, the dumb guys stuck around," Riley said.
Infamous brothel owner Joe Conforte drove a cab in California in the 1950s and said he was inspired to later open the Mustang Ranch outside Reno because when he took fares to Vallejo he got a commission from the whorehouses as well as a fare.
In 1957, Riley's father, Wyman Riley, editor of the Vallejo Times-Herald, called for the demolition of the two-block area calling it "a tawdry, tired, worn-out old harridan, trying to live down her past."
Riley's family home, built in 1898, was five blocks from the disreputable part of Georgia Street. close enough so that his sister and other Vallejo children were warned not to cross the street or enter the bad blocks, the 200 and 100 blocks. His sister told of standing at the corner of the 300 block, running across the street and tapping a toe on the "bad" side of the 200 block.
One of the book's delights is Riley's quoting from newspapers of the era, such as the burning of a brothel, where the San Francisco Chronicle said the site "has been the scene of many disgraceful affairs, so that little regret is felt at its destruction."
The $22.99 paperback published by Arcadia Publishing came out July 31 and is already in its second printing. For autographed copies, Riley can be contacted at genoans@hotmail.com.
Riley has written his first book. I haven't, making it Riley, 1, Morrison, none.
Yes, I am counting.
After all, I know a little something about a wild city.
Jane Ann Morrison's column runs Thursdays in the Nevada section. Contact her at jane@reviewjournal.com or 702-383-0275. Follow @janeannmorrison on Twitter.