Judge tosses insurance company's case against Las Vegas lawyers
Updated July 20, 2017 - 8:20 am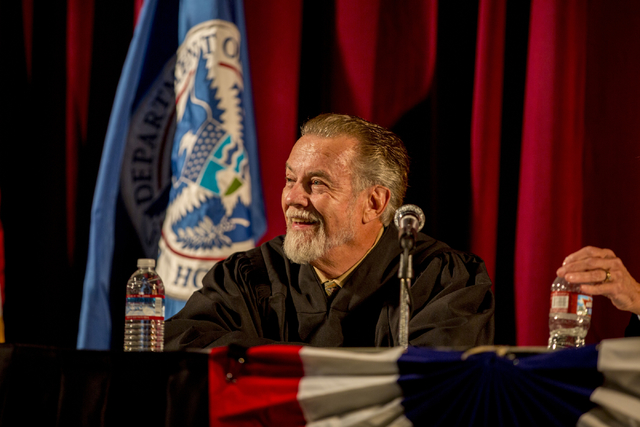 An insurance company that made shocking allegations of racketeering and civil conspiracy against personal injury attorney Dennis Prince and two other local attorneys saw its case crumble when a federal judge tossed it out of court.
U.S. District Judge James Mahan dismissed the lawsuit filed by Century Surety Company, finding it a SLAPP lawsuit.
SLAPP, which stands for strategic lawsuit against public participation, is a civil lawsuit brought against a critic or activist as an intimidation measure.
When I wrote about this buzz-worthy case in the legal community last November, Century had sued Prince, George Ranalli and Sylvia Esparza in federal court claiming they conspired to defraud the insurance company.
These are strong allegations that could damage any attorney's reputation.
This result is positive for Prince and an embarrassing negative for Century because Mahan's July 13 ruling cleared all three attorneys.
"This sends a message to insurers when you are disgruntled because of losses they themselves caused, you cannot retaliate against the opposing party's lawyer," Prince wrote.
Century's local attorney, Marty Kravitz, said no decision has been made on whether to appeal.
The litigation involves state and federal courts.
In 2009, bicyclist Ryan Pretner was hit by a truck driven by Michael Vasquez, owner of Blue Streak Auto Detailing. Medical costs for Pretner's brain damage surpassed $2 million.
Vasquez had two insurance policies. One with Progressive Casualty Insurance Co. had a $100,000 cap to cover the truck as his personal vehicle. The second with Century was a commercial liability garage coverage policy for his business carrying a $1 million cap.
Vasquez told police he was running errands and not on the job, so Progressive paid Pretner $100,000, a pittance really. Ranalli negotiated that settlement in state court.
Meanwhile, Pretner's girlfriend, immigration attorney Esparza, also filed a complaint against Century.
Three weeks before the statute of limitations was to expire, Prince was hired by Pretner's family, replacing Esparza.
Century took the position that Progressive was handling the case and was a no-show in state court. District Judge Douglas Herndon granted a default judgment ordering the insurance company to pay more than $18 million to Pretner.
Prince had written Century's attorney and asked her to contact him because he had legal research to support his position that Vasquez was working at the time and thus covered under the garage coverage policy.
She emailed back that "Century has no coverage for this matter."
"Century was the one that elected to neither defend Vasquez nor Blue Streak in the lawsuit," Mahan wrote in his opinion. "Prince did not and could not 'orchestrate' Century's failure to defend."
The judge decided Century didn't show any racketeering activity or conspiracy among the three lawyers.
On Wednesday, Century argued the same fraud allegations before Judge Herndon, only to see them rejected again. So the $18 million default judgment stands, a massive victory for Prince.
As Ralph Waldo Emerson said, "If you shoot at a king, you must kill him."
In this case, Century took a shot at Prince … and missed.
Jane Ann Morrison's column runs Thursdays in the Nevada section. Contact her at jane@reviewjournal.com or 702-383-0275. Follow @janeannmorrison on Twitter.