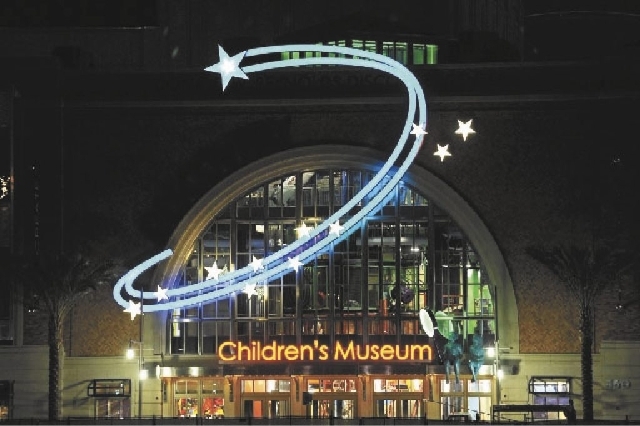 Touring the Discovery Children's Museum with a group of first-graders from Givens Elementary School seemed like a smart idea. I could follow them around, watch their reactions, see what they liked best. It would be a reality-based column.
The reality was Thursday, there were eight schools at the new museum, about 950 elementary students. I lost the first-graders (or they lost me) soon after we left the George Washington traveling exhibit.
That part went smoothly. The Givens Grizzlies were in manageable groups and museum guide Roxanne Fuentes explained things that first-graders would enjoy. Did you know Washington liked pickled herring because it was soft to eat and his wooden teeth could handle it?
The rush to see the George Washington exhibit before it leaves Sunday was one of the reasons the museum was packed with school groups last week. On Wednesday, there had been an estimated 1,800 students there in the morning.
There was one chaperone for every five students — and they desperately tried to keep track of their five, counting countless times during the morning visit. They were exhausted saints by the end of a half-day of screaming, laughing and wailing.
When the museum opened March 9, it was predicted to attract 250,000 visitors the first year. Based on the turnout, museum spokeswoman Denyce Tuller said they're now expected to hit 350,000. In April for example, there were 30,195 visitors. Compare that to the original Lied Discovery Children's Museum, which drew 13,708 last April.
With success comes crowds.
As I left, some sad moms decided it wasn't worth the hassle to take their children inside when it was so crowded.
Tuller said a few weeks ago, the museum began posting on Facebook the high volume times and recommendations of the best times to go. People can also call and ask about overcrowding.
The uncle of 3-year-old Kiley Falco said he worried about older kids who inadvertently pushed and shoved the younger kids. "I worried about her getting knocked over."
My sources of the short kind, including third-grader Steve Cozine, told me the best exhibit was Water World, where the splashing designed to soak everyone nearby also was designed to teach about power from Hoover Dam.
Kiley, asked about her favorite part, was succinct: "I wet."
The screams of delight in Water World are enhanced by the three-story Summit, a place for climbing, sliding, pulling, pushing, crawling and more screaming.
For a break from the frenzy, I checked out Toddler Town, designed for those 5 and under, and met John Bonora, 2, and his mother, Jennifer. "So far we really like it," Jennifer said, keeping her eyes on John and his twin, Andrew. Toddler Town was designed to practice sliding and crawling without competing with older kids.
Other permanent exhibits include Who Dun It, Young at Art, It's Your Choice, Patents Pending, Greenopolis and Fantasy Festival.
The museum is adjacent to The Smith Center for the Performing Arts in Symphony Park.
The normal fee is $12 for those age 1 through 99, but for schoolchildren in Clark County it's $6, plus $2 for the bus. Accommodations are made for at-risk schools.
A second change was made accommodating adults by themselves. Initially, for the protection of children, adults had to be accompanied by a child. That policy changed because adults wanted to see the George Washington exhibit. Adults unaccompanied by children have to leave their identification at the front, but they are allowed in.
Nothing opens without some tweaking. Who would have thought one complaint would be that adults wanted inside the museum?
In the future, I'll try to avoid the crowds, because my biggest worry was poking a child's eye out with my pen.
Fortunately, I didn't even come close.
Jane Ann Morrison's column appears Monday, Thursday and Saturday. Email her at Jane@reviewjournal.com or call 702-383-0275.