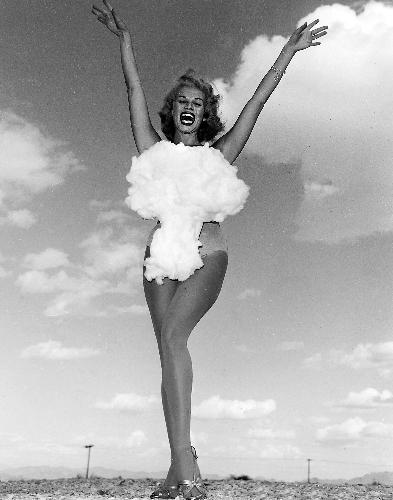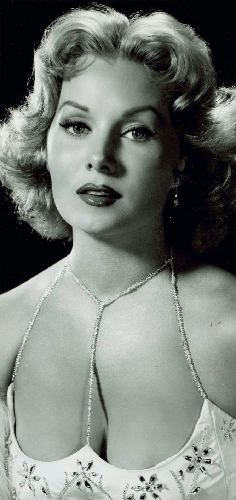 Young Rhonda Fleming was perfect for the photos and stories Las Vegas News Bureau churned out because the movie star was sexy and fun, attributes our city thrived on, then and now.
Like many celebrities, it was to Fleming's advantage to cooperate with News Bureau photographers, whose photos went out all over the world, giving entertainers free publicity while promoting Las Vegas.
"I'm sure the wonderful publicity from their stories and photos helped my career a lot. My favorite, although I'm not sure I saw them all, would be my debut at the Tropicana hotel," Fleming wrote me in an email.
The sultry actress, now 88, made her stage debut at the Tropicana hotel in May 1957, the same year "Gunfight at the O.K. Corral" came out. The redhead was already an established movie star, but this was her well-received singing debut in Las Vegas.
On opening night, "I walked off stage, where I was asked to introduce Sophie Tucker and a few others," she wrote.
Except in the excitement, when she returned on stage, Fleming forgot Tucker's name. So she coughed and whispered to showgirls behind her, "What's her name?" She was saved by the showgirls.
Of course, the Las Vegas News Bureau, celebrating its 65th anniversary this week, was there, and the photos taken that night are among her favorites. Sure they were posed, but newspapers lapped them up. One taken that night shows her in feathers and sequins standing between Eddie Fisher and Debbie Reynolds getting a smooch on both cheeks.
Showcasing celebrities and beautiful women while promoting Las Vegas was the forte of the News Bureau photographers, and they did it with verve and creativity.
Who can forget Miss Atomic Bomb?
Credit News Bureau photographer Don English with that idea. He thought atomic bomb pictures were getting old and was looking for something fresh.
Later, he told Gina Smith, his daughter, that the night before an assignment with the Sands Copa showgirls, he pasted cotton in the shape of a mushroom cloud onto cardboard.
After his assignment, he asked the showgirls: "Who wants to model?" Lee Merlin volunteered, never realizing that would be the shot published for decades to come around the world.
English took her across the street from the Sands, then an empty desert, and attached the cardboard to her swimsuit.
At Wednesday's Las Vegas Chamber of Commerce luncheon celebrating the News Bureau's contributions to Las Vegas history, there will be a photo unveiled of a Las Vegas entertainer re-creating that photo. Her identity is to remain secret until then – although if you're like me, you can guess who it is without too much of a brain strain.
The News Bureau began as a marketing tool by the Las Vegas Chamber of Commerce and in 2006 moved into the Las Vegas Visitors and Convention Authority.
One ploy was to approach tourists and ask where they were from. A big city wasn't of interest to the News Bureau, but a small town was. They would take the photo, send it to the local paper and the photo of the couple vacationing in Las Vegas might inspire others to do the same, explained LVCVA's Vince Alberta.
Decades of photos are in the process of being preserved digitally, an idea first promoted by retired journalist Myram Borders, who headed at the News Bureau for a decade starting in 1992.
Some are displayed in the Nevada State Museum in Las Vegas. Later this year, there will be exhibitions at various sites around Las Vegas, including hotels, libraries and businesses.
Here's a link to the News Bureau exhibition sites and show themes: visitlasvegas.com
The photographers called it "cheesecake art."
Really, it was all about the philosophy that sex sells and about the product placement of celebrities, pretty girls and Las Vegas to close the sale.
Jane Ann Morrison's column appears Monday, Thursday and Saturday. Email her at Jane@reviewjournal.com or call her at (702) 383-0275. She also blogs at lvrj.com/blogs/Morrison.