Stalker's message to Garrett: No comp, no peace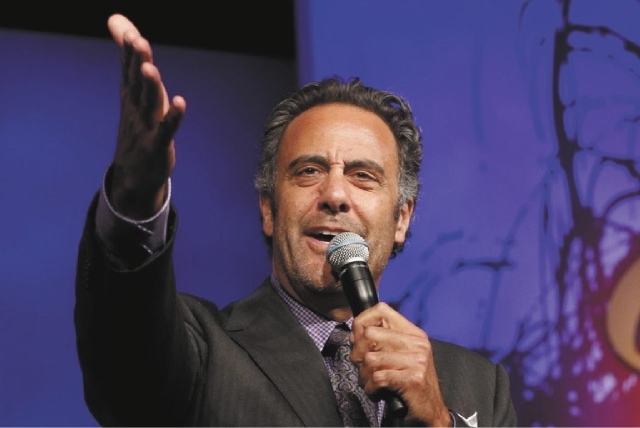 Millionaire slumlord, perennial political candidate and disbarred attorney Michael Schaefer now has another descriptive phrase to front his name — celebrity stalker.
No, he is not suspected of stalking some sexy starlet. He has been stalking and harassing stand-up comic and actor Brad Garrett, one of the stars of the popular "Everybody Loves Raymond."
This is not a joke, although it started like one. The origin? The assistant manager at Brad Garrett's Comedy Club at the MGM Grand refused to comp Schaefer. Really.
Now Garrett, 53, has a 75-year-old male stalker. For real.
Schaefer who has homes in Las Vegas and California and has run for dozens of offices in the two states, has a passion for suing people who annoy him. He is so litigious that Realtors trying to sell units at the Wimbledon Tennis Club Condominiums in Las Vegas "were compelled to disclose to potential buyers that a litigious attorney lived there," according to the Nevada Supreme Court's order disbarring him in 2001.
In 1986, the Los Angeles Times described him as "a millionaire slumlord" ordered to pay $1.8 million to his former tenants for allowing his apartment building "to become overrun with rats, cockroaches, sewage and street gangs."
But he has money and frequents various charitable events in Las Vegas and is perfectly pleasant, as long as you don't cross him.
At the February 2012 black-tie event honoring Muhammad Ali's 70th birthday, Schaefer met Garrett.
Schaefer's version: Garrett asked him to contact David Tyree "the funniest black man in America" about appearing at Garrett's club.
Garrett's version: He never made such a request.
Their conversation was "brief and unremarkable. At no time did I request or accept any effort from Schaefer regarding any aspect of my comedy club including promotion or booking comedians," Garrett wrote in his application for a restraining order last November.
How did it reach a restraining order? Well, Schaefer showed up June 28 and asked for a comp to Garrett's show in July. He was told to buy a ticket. So he wrote a rambling email to the club's assistant general manager, Paul Ames, and explained why he deserved the comp. Schaefer said he was a local entertainment attorney, not disclosing he had been disbarred in Nevada and California. He name-dropped various celebrities he knew.
On July 12, he came to the club and asked for a free seat and again was refused. He said he was humiliated by the refusal. "This case is about face, not about money," he later wrote.
Schaefer's email the next day was distinctly unfriendly. He said he would be suing Garrett's company in small claims court in California for $500 to cover the two hours he spent to reach Tyree.
"In the 1980s I had over 140 LA monthly rentals and had several tenant-related cases and an occasional vendor-related case every month, think I had 100 cases in a two-year period, just part of being in that business, but I find it is a good way to resolve differences," Schaefer wrote.
There was an odd reference to someone with Ames' name who had died, and then Schaefer said he wouldn't sue "if Brad sends someone two miles to pick me up and bring me to the 10 p.m. show, or assure me a ticket and a drink and will drive myself."
In another email, Schaefer wrote it wasn't about the $68 ticket. "It was about status, respect."
In September, Schaefer sued Garrett's company in Los Angeles Superior Court, demanding $500 for his time to reach Tyree. (Schaefer lost that case. Appealed, and lost again.)
On Oct. 27, Schaefer served Garrett the process papers at The Smith Center for the Performing Arts, handing him an envelope that the comic thought might be a chemical attack.
"As a celebrity, I am very concerned about stalkers who seek notoriety by associating themselves with me," he said in his restraining order application. Garrett included information that Schaefer might have a propensity for violence because in 1992 he had a spousal abuse conviction, and in 1998 he was under house arrest for shoving a woman and for pepper-spraying a man.
All this is contained in documents filed in Las Vegas Justice Court.
Justice of the Peace Melissa Saragosa granted a temporary restraining order, then a permanent one, and Schaefer was banned from being closer than 100 feet to Garrett. The order said Schaefer could be arrested for contacting, intimidating, threatening or otherwise interfering with Garrett, Ames or General Manager Joe Sweeney.
She also banned Schaefer from being anywhere in the MGM Grand, where Garrett acts as a good-will ambassador. Schaefer, acting as his own attorney, which he can do despite being disbarred, fought that restriction but lost.
Saragosa's restraining order prohibits Schaefer from filing any future lawsuits against Garrett or his staff without the court's permission.
She's not the first judge to say he can't keep using the courts to file nuisance lawsuits, but Schaefer always finds someone else to sue.
All this could have been avoided with a comp and a free drink.
But Garrett's attorney, Marty Kravitz, said it's wrong to capitulate to someone like Schaefer because it only escalates with more demands.
Instead, the men war on in court with Schafer filing appeal after appeal.
Voters might want to remember Schaefer's background the next time he files for office, although voting for a celebrity stalker would be unusual, even for Southern Nevadans. Unusual, but not impossible.
Jane Ann Morrison's column appears Monday, Thursday and Saturday. Email her at Jane@reviewjournal.com or call her at 702-383-0275.