A new approach to help downtown branch out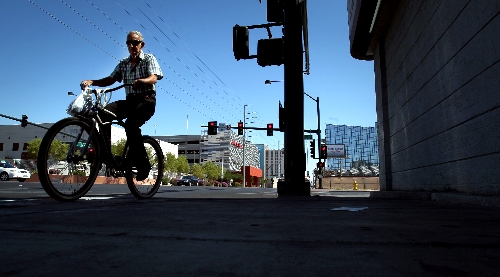 The outdoor retail center in Redding, Calif., was popular until city officials decided the weather was too hot for customers and put a lid on it. The covered cavern of a mall did no favors for downtown business owners.
They shuttered their shops and there the ugly monstrosity sat in the middle of town. For years.
Here in Las Vegas, city leaders decided that covering a portion of Fremont Street and building a canopy that presented energetic light shows at night would draw tourists from the glitz of the Strip to downtown. The Fremont Street Experience has been met with mediocre success.
Then a light bulb went off. Forget expensive structures. How about investing in a tree or two?
Streetscaping has proven to convert once-shabby blocks into attractive locations for business entrepreneurs. Replacing passed out drunks splayed across the sidewalks with trees and shrubbery seems to have done the trick in parts of downtown Las Vegas.
"We had to decide whether to put in the public infrastructure first or do you wait for a private developer to come in," said Jorge Cervantes, director of the city's Public Works Department. "We found that putting in the infrastructure helps motivate private developers."
Back in the early 2000s, the city's focus was on Main Street between Charleston Boulevard and Bonneville Avenue. It was targeted as the best stretch to renovate and turn into a bustling street with bars and restaurants and lofts.
The owners of the Ice House Lounge jumped on it. It was the place to be when it opened in 2004. Its future was bright, with the city promising to raze transient motels and replace cracked and weedy concrete with landscaped sidewalks. That never happened, and the Ice House for years looked out of place.
The location that once seemed like a sure thing for success turned out to be its death knell. The Ice House slowly and painfully melted away.
Who would have guessed that streets like Casino Center Drive and Fremont Street east of the electronic canopy would become the hip place for young crowds to gather? Part of the attraction is narrow streets and landscaped sidewalks.
When I moved to Las Vegas more than a decade ago, a reggae and jazz bar existed just east of the Experience, but few dared to take many more steps east unless they were in search of drugs or a prostitute, or perhaps a knife to the spleen.
The city is working with the Regional Transportation Commission to turn major downtown streets into "complete streets," which accommodate residents who use every mode of transportation. The wider sidewalks with streets make for a safer, cooler walk. The one-lane roads slow vehicles, which is great because motorists who want to drive like they are on a freeway have plenty of Las Vegas arterials to do so – police call Nellis Boulevard "Nellis Highway."
The commission's focus has been on bicycles. You can't help but notice the bright green streak down Bonneville, which is designated for cyclists.
"Promoting complete street projects can help reduce traffic congestion, improve air quality and improve the quality of life of Southern Nevadans by providing safe, comfortable routes for walking, bicycling and accessing public transportation," according to an RTC report.
More work is needed on Bonneville and Clark, which are being converted into one-way streets. Cervantes said that one-way streets allow the city to narrow the roads and slow down traffic, making the neighborhood more inviting to pedestrians.
The question remains, will it be inviting to new businesses?
That has yet to be determined.
The Regional Transportation Commission's designated bus lanes, accompanying streetscaping and its new Bonneville Transit Center have made Casino Center Drive one of the most attractive roads downtown. Yet the only occupants along the street are bail bond offices and empty lots.
Cervantes said he envisions mixed-use on Casino Center Drive, meaning retail shops on the first level and three or four stories of condominiums.
Fremont Street has a way to go, but even by adding the old Vegas signs in the median and a handful of palm trees on the sidewalks, the stretch has become a popular and fun nightlife spot.
The city and the commission are not done yet, characterizing the projects as a work in progress. They believe if you make streets more attractive, businesses will move in, and so will people. Eventually, it will become a center where we can enjoy a walk to a coffee shop.
Its sights are now set on First Street, Hoover Avenue, Gass Avenue, Garces Avenue, Ogden Avenue and Sixth Street.
And you know, Main Street is back on the map. Cervantes said there are plans to make Main a one-way road headed north and Commerce Avenue a one-way street headed south.
"We're going to dress up that corridor to make it that kind of use for bars and restaurants along with the art studios," Cervantes said. "There are a lot of retail opportunities.
The city of Las Vegas recently opened its new City Hall just a few blocks away, which will likely spark the development.
Look at the Clark County Government Center. Once in the middle of nowhere on a wide, bland street, it now sits on one of the transportation agencies express lines on a road dotted with palms, flowers and shrubs. It was attractive enough to lure the Cleveland Clinic Lou Ruvo Center for Brain Health and more important, The Smith Center.
With Zappos moving into the old City Hall, anything can happen. But government officials have caught on. It doesn't necessarily take a capital project to generate growth and a community feeling. Sometimes you just need to plant a tree or two.
If you have a question, tip or tirade, call Adrienne Packer at 702-387-2904, or send an email to roadwarrior@reviewjournal.com. Include your phone number. Also, you can follow her on Twitter @RJ_RoadWarrior.
• Expect additional traffic on Interstate 15 tonight and Monday morning with the Electric Daisy Carnival wrapping up at the Las Vegas Motor Speedway. The festival runs from sundown until sunrise.
• Through Monday, expect lane restrictions on Lamb Boulevard between Razon Avenue and Heller Drive as crews work on a sewer rehabilitation project. Construction hours are 9 p.m. to 5 a.m. Monday through Friday. No left turns will be permitted throughout the work zone.
• Through June 15, expect delays on Alexander Road between Puebla Street and Lamb Boulevard for a sewer rehabilitation project. Work hours are from 7:30 a.m. to 3:30 p.m. Monday through Friday. Left turns will not be permitted throughout the work zone.
• Through June 15, expect disruptions on Rainbow Boulevard between Alexander and Craig roads.
• Through July 2, expect delays on Valley View Boulevard between U.S. Highway 95 and Desert Inn Road.
GASOLINE PRICES
The average price of gasoline in the Las Vegas Valley on Friday was $3.76 per gallon; the current state average is $3.82; the national average is $3.58.
LAS VEGAS REVIEW-JOURNAL