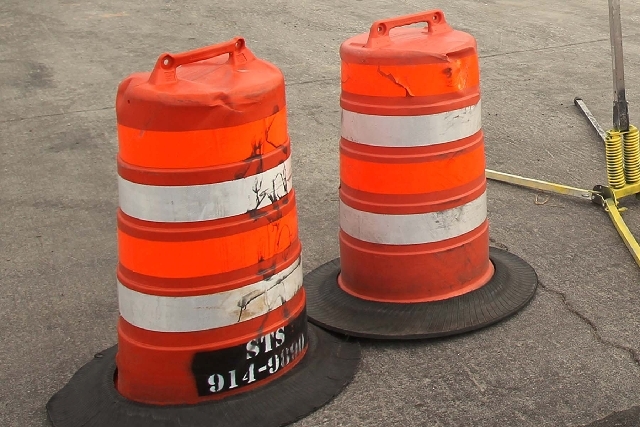 Bad things happen all the time. Murder and mayhem, chaos on the roads, cheating politicians and terrible fires, all fueling that sense of dread you get when you start to think about it all.
Which is why it's easier not to think about the terrible things and focus, instead, on the mildly annoying stuff we encounter every day.
There are reminders everywhere.
Road construction, for example.
■ ■ ■
There's some good news on the road construction front, but it will be followed very quickly by bad news. Ready?
The new bridge at Bradley Road over the northern Las Vegas Beltway opened Friday afternoon. There used to be a traffic signal there, like there are all up and down that stretch of what will one day, Lord willing, be a real freeway.
Workers began building the bridge in April 2012, which closed Bradley.
Now Jones Boulevard just up the block is about to get torn up. Construction will ramp up there beginning at 6 a.m. Tuesday. The road will be down to one lane for the next six to eight weeks as crews work on flood control improvements.
This is all part of a $116 million project that eventually will include turning the intersections at both Jones and Decatur boulevards into full freeway interchanges. It's all supposed to be done in the summer of 2014.
Until then, beware the constant reminders.
■ ■ ■
Also, bikes. Beware of them, I mean.
Mike wrote in noting that new bike lanes are popping up around town. He had a couple questions. First, can cars enter the bike lane where the line is dotted? Also, are bicycle riders supposed to ride on the sidewalks and use the crosswalk, like pedestrians?
I called Sgt. Todd Raybuck with the Las Vegas police traffic bureau.
Yes, he said, cars can get into the bike lane where it's a dotted line. That's what it's for, so cars can move over to the right to make a right turn.
Bicyclists are not required to use the bike lanes, but it's a good idea.
If bicyclists use the roadway, they are required to follow the same rules as other vehicles. They must stop at the stop signs, signal their turns, all of that stuff.
They are allowed to ride on the sidewalk, and they are allowed to ride in the crosswalks. But Raybuck suggested that it probably is a good idea to walk your bike across the crosswalk so you can get out of the way quicker if a car tries to run you over.
That ain't right, of course, the trying to run you over thing. But it happens. It's one more reminder of the crazy.
■ ■ ■
Arnold sent in this softball: "Where do the hundreds of black marks come from on the freeway barriers, sides and center?"
These marks are made by bad drivers, Arnold. I'm going to call them the result of "serendopety," defined as accidental good luck brought about by idiots.
Damon Hodge from the Nevada Department of Transportation put it a little more formally: "The cause of those marks are tires and fenders, the result of scrapes and brushes with the barriers," he wrote in an email.
I asked if NDOT ever cleaned them up. "We do clean them," he wrote, "but it's somewhat infrequent since the marks are cosmetic blemishes."
Those marks are effective, though. They shouldn't be cleaned up. We're lucky they're out there. They serve as reminders to the rest of us of how many people screw up and crash into the wall.
Got a transportation question, comment or gripe? Ship it off to roadwarrior
@reviewjournal.com. Follow the Road Warrior on Twitter @RJroadwarrior.
■ U.S. Highway 95 will be closed in Needles, Calif., from 6 p.m. Tuesday through 6 a.m. Wednesday, and 6 p.m. Wednesday through 6 a.m. Thursday for railroad work. Drivers should follow the detour signs.
■ Fort Apache Road will be closed at Elkhorn Road Monday through June 13 for road rebuilding.
■ Flamingo Road from Wynn Road to Decatur Boulevard will have lane restrictions during daytime hours through Tuesday for field survey work.
■ Decatur Boulevard from Harmon Avenue to just north of Flamingo Road will have lane restrictions during daytime hours through July 31 for sewer rehabilitation work.
■ Desert Inn Road from Jones Boulevard to Bronco Street, the westbound lanes will be restricted from 7 a.m. to 3 p.m. through at least Tuesday for sewer work.
■ Washington Avenue between Las Vegas Boulevard and Bruce Street will be disrupted Tuesdays through Fridays during the day through May 24 for median work.
■ Stewart Avenue between Las Vegas Boulevard and Main Street, street disruptions through June 15 for streetscape improvements.
■ The intersection of Desert Foothills Drive and Alta Drive will be closed through August 2014 for rebuilding.
■ Vegas Drive between Rancho Drive and Jones Boulevard will have lane restrictions through January for street improvements.
■ Jones Boulevard, from U.S. Highway 95 to Sahara Avenue, has delays through June 1 for widening.
■ Valley View Boulevard from U.S. Highway 95 to Desert Inn Road has delays through June 30 for road widening.
■ Bonneville and Clark avenues between Las Vegas Boulevard and Maryland Parkway have lane restrictions through January for street improvements.
GASOLINE PRICES
The average price of gasoline Friday in the Las Vegas Valley was $3.42 per gallon; the state average was $3.51; the national average was $3.57. The national average is up 6 cents from a week ago, down 1 cent from a month ago and down 27 cents from a year ago.
Las Vegas Review-Journal