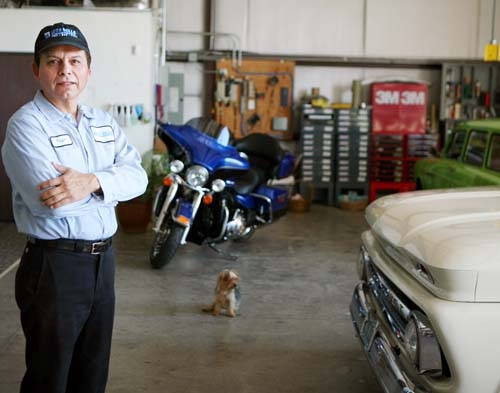 It's sort of funny when you see a bird poop on someone else's head. It's not as funny when birds poop on a vehicle and you learn those tiny but timely bowel movements can potentially cost the owner upwards of a grand.
Say, for example, someone purchased a pretty sleek-looking black Honda. Birds bombed it so frequently that the paint quickly vanished. Faded white splotches and exposed metal became the vehicle owner's personal advertising wrap. This isn't for Red Bull or Nextel. The pitch here is: You live in Las Vegas — wash and wax the dang car.
Obviously my first questionable move was buying a black car while residing in the Mojave Desert. The second wave of poor judgment came when I didn't quickly remove the bird poop or wax the black car in the desert. But there are others as guilty. Look around and see the peeling paint on some otherwise decent-looking vehicles.
And according to Hugo Gomez, our little indiscretions are now likely to cost us $1,000 at the very least. Sure, there are shops all over town that will slap a fresh coat of paint on a vehicle for $500, but Gomez, owner of Auto Bello Collision, said the new appearance will last one year tops.
"Anybody who paints a car for under $1,000 is not using quality paints, call it Mickey Mouse brands," Gomez said. "People need to do their homework and investigate more about the materials. Ask the person the name brand."
Gomez went on to say that urethane, not synthetic clear coats, are the only way to go. Anything else is going to fade or peel within a year or two. Urethane paint jobs can last up to a decade.
Browse the Internet and there are plenty of vehicle owners demanding that the manufacturer repaint their cars for free or complain that a recall should have been in order. It is frustrating to watch the paint job on a $20,000-plus car vanish in a year. But it's difficult to find one story in which the manufacturer agreed to slap on a complimentary coat of paint.
Shockingly, or maybe not, Gomez said some manufacturers actually know when the paint job is faulty. It's not unusual for some piece of equipment to malfunction on the production line. If the clear coat isn't applied at the appropriate time and instead is sprayed on when the paint has dried, expect peeling.
Of course, how are you to know? Well, you don't.
Gomez said the most common make of vehicles he sees pull into his shop are Chevys, Dodges and Chryslers — although less so, he said, since the company merged with Mercedes-Benz.
Las Vegas provides perfect conditions for a lot of things — partying, gambling, escaping arrest — and unfortunately the oxidation of paint.
When the sun beats down on the paint and the temperature reaches 110 degrees consistently, the heat eats at the clear coat. Add the wind and dirt that flies off undeveloped desert land, and you get scratches, which only accelerates the erosion of the clear coat and paint. But wait there's more — Gomez said airplanes taking off and landing so close to the city contribute to the pollutants that also eat at our vehicles. And the topper? Bird poop. It's acidic and chews away at all layers of paint in no time.
If you think that the paint is oxidizing in weird places that don't necessarily tend to be exposed to the sun, take a look at where you are parking. The morning or late afternoon light might be hitting the car in places you've never noticed.
So what can we do to prevent it from happening? Park in a garage and in the shade. Besides that?
In this city it's important to wax your car or have it detailed at least twice a year. One solid wax job should last three months, protecting the vehicle from sun, dirt, birds and the grime that kicks up from the freeways. If waxing the entire car is too time-consuming, Gomez said consider waxing sections of the car over a few days.
And you know when you go to the dealership and the car sales person asks if you'd be interested in paying an extra $800 to protect your car from the hot desert climate? That's a ploy. Gomez, a former car salesman, and other auto body technicians agreed. There is really nothing more the dealership shop applies to your vehicle than what comes in a $10 tub of wax at the auto store.
"Don't buy it; it's a sales pitch. You might sound like you're going against the car dealers, but they're not doing anything," Gomez said. "The only thing they can do is put a coat of wax on it."
Of course it is far more unusual to see paint disappear on luxury cars like BMWs or Lexuses, and that is because the manufacturer puts a higher quality paint on the vehicles and tops it with five clear coats. Other vehicles, probably the type that most of us own, have two coats, and therefore are more vulnerable to the extreme conditions.
Because Gomez was the only one of several auto body technicians who agreed to help with these tips, we'll give him a plug: His prices might be a bit steeper than others, but he offers a lifetime warranty and even picks up and drops off the vehicle. And, yes, his only favor was assisting with the information. My car's still a bird victim.
If you have a question, tip or tirade, call Adrienne Packer at 702-387-2904, or send an email to roadwarrior
@reviewjournal.com. Include your phone number.
■ Interstate 15 between Tropicana Avenue and the Spaghetti Bowl will remain congested today as crews work on the southbound lanes. By Monday morning, the freeway is expected to be fully open.
■ For the next two months, expect lane restrictions on Torrey Pines Drive between U.S. Highway 95 and Cheyenne Avenue as Torrey Pines is resurfaced.
■ Through March, Elkhorn Road will be closed to through traffic between Torrey Pines Drive and Jones Boulevard for a storm drainage improvement project. Construction hours are from 7 a.m. to 6 p.m. weekdays.
■ For the next six weeks, lane restrictions will be in effect 24 hours a day on Rainbow Boulevard. It will be reduced to one lane between Gowan Road and Red Coach Avenue while crews repave the street. Alternate routes include Tenaya Way and Rancho Drive.
■ For the next two weeks, expect delays on Ann Road between Durango Drive and Centennial Center Boulevard for resurfacing work.
■ Through February, expect delays on Sandhill Road at Greenbriar Townhouse Way as a new sewer line is installed. Round-the-clock lane restrictions will be in effect on Sandhill and Greenbriar.
GASOLINE PRICES
The average price of gasoline in the Las Vegas Valley on Friday was $3.54 per gallon; the current state average is $3.58; the national average is $3.42. Find the Las Vegas Valley's best deals at gasbuddy.com.