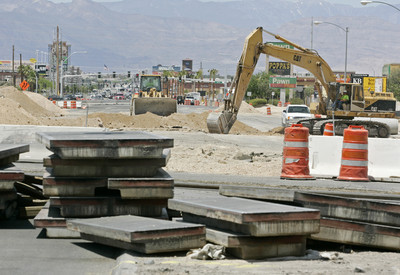 This week readers want to know about construction on Craig Road at the Union Pacific railroad tracks, how long the construction on the Far Hills Avenue overpass will last, and whether passengers in the backseat of a car have to wear a seat belt.
Bob asks: When will the construction of the Craig Road overpass over the railroad tracks near Interstate 15 be finished?
Bob, you and other motorists can expect a headache at Craig Road and I-15 through next summer. That's when the $34 million project should be finished.
But when it is done, folks who have to travel Craig Road on a regular basis won't have to sit and wait for the Union Pacific trains to pass before continuing on their journeys.
The project has been fairly disruptive to drivers and, of late, it's been getting worse.
The Nevada Department of Transportation announced that the southbound offramp from I-15 to Craig will be closed through mid-August.
Drivers can probably expect a lot more lane restrictions and closures in the coming weeks, as the Transportation Department also reconstructs the Craig Road overpass over I-15.
To avoid the construction and traffic, I recommend making your way down Losee Road to the Cheyenne Avenue interchange with I-15.
Generally it's not too bad, except in the morning when you have to compete with a number of 18-wheelers leaving the Flying J truck stop.
A reader asks: Do you have any information on the closure on Far Hills at the Las Vegas Beltway? I suspect it will be a while as they work on the underpass. There is a sign that says it will be closed, but no dates or length of time.
I have to say this is the nicest of the messages I've received about the work on the Far Hills project that recently got under way. Most of the other messages are laden with lots of exclamation points and unsavory words.
Officials held a groundbreaking ceremony in May marking the start of one of the largest interchange projects in the valley. The project will create new interchanges at Far Hills and the Summerlin Parkway, as well as improve the Beltway between Charleston Boulevard and the Summerlin Parkway.
When the nearly $60 million project is complete, motorists will no longer have to wait at a traffic light in that area that has been the cause of much consternation.
This news is sure to make many people happy, but I suspect I won't hear about the happiness until the project is complete, 18 months from now.
While the work is going on, motorists can expect a lot of around-the-clock construction.
Joanne asks: Do passengers riding in the back seat of a car have to wear a seat belt?
Only if you want to live — just kidding.
State law is pretty specific. Nevada Revised Statute 484.641 states, "Any person driving, and any passenger who: is 6 years of age or older or weighs more than 60 pounds, regardless of age, (others would have to be in a child seat), who rides in the front or (that's the key word) back seat of any vehicle … on any highway, road or street in this state shall wear a safety belt if one is available for his seating position."
The statute goes on to state that any passenger who fails to obey the law shall be issued a citation.
But the real kicker to this law is that the violation of not wearing a seat belt is not one that law enforcement can pull you over for.
Seat belt violations are considered a secondary offense in Nevada and officers must have pulled you over for another reason before they can cite you for not wearing one.
Unfortunately, some of the folks who don't wear seat belts have died in crashes before an officer could cite them for not following the law.
I will be one of many folks in this state who will be watching next year's legislative session to see whether the seat belt violation is changed from a secondary to a primary offense.
Contact reporter Francis McCabe at fmccabe@reviewjournal.com or 702-387-2904.
The Nevada Department of Transportation announced the following road maintenance activities that will hinder traffic: The right lane of U.S. Highway 95 north, between the onramp to Interstate 15 north and Martin Luther King Boulevard will be closed from 10 p.m. Thursday to 5 a.m. Friday for guardrail repairs. The right lane of U.S. 95 north, between College and Horizon drives, will be closed from 10 p.m. Saturday and 5 a.m. Sunday for guardrail repairs. The Las Vegas public works office announced new traffic signals will begin operation this morning on Oakey Boulevard, between Durango Drive and Rainbow Boulevard. The new signals are part of an improvement project along two miles of Oakey. Drivers should watch for traffic disruptions and road closures near Ann Road and Durango Drive in the northwest valley beginning Monday because of a storm drainage improvement project, the Las Vegas Public Works Department announced. Construction will affect Tropical Parkway and El Campo Grande Avenue, east of Durango; Butler Street between Tropical and El Campo Grande; and on Corbett Street, east of Butler.