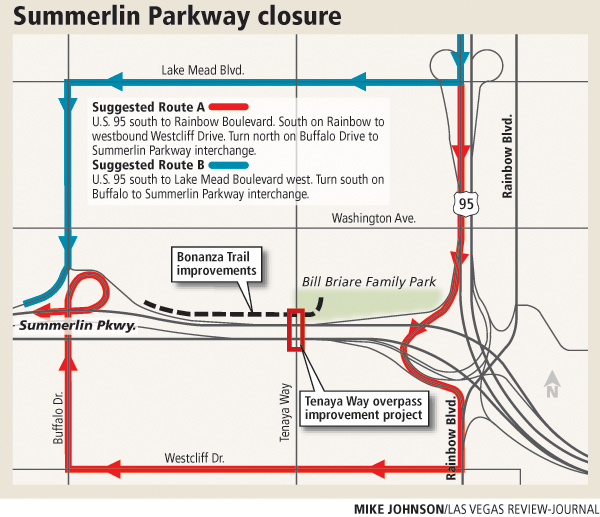 This week, readers want to know about the construction on Industrial Road under Interstate 15, and when the Cheyenne Avenue onramp to northbound I-15 will open. Also, the Road Warrior anticipates a question readers will be asking next week. And at least one driver seems to extend a kind greeting to law enforcement officers via a personalized plate.
Russ Morgan asks: I have been using Industrial Road to Dean Martin Drive to get from my job downtown to my home in Silverado Ranch since Interstate 15 has been under construction. As I drove down the street recently, there were giant concrete barriers stacked in the southbound lanes, and the southbound traffic was diverted into some of the northbound lanes, creating a bottleneck that stretched back beyond Fashion Show mall. Is this going to be a semi-permanent road closure?
Expect similar inconveniences well into July, at least.
The Nevada Department of Transportation is filling in the Interstate 15 overpass at Industrial Road for the $21 million express lane project, said spokesman Bob McKenzie.
The work will move to the northbound lanes of Industrial on July 1, McKenzie said. Once that happens, the northbound lanes will be closed, and northbound and southbound traffic will divert onto the southbound lanes.
The closure of the northbound lanes is expected to last about two weeks.
The I-15 Express Lane project is expected to finish in September. Once complete, I-15 will be widened from eight to 10 lanes from Sahara Avenue to Interstate 215, with the two most center lanes in each direction being express lanes.
A reader asks: When will the Cheyenne Avenue onramp to northbound I-15 open?
The onramp is supposed to open after July 22, according to the Nevada Department of Transportation. It has been closed for the past few months as part of the ongoing $240 million I-15 north widening project.
Leading up to that opening, all I-15 north motorists should be aware that from 9 p.m. to 5 a.m. July 19 through July 22 there will be major lane shifts on I-15 between Washington Avenue and Craig Road.
I predict I'll be asked this question a number of times next week: Why the heck is the ramp from U.S. Highway 95 south to Summerlin Parkway closed?
The closure will begin Monday and will continue for three months, the Las Vegas Public Works Department announced.
The reason: safety concerns as a result of the continuing construction of the $7.9 million Tenaya Way overpass.
The folks at public works suggested as an alternative route that motorists exit U.S. 95 south at Rainbow Boulevard.
Motorists should head south on Rainbow and then west on Westcliff Drive.
Finally, turn north on Buffalo Drive and go to the Summerlin Parkway interchange.
There are other alternatives.
Try taking U.S. 95 south to Lake Mead Boulevard west. Then turn south on Buffalo to the Summerlin Parkway interchange.
The main part of the project is the overpass, but it also will include improvements to Tenaya Way from Westcliff to Washington Avenue.
Work on the project began in January and is supposed to finish in October.
HIT N' RUN
Brian of Henderson on Saturday spotted this license plate on a shiny black Ford Mustang in the Fry's parking lot off Las Vegas Boulevard: HIOFSER.
If you have a question, tip or tirade, call Francis McCabe at (702) 387-2904, or send an e-mail to roadwarrior@reviewjournal.com. Please include your phone number.
The Nevada Department of Transportation announced the following updates to the Interstate 15 north widening project:
• Bonanza Road at Interstate 15 will be closed from 9 p.m. Friday to 5 a.m. Saturday and from 9 p.m. July 14 to 5 a.m. July 15 for a bridge pour.
• D Street at Interstate 15 will be closed from 9 p.m. July 1 through 5 a.m. July 2 for girder placement.
• Washington Avenue at Interstate 15 will be closed in each direction from 9 p.m. July 8 to 5 a.m. July 9 for a deck pour.
Motorists should expect lane restrictions on Lorenzi Street, between Alta and Westcliff drives, and on Jones Boulevard, between Evergreen Avenue and Borden Circle, because of an $8.7 million flood control project. Construction also will occur on Alta, between Easy Street and Decatur Boulevard, and on Evergreen, between Easy and Digger streets. The project will take about a year to finish. Lane restrictions and some road closures also can be expected.
LAS VEGAS REVIEW-JOURNAL