Does McCarran growth mean it's time for that new airport? Not just yet
September 7, 2015 - 6:55 am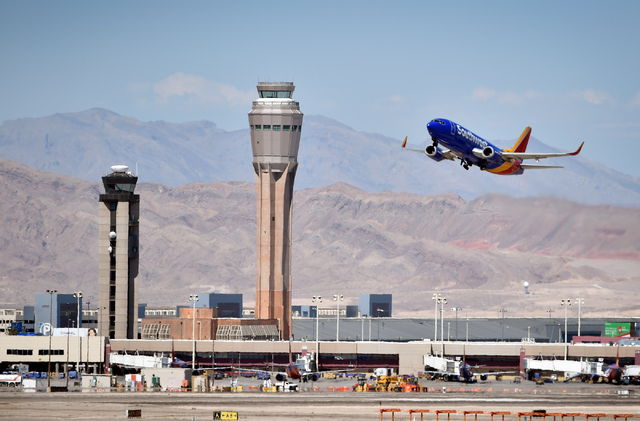 With all the news flying around about McCarran International Airport in the past 10 days, you'd think it's time to start packing up the desert tortoises hanging around the Ivanpah Valley and paving runways for Southern Nevada International Airport.
Consider:
— McCarran reported more than 4 million passengers in July, an 8.8 percent jump over July 2014.
— Clark County Aviation Director Rosemary Vassiliadis announced that seven gates in the D concourse are going to be opened for international use with a tunnel to be built connecting those gates with the U.S. Customs and Border Protection facility in Terminal 3. The $51 million project is scheduled for completion in early 2017.
— Prominent aviation expert Mike Boyd, in his annual airport forecast, said McCarran would be the fifth-fastest growing airport in the country over the next decade and could expect 27.4 million enplanements by 2024. Double that to get the approximate number of passengers that represents: 54.8 million. The airport's capacity is estimated at 55 million. Boyd also predicted that Las Vegas would get nonstop flights to and from China within three years.
Does this mean it's time build that reliever airport south of town near the California state line?
Not necessarily.
Despite Boyd's knack for being right most of the time, don't count on there being 54 million passengers a year here by 2024. Many of those additional enplanements will be passengers connecting to other airports.
While there are several initiatives in play to grow tourism in Southern Nevada, the number to turn to when predicting airport growth has always been the number of hotel rooms.
It's fabulous that a new megaresort is on its way with Resorts World Las Vegas, but after that, there really aren't any big projects in the pipeline.
Las Vegas will actually lose hotel capacity this year, thanks to the closure of the Riviera. Over the next three years, mostly due to the 3,000 new rooms Resorts World will add, the room inventory will go up by 4,644.
That's nothing like the parade of resorts that came on line in the late 1990s and early 2000s that inspired considering a new airport in the Ivanpah Valley.
And there could be any number of factors that figure into how fast we actually grow — the economy, water development issues and whether the China invasion will be as big as the forecasters say.
The forecasts look good, and there's no doubt expansion is ahead. But worrying about a new airport right now shouldn't be our top concern.
Hint: What we should be worried about is how we get those millions of new visitors from point to point within the city.
FLYING UNITED
With all the excitement about new flights, growth and high expectations, it's easy to lose track of what all the airlines are doing at McCarran, and that inspired Warrior reader Michael to ask about United Airlines' presence at Terminal 3:
"Why has United relocated its flight check-ins and luggage retrieval to Terminal 3 while the flights leave from Terminal 1? I believe it's not the only airline that this happens with. It's not like there isn't plenty of room at Terminal 3 to park the planes. One would think it's easier to leave from Terminal 3 where there is less traffic, since more than once have I sat on the plane waiting for a gate to open in Terminal 1."
Actually, Michael, United has been over at Terminal 3 for quite some time.
Chris Jones, public affairs and marketing manager at McCarran, said a few other carriers have a similar situation to those who "fly the friendly skies."
"United's ticketing and baggage claim have been located within Terminal 3 for more than three years now, one of the changes made after Terminal 3 opened," Jones said. "Its flights gate at the D Concourse, which is not considered part of T3 nor part of Terminal 1 — it's a standalone concourse, as both terminals are connected to D and airlines in each of the two terminals flow passengers to and from D."
For reference, Jones said United, Frontier, Hawaiian, Sun Country, Air Transat and Air Canada begin and end at Terminal 3 but gate their flights at D. American and Delta begin and end at Terminal 1 but gate at D.
"These splits were made to help balance traffic at the T1 and T3 security checkpoints, ticketing lobbies, airfield and baggage claim areas, as well as for the taxi stands and passenger pickup and drop-off flow. If you put too many airlines at either terminal, it would lead to unnecessary congestion and a degraded customer experience," Jones said.
To Michael's second point, Jones noted United is McCarran's second-busiest carrier with nearly 2.2 million passengers through July. It operates nearly 40 departures per day from McCarran and nearly uses an entire wing of the D Concourse by itself. At the D Concourse, United uses seven gates daily, sometimes overflowing to up to four others nearby; there is absolutely no way United could fit at Terminal 3, which has only seven fully domestic gates total.
"The issue of aircraft sitting on the ramp awaiting an open gate is not the airport's decision; that's almost always a function of the airline's scheduling and usually occurs only when a flight arrives earlier than scheduled, or another flight is running late," Jones said. "McCarran never wants a traveler to have to wait for a gate, but we cannot control the airlines' on-time performance. Regardless, the idea that United would fit better at T3 is incorrect."
AIRPORT CONNECTOR PAIN
A favorite access point to Interstate 215, Interstate 15 and the 215 Beltway from the area around Sunset Park comes to an end for a year beginning early Tuesday morning.
Airport Connector improvements that will include a new flyover bridge to eastbound I-215 will result in the closure of that Sunset-to-Connector ramp starting at 2 a.m.
The three-lane southbound tunnel also will be reduced to two lanes for the next year.
A possible alternative access to I-215 would be to take Sunset west to Las Vegas Boulevard, then south to the I-215 interchange.
Questions and comments should be sent to roadwarrior@reviewjournal.com. Please include your phone number. Follow the Road Warrior on Twitter @RJroadwarrior.
ROAD WORK AHEAD
■ The ramp connecting Sunset Road to the southbound Airport Connector will close Tuesday morning through fall 2016. Traffic lanes and shoulders will be restricted on the Airport Connector between Interstate 215 and the airport tunnel through mid-2016 for the construction of a flyover lane from the southbound connector to eastbound I-215.
■ Road maintenance is planned on Nellis Boulevard in both directions between Stewart Avenue and Las Vegas Boulevard from 8 a.m., Wednesday, through 2 p.m., Sept. 25. Crews will be filling in road surface cracks resulting in lane restrictions, but two lane in each direction will be open.
■ Eastbound and westbound left lanes of Hacienda Avenue from Pearl Street to Pecos Road will be restricted for a sewer line project throughFriday. Flaggers may assist with traffic management during construction between 7 a.m. and 3 p.m., daily.
■ Two northbound lanes of Bermuda Road between Eldorado Lane and Warm Springs Road will be restricted for a sewer line project through Nov. 3. Two southbound lanes of Bermuda will be unaffected. Construction work is scheduled from 6:30 a.m. to 3 p.m., Monday through Friday.
■ Work is shifting on the Oak Meadows Storm Drain and Oakey Sewer Rehabilitation projects with restrictions on vehicle access to El Parque Avenue from Decatur closed Monday and continuing through Sept. 21.
■ Craig Road will be restricted to two lanes in each direction at Simmons Street for a water drainage project. There's no access to Simmons either north or south of Craig. Restrictions on Craig and north of Craig on Simmons will continue through September and the entire project will be completed in February.
■ Overnight lane restrictions are planned on Rampart Boulevard between Canyon Run and Alta drives through mid-September for a sewer line project, repaving and restriping. The project is an expansion of planned work between Lake Mead Boulevard and Canyon Run.
■ Lane restrictions will be in place on northbound and southbound Bermuda Road at Windmill Lane from 6:30 a.m. to 3 p.m., Monday throughFriday, through Sept. 30. One lane will be open in each direction and sewer line work will be along the center of the street.
■ Tamarus Street will be restricted to one lane in both directions between Warm Springs Road and Eldorado Lane, Mondays through Fridays through Oct. 31 from 7 p.m. to 4 a.m. for a sewer line project.
■ The south side of Warm Springs Road will be restricted between Caliente and Tamarus streets Mondays through Fridays from 6 a.m. to 4 p.m.through Oct. 31 for a water reclamation line project. Two westbound lanes and one eastbound lane will be open on the north side of Warm Springs.
■ Lane closures and shifts are planned on Durango Drive between Tropicana Avenue and Desert Inn Road through October. Traffic delays are expected and motorists are encouraged to find alternative routes while the paving and sidewalk replacement project is completed.
■ Sewer lines and manhole work will restrict traffic on Tropicana Avenue about 300 feet west of Wetlands Park Lane to about 300 feet east of the intersection. Eastbound and westbound traffic will be pushed to the north side of Broadbent Boulevard and to the south side past the intersection. Restrictions begin about 300 feet from Broadbent and Broadlake Lane with northbound and southbound traffic being pushed to the east side of Broadbent. Work will occur from 7 a.m. to 3 p.m., through Oct. 31.
Gasoline Prices
The average gasoline price Friday in the Las Vegas Valley was $3.20 per gallon. It was $3.11 in Nevada. The national average of $2.41 is down 10 cents from a week ago, down 23 cents from a month ago and down $1.02 from a year ago.