Expect traffic problems on Interstate 15 for NASCAR Weekend
February 28, 2016 - 1:20 pm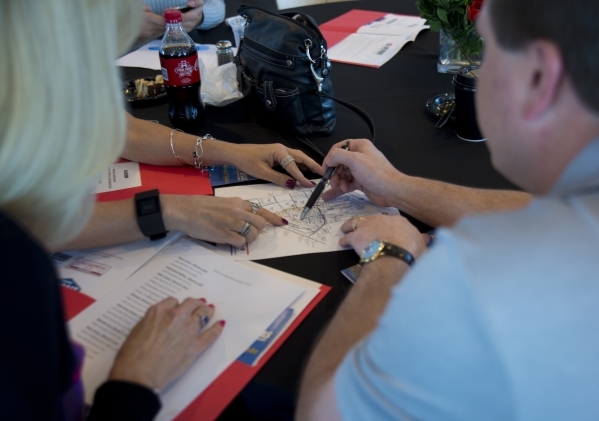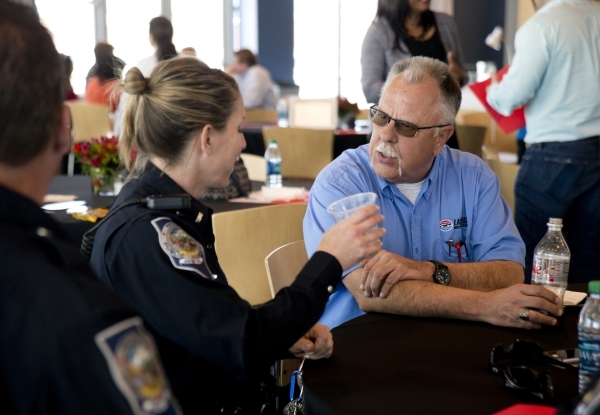 NASCAR Weekend is right around the corner, and we all know what that means: A bunch of Kurt and Kyle Busch wannabes will be out in force, driving to the Las Vegas Motor Speedway, probably too fast, for the best-attended sporting event west of Texas.
Count on Interstate 15 being a mess at various times of the day Friday, Saturday and Sunday because that's the only way most people know how to get to the speedway.
But there are other ways to get there — and other modes of transportation — and transportation organizers at the speedway are getting the word out to prevent the inevitable traffic jam created when more than 100,000 people simultaneously head to a place with relatively little ingress and egress.
"Smooth vehicle flow before and after the race is one of our primary goals every year, and RaceDay Express will be a big part of that," Las Vegas Motor Speedway President Chris Powell said.
RaceDay Express is a new wrinkle in this year's NASCAR Weekend with a fleet of 100 shuttle buses operated by Justours Inc.
Andrew Citores, CEO of Justours, said shuttles to the speedway will run from Bally's, Stratosphere, Treasure Island, Tropicana and Plaza.
Citores said the company, which provides group travel for college campus road trips, has been in Southern Nevada since August 2013 and has experience taking patrons to the Electric Daisy Carnival and Life Is Beautiful festivals.
Race fans can buy a three-day shuttle pass for $99 or a one-day Sunday-only pass for the premier event, the Kobalt 400 race, for $75.
Buses will leave Friday for the Stratosphere Pole Day runs at 9, 9:30, 10:30 and 11:30 a.m., and 12:30 p.m.; on Saturday for the Boyd Gaming 300 race at 8, 9, 10 and 11 a.m.; and on Sunday at 7, 8, 9, 10 and 11 a.m.
Citores said the buses range in size from 20 to 56 passengers, and most have on-board restrooms. Some vehicles are equipped to handle wheelchairs.
Citores figures that every bus filled will mean about 30 fewer vehicles on the road.
Although shuttle buses to the speedway offer easy pickup and drop-off, there are some folks who would rather deal with the traffic stress because they simply don't like buses.
If you're one of them, there are some routes to the speedway that Powell's team recommends.
Locals have been asked to use the 215 Beltway to I-15 and Las Vegas Boulevard North if possible, knowing that visitors probably would use I-15 from the Strip. On Saturday and Sunday, taxis will be encouraged to go north on Lake Mead Boulevard to Hollywood Boulevard and will be cleared to drive through Nellis Air Force Base. It's one of the few times you will see cab regulators approving of long-hauling.
Buses, shuttles and limousines also will be cleared through Nellis.
Some extra traffic is anticipated Thursday and Friday. Thursday is a test day for drivers, and Friday is pole day, so I-15 traffic will be a little heavier throughout the day.
Saturday, expect things to heat up on I-15 from 11 a.m. to noon before the 12:30 p.m. introductions of drivers for the Boyd Gaming 300. The 200-lap, 300-mile race starts at 1 p.m.
Sunday will be the biggest day. Introductions start at noon, and the race — 267 laps or 400 miles — starts at 12:30 p.m.
Southbound I-15 traffic should pick up around 2:30 p.m.
If you're planning a day trip to southern Utah on Saturday or Sunday, you may want to avoid being on the highway around those times. In fact, if you're heading to St. George, Zion National Park or Cedar City, I-15 may seem like an obstacle course with recent paving north of Mesquite and bridge construction work in the Virgin River Gorge.
DMV in a Box
A next-generation "DMV in a Box" kiosk made its debut last week at the AAA office at 3312 W. Charleston Blvd.
The kiosks are similar to the ones in Department of Motor Vehicles offices, and the new twist is that the next-generation boxes can handle cash transactions. There are six AAA offices across the state that have the kiosks, which are capable of handling vehicle registration and driver's license renewals, driver's license and identification card duplications, driver history printouts and insurance reinstatements.
And, you don't have to be a AAA member to use them.
Heavy traffic
The NASCAR races aren't the only place you will experience some heavy traffic this week.
The first of several NCAA basketball conference tournaments is in town Thursday through March 8 at the Orleans Arena.
The ASD Market Week trade show at the Las Vegas Convention Center is expecting 50,000 people at the retail sales show through Wednesday while the Healthcare Information and Management Systems Society sets up at The Venetian, Palazzo and Sands Expo and Convention Center Monday through Friday, with more than 30,000 people expected.
It's also First Friday this week, so routes leading to the downtown Arts District will fill up Friday night.
— Questions and comments should be sent to roadwarrior@reviewjournal.com. Please include your phone number. Follow the Road Warrior on Twitter @RJroadwarrior