Future of traffic over dam still up in the air
April 20, 2010 - 11:00 pm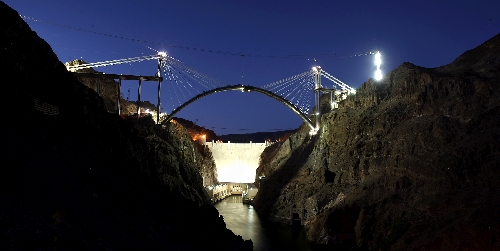 The Hoover Dam bypass bridge is scheduled to open in the fall, and with that there are some questions swirling around about the planning of the bypass and the future of Hoover Dam.
Here's one from Ron, who is dam confused: I recently read in the Review-Journal that when the Hoover Dam bypass bridge is finished, traffic will be allowed over the dam just to the Arizona side. Didn't they build the bypass bridge to keep vehicles off the dam because of possible bomb-laden vehicles after the Sept. 11, 2001, attacks? It makes absolutely no sense to allow cars on the dam when the bridge is completed. Could you find out what the heck is going on?
Actually, Ron, the bypass bridge concept was born in the 1980s, when engineers realized that modern-day vehicles were far larger and heavier than the automobiles the dam carried in the 1930s, according to Bureau of Reclamation spokeswoman Colleen Dwyer. Government officials knew a bypass was needed to protect Highway 93, a free trade route linking Mexico, the United States and Canada.
You are right about fears of explosives.
Tractor-trailers were prohibited from using the dam after the terrorist attacks for that reason but also because they were simply too heavy for the dam.
Bureau of Reclamation officials are looking at different management plans for the dam once the bypass opens.
One option is to allow cars to travel across to Arizona, then turn around and come back.
Another option is to have tourists and others park in the garage and walk across the dam.
Here's a follow-up question from me: I have seen big rigs cross the dam since 9/11. What's up with that?
Dwyer said trucks hauling gravel for projects in the immediate area are permitted to use the dam because it makes no sense to force those drivers to go through Laughlin, then almost to Kingman, Ariz., before heading north on Highway 93.
Bureau of Reclamation officials keep the names of those drivers and their vehicles in a log so they're closely monitored.
Now on to buses. Henry is curious about bus stop placement: It doesn't make sense that bus stops are located after intersections because when a bus stops, traffic backs up into the intersection. Why do they do they place them there?
This is for safety reasons. If the stop was on the nearside, passengers exiting the bus might walk in front of the bus and try to cross the street. Vehicles turning right might attempt to drive around the bus, putting the passengers-turned-pedestrians in danger. Also, if the bus stops on the nearside of an intersection it blocks traffic turning right. It is also safer for the bus to merge back into traffic when the stop is after an intersection.
And on a related topic, here's Jim: There are two left-turn lanes for eastbound traffic from Lake Mead Boulevard onto northbound Rainbow Boulevard. The left-most turn lane is for traffic heading to Highway 95 north. The other turn lane is for traffic going north on Rainbow. There is a bus stop just a few car lengths from the intersection and since there is no pull off area for the bus, it blocks traffic for the entire time of the green left turn signal. Please advise the bus transportation company of this dangerous situation so perhaps they can move the bus stop further north to minimize the risk of accidents.
The stops are placed as close as safely possible to an intersection to minimize the walking distance for passengers who are trying to get off one bus and onto another, said Regional Transportation Commission spokeswoman Allison Blankenship.
The stop mentioned is a very busy transfer location between the Rainbow route and the Lake Mead route. At peak frequency, the northbound Rainbow bus stops at the Lake Mead stop every 30 minutes.
When that corner was developed more than a decade ago, bus turnouts were not a condition of the development agreement although obviously that would have alleviated this problem. The RTC is in the process of reviewing all of its bus stops to determine which should be moved or even removed.
If you have a question, tip or tirade, call Adrienne Packer at (702) 387-2904, or send an e-mail to roadwarrior
@reviewjournal.com. Include your phone number.
• AIRPORT VISITORS: Beginning Thursday morning, motorists traveling through the airport tunnel northbound should be prepared for a detour shortly after exiting the tunnel. The permanent road north of the tunnel must be temporarily shut down while a new bridge is built to funnel traffic into the Terminal 3 expansion. Work is expected to continue until fall.
• Work along Las Vegas Boulevard at Spring Mountain Road is expected to be finished Friday morning, according to the Clark County Water Reclamation District. A short span of pipeline was relined, forcing the closure of a northbound lane and two southbound lanes on Las Vegas Boulevard from 2 a.m. to 10 a.m.
• Expect disruptions at the intersection of Vegas Drive and Decatur Boulevard through April 30 as the city of Las Vegas works on underground utilities. Eastbound traffic on Vegas will be detoured south at Decatur; westbound traffic on Vegas will be allowed to travel through the intersection, but not turn left onto Decatur. Work hours are between 8 p.m. and 5 a.m..
• Alta Drive, between Rainbow Boulevard and Lorenzi Street, will be closed to traffic through May 22. The city of Las Vegas is working on an $8.7 million flood control improvement project. Traffic on Rainbow and Lorenzi is not expected to be affected and motorists who typically take Alta are advised to use Charleston Boulevard instead.
• A height restriction is in place on the Interstate 15 northbound ramp and the onramp to the Las Vegas Boulevard west. Trucks exceeding 15 feet, 6 inches will not be allowed on those ramps.
• The shoulder along I-15 between Russell and Sunset roads will be closed for the rest of the month.
• Construction continues this week in the northbound and southbound lanes of Las Vegas Boulevard at Flamingo Road and in northbound and southbound lanes of Koval Lane. On Flamingo, work will be done in the westbound traffic lanes. During construction hours, 9 p.m. to 6 a.m., traffic on Las Vegas Boulevard and Flamingo will be restricted.
• Ninth Street, 14th Street and 15th Street will be closed at Fremont Street because of road construction projects. Also, Bonneville Avenue will be closed between First and Main streets at night for power and sewer work.
LAS VEGAS REVIEW-JOURNAL