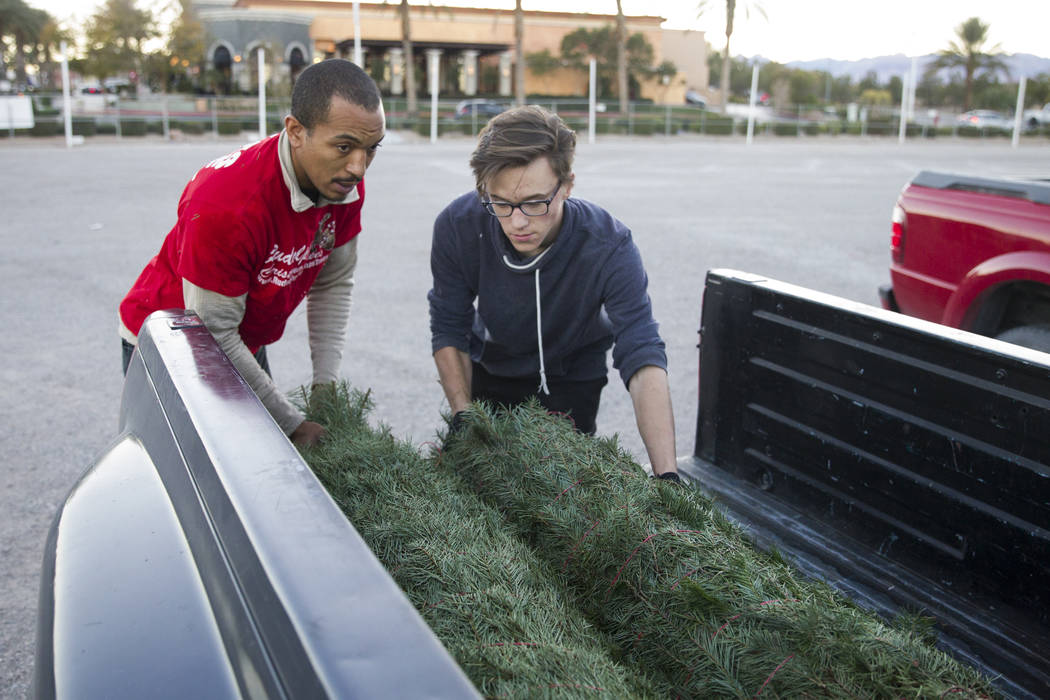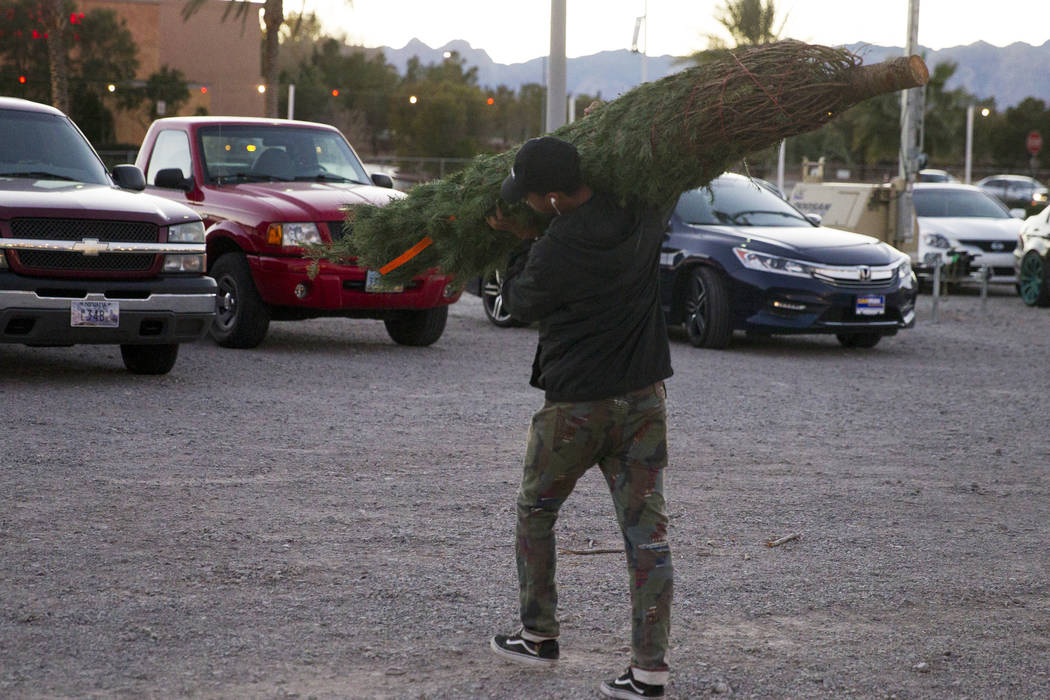 Oh Christmas tree, oh Christmas tree, how lovely are your branches.
Until they damage your car. Or worse, tumble onto the street.
Picking out that perfect evergreen centerpiece is a time-honored tradition for many families, but taking it home can sometimes pose a challenge.
Failing to properly secure Christmas trees can damage your vehicle or create a road hazard for other motorists.
Just last week, AAA spokesman Michael Blasky said he spotted a narrow strand of twine that precariously secured a mammoth Christmas tree atop a small car. Branches covered most of the windshield, making it difficult for the driver to see the road clearly.
"It made me chuckle because it's a funny image, but then you realize how dangerous it could be," Blasky said. "For some reason, people don't take this as seriously as they would when moving furniture in their vehicles."
Nationwide, AAA estimated 20 million people who purchased a live Christmas tree over the past three years failed to properly secure it to their vehicles, resulting in scratched paint, warped window frames and other damages that cost about $1,500 to repair, resulting in a not-so-merry holiday season.
AAA offered a few safety tips to get that Christmas tree home:
— It's always best to transport trees on top of vehicles equipped with a roof rack or in the bed of a pickup truck. Those with vans and SUVs should make sure the doors close after the tree is placed inside.
— Lay down some old blankets to prevent paint scratches.
— Use strong rope or nylon, and avoid the cheap lightweight twine given out for free at the tree lot.
— Make sure the bottom of the trunk faces the front of your vehicle to keep the branches from hanging over the windshield.
— Secure the tree at its bottom, center and top by using fixed tie-down points on your vehicle. Be sure to loop around the tree's trunk above a lower branch to prevent side-to-side or front-to-rear movement.
— Before driving away, give the tree a good tug from several directions to make sure it's secure.
— Avoid highways and drive slowly because higher speeds could damage your tree or unfasten it from the vehicle's roof.
Backlog to blame
Even as the Nevada Department of Motor Vehicles tries to replace license plates that were issued more than eight years ago, Robert from Las Vegas said he continues to see older editions on the road.
Though those older plates have up-to-date registrations, Robert wanted to know if there was any type of enforcement to get them updated.
DMV spokesman Kevin Malone said that not all older plates are being replaced immediately. That's mostly because of a backlog of roughly 720,000 plates that were up to 15 years old, according to a DMV report released last year.
The DMV is taking about three years to pare down that backlog, so some motorists won't be getting new plates for a while. Malone said drivers with worn-out or faded license plates should voluntarily order a new set sooner rather than later.
Light still needed
Bob from Summerlin noticed that a school crossing light often triggers before and after school hours at Fort Apache Road and Mariner Cove Drive, providing a safe passage for children headed to nearby M.J. Christensen Elementary.
The crossing light also comes on around noon, however, slowing traffic along Fort Apache for roughly 30 minutes.
"The light was necessary when the school had half-day kindergarten classes, but the school no longer offers that," Bob wrote in an email to the Road Warrior. "No one gets out of school at noon anymore, so someone needs to adjust this light."
Las Vegas city officials reached out to Christensen Elementary and found out that half-day pre-kindergarten classes are offered at the school. No adjustments will be made at this signal, city spokeswoman Margaret Kurtz said.
Costco road improvements
With a new Costco expected to open by next spring near Henderson Executive Airport, Jim from Sun City Anthem wanted to know whether any road improvements were planned to handle the increased traffic coming through the area.
The project's developer is expected to provide some unspecified upgrades along St. Rose Parkway and Sunridge Heights Parkway immediately surrounding the 150,000-square-foot warehouse store, Henderson city spokeswoman Kathleen Richards said.
Questions and comments should be sent to roadwarrior@reviewjournal.com. Please include your phone number. Follow @RJroadwarrior on Twitter.
Road work ahead
Downtown
— Main Street is restricted between Fremont Street and Ogden Avenue through Dec. 20. Crews are demolishing a building.
— Ninth Street is closed between Carson and Main streets through Dec. 31. Crews are installing water and sewer lines.
— U.S. Highway 95 is restricted between Rancho Road and just east of Interstate 15 through January 2018. Crews are building a new flyover ramp for high-occupancy vehicles as part of Project Neon.
— The Martin Luther King Boulevard onramp to northbound Interstate 15 is closed through January 2018. Crews are building a carpool ramp.
— The ramp connecting southbound U.S. Highway 95 to northbound Interstate 15 is closed through January 2018. Crews are building a carpool ramp.
— Main Street is restricted between Bonneville Avenue and Las Vegas Boulevard through May 2018. Crews are working on a storm drain.
— Sections of Bonneville Avenue, Charleston Boulevard, Grand Central Parkway and Martin Luther King Boulevard will have closed or disrupted lanes surrounding the Spaghetti Bowl as crews work on Project Neon through July 2018.
Northwest
— Cheyenne will be restricted between Shady Timber Street and Hualapai Way from 7 a.m. to 5 p.m. daily through Friday. Crews are repaving the road.
— Grand Teton Drive is restricted between El Capitan Way and Buffalo Drive from 7 a.m. to 4 p.m. weekdays through early January. Crews are making road improvements.
Henderson
— Westbound Lake Mead Parkway will be restricted near the Fiesta Henderson from 5 a.m. to 1:30 p.m. Wednesday. Crews are trimming trees along the median.
— Wigwam Parkway will be intermittently closed in both directions at Gibson Road through the end of December. Crews are installing a new traffic signal and making sidewalk improvements.
— Center Street is restricted between Burkholder Boulevard and Lake Mead Parkway through June 2018. Crews are making various road improvements.
North Las Vegas
— Nellis Boulevard is restricted between Cheyenne Avenue and Las Vegas Boulevard from 6 a.m. to 3:30 p.m. weekdays through July 2018. Crews are installing sewer pipes.
Gasoline prices
The average gasoline price Friday in the Las Vegas Valley was $2.65 per gallon. It was $2.68 in Nevada. The national average of $2.47 is down 2 cents from a week ago, down 8 cents from a month ago and up 27 cents from a year ago.