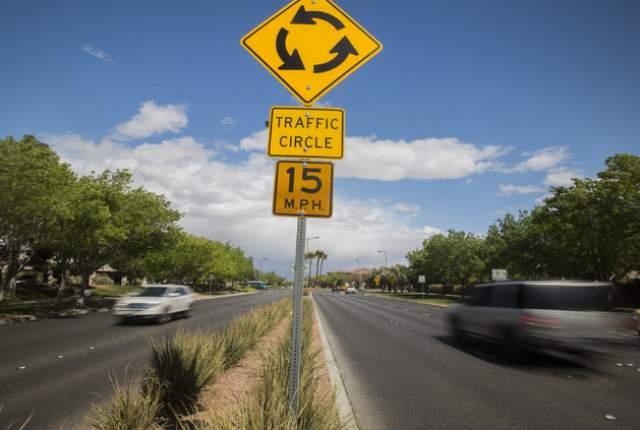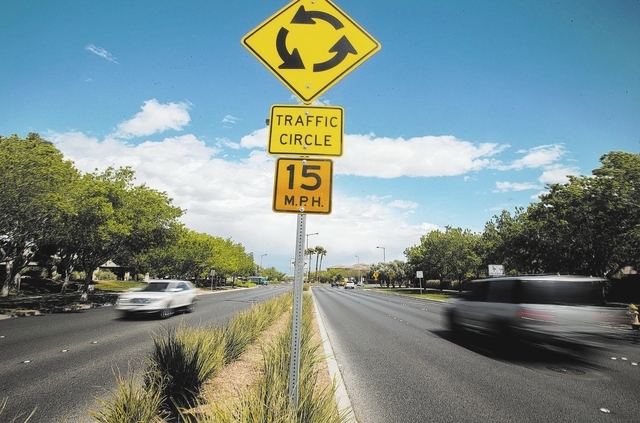 You don't see many of them in Southern Nevada, but they're out there.
The roundabout.
It's a circular traffic intersection that flows in one continuous direction. Motorists can enter from any of the intersecting streets, yield to traffic already within the circle and exit to the right in the direction of your destination.
It's easier to visualize as a clock with streets intersecting at the 12, 3, 6 and 9 o'clock positions. If you enter from the 12 o'clock position and you're making a right turn, you'd exit at 9. If you're going straight, you'd exit at 6. And, if you're making a left turn, you'd exit at 3.
Confused? Don't fret. Traffic engineers say roundabouts not only are efficient traffic movers, they're also the safest intersections out there.
Still, they seem to produce some consternation among motorists, including Warrior Reader Dorothy:
"My husband will soon be moving from Summerlin Hospital where he has been recovering from an injury. He will need to go to the hospital for further rehabilitation before he can come home. … The problem? Roundabouts. A few years ago, I had to maneuver one to find a doctor's office. I never went back.
"I'm an excellent driver with a spotless record who can drive the freeways easily but not roundabouts.
"When a neighbor recently drove me to the hospital, I saw the sign warning that we were approaching one and it said speed in the roundabout is 15 mph. But clearly no one was doing less than 30-35 mph!
"I am terrified that I will have or cause a wreck trying to understand how to get through one."
Well, Dorothy, luckily you don't live in France, where there are more than 30,000 roundabouts. Those wacky Europeans are crazy about them.
They're also popular in Australia and China.
In Southern Nevada, even the Mesquiters have a couple of newly designed roundabouts in intersections at ramps accessing Interstate 15.
But here in town, city of Las Vegas Traffic Engineer O.C. White recollects only four roundabouts. And unfortunately for you, Dorothy, two of them are near Summerlin Hospital.
One of them links North Town Center Drive with Canyon Run Drive and Banburry Cross Drive on the hospital campus' northeast corner and the other is the intersection of Town Center and North Hualapai Way on the campus' southeast corner.
White said roundabouts are efficient traffic movers because even though vehicles are supposed to slow down, they normally don't come to a complete stop — and that occurs continuously from every direction.
So back to Dorothy. What's the best way to navigate a roundabout?
White recommends traveling the posted speed limit — in this case, 15 mph. The Town Center roundabouts are a little more complex because they're three lanes wide.
If you're making a right turn — the 12 o'clock position to the 9 o'clock — get in the far right lane. It separates right-turners from the rest of the circle.
If you're going straight or making a left turn, use the center lane. That will keep you on the outer edge of the circle and you can make an easy exit at the 6 o'clock or 3 o'clock positions. Remember to yield to traffic within the circle.
The far left lane is where some motorists get tangled up and make lane changes that lead to those fender-benders White was talking about.
Hold your ground on the 15 mph, Dorothy. Las Vegas drivers go too fast anyway and it's not going to inconvenience them to wait an extra 5 seconds to get through the intersection.
And if you get confused in the circle, don't panic. The circular roadway gives you a second chance to get it right the next time around.
If you have a question, tip or tirade, send an email to roadwarrior@reviewjournal.com. Follow the Road Warrior on Twitter @RJroadwarrior.