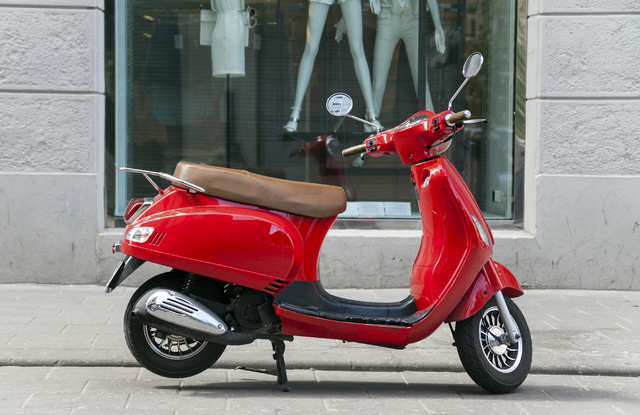 We all get it that when times are tough, cheap transportation is in high demand.
When gasoline prices were spiking and all of us were getting pounded by the recession, many people took a detour to mopeds. After all, you could get one for less than $1,000, a used one for even cheaper, and some of them get 100 miles per gallon of gasoline.
The number of mopeds on valley streets has grown exponentially. It's not as bad as in Asia and Europe, where they regularly swarm like bees on streets that are busier and narrower than ours.
The rise of the mopeds has been big concern for Warrior readers. Check out the frustration from Warrior reader Chas, whom I had to edit because he was so wound up:
"It's beyond belief that mopeds are unlicensed in the state. It appears that there is little effort to license them.
"Those who operate mopeds do so with impunity to the rules of the road.
"Some ride against traffic, some ride on sidewalks. Most do not have proper safety equipment, such as helmets, long pants and decent footwear. They pass cars in school zones and run through crosswalks.
"Even all-terrain vehicles have to be licensed, even though they aren't driven on public rights of way.
"I noticed two extremely overweight women riding on a moped on a sidewalk, trying to maneuver between a curb and a light pole. The moped made it; they did not.
"The Review-Journal needs to create some public awareness in regard to moped licensing."
OK, Chas, here is some awareness, some coming directly from Nevada Revised Statutes, some from Nevada Highway Patrol trooper Loy Hixson.
First of all, there's a bill in the Legislature, Senate Bill 404, that would require moped owners to register their vehicles with a one-time $33 fee.
Mopeds are defined as motor-driven cycles or scooters with small engines that "produce no more than 2 gross brake horsepower, have displacement of no more than 50 cubic centimeters and produce no more than 1,500 watts of power output."
To the average Joe, that means they're two-wheelers that are less powerful than a motorcycle but more powerful than an electric bike and can't go more than 30 mph.
By definition, mopeds don't have to be registered by the Department of Motor Vehicles. But if they're used on public streets, they do. They're banned from highways but not the city's main arterials.
The law says mopeds can't have more than one aboard unless they're specifically designed to carry a passenger. Drivers are supposed to follow motorcycle rules, which means they should be wearing helmets when on city streets.
Drivers have to obey traffic laws, which means no driving in the bike lanes or on sidewalks.
Since mopeds max out at about 30 mph, you commonly will see them on the right side of the road, or in the right lane of a multilane street with speed limits of around 45 mph.
Why aren't the police citing more moped drivers for their illegal actions? It's the same question that can be asked on just about every other traffic infraction. Why aren't there more citations issued for red-light runners? Why aren't there more tickets given for speeding? Or to people blabbing on their cellphones? Or for motorists traveling solo in the high-occupancy-vehicle lanes?
There aren't enough officers around to catch every infraction, and officers have to prioritize their work.
In the meantime, to all you moped drivers: Follow the rules of the road. Stay to the right. Be visible. Show some courtesy to fellow drivers. And stay off the sidewalks and out of the bike lanes.
For everybody else: Be extra cautious around mopeds. Share the road. Don't drive aggressively around those who are so under-horsepowered.
VA HOSPITAL ROUTE
Warrior reader Bill has been hoping that a more direct route to the VA Medical Center in North Las Vegas would open so he wouldn't have to take a detour.
"How long is Centennial Parkway between Lamb and Pecos roads going to be shut down? Every time I have had to go to the VA Hospital, I have to turn around and turn left on Azure Avenue to Pecos. I have yet to see anything about this and it has been closed for at least a year now."
Good news, Bill. Your direct route is opening this week. Only it hasn't been closed for a year, at least according to what Jennifer Doody, deputy director of public works in North Las Vegas, said.
"The notice to proceed for this project, Centennial Parkway Drainage and Roadway Improvements, was issued Jan. 5 this year, and this closure went into effect approximately one week after that," Doody said.
"We expect to open Centennial between Lamb and Pecos this week. The total duration of this closure was approximately three months."
Don't worry, Bill. Whenever one of the roads I depend on is closed for a few weeks, it seems like months, and when it's closed for months, it seems like years.
Time never seems to fly when you want it to.
HEAVY TRAFFIC
Stay away from the Las Vegas Convention Center if you can this week.
The National Association of Broadcasters, a convention expected to draw more than 100,000 people, is in town, and there will be a heavy volume of people not knowing where they're going and higher-than-normal levels of taxicabs, limousines and buses on the streets around the convention center, especially between about 9 a.m. and 10 a.m. and 3 p.m. and 4 p.m. through Thursday.
Questions and comments should be sent to roadwarrior@reviewjournal.com. Please include your phone number. Follow the Road Warrior on Twitter @RJroadwarrior.
ROAD WORK AHEAD
■ The northbound lane of Dean Martin Drive will be closed for a half mile from just north of Blue Diamond Road through the end of April, Mondays through Fridays from 9 p.m. to 5 a.m., for a water reclamation line project. Traffic will be pushed to the south and center lanes, and business access will remain open.
■ Roads within the Lake Mead National Recreation Area are being repaired with smooth surfaces to accommodate bicycles from Lake Mead Boulevard to Milepost 20.6 on Northshore Road. Roads in the Echo Bay area, including the campgrounds, will be resealed. Officials expect 15-minute delays at the construction site. Work is planned weekdays through May 22.
■ Lane restrictions will occur on Grand Teton Drive between Durango Drive and Rainbow Boulevard through May.
■ The westbound lanes of Warm Springs Road from the Warm Springs-Eastern Avenue intersection to the Warm Springs-Spencer Street intersection will be restricted through June 9. Eastbound and westbound lanes of traffic will be shifted to the south half of Warm Springs during construction.
■ Double left-turn lanes on eastbound Sunset Road at Eastern Avenue will be closed through June 17 for a water reclamation line project.
GASOLINE PRICES
The average gasoline price Friday in the Las Vegas Valley was $2.78 per gallon. It was $2.78 in Nevada. The national average of $2.40 is the same as a week ago, down 5 cents from a month ago and down $1.23 from a year ago.