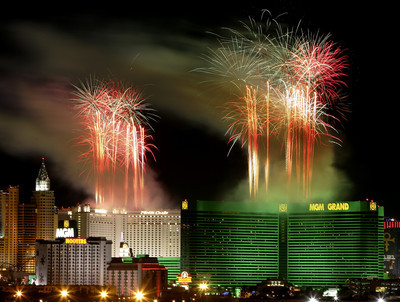 I have many fond memories of New Year's Eves past.
Some of those memories are so fond, I can't even remember what happened.
Thankfully, when I've tilted the cup back one too many times and mumbled unrecognizable lyrics to "Auld Lang Syne," I've been around friends and family who have looked after me.
That means they have taken away the keys to my car and either let me sleep over or had a sober friend drive me home.
As New Year draws nigh, I strongly recommend making plans for safe transport, especially if you plan on hoisting one or two cocktails.
I expect our valley law enforcement officers will be out in force and on the prowl for drunken drivers.
Trooper Kevin Honea of the Nevada Highway Patrol recently told me that his agency has a grant for more than 400 hours of overtime to put troopers on the road in saturation patrols and setting up checkpoints.
"The goal is to identify impaired drivers and get them off the road before they crash, killing themselves or someone else," Honea said.
The Metropolitan Police Department, Henderson police and North Las Vegas police will also be on the hunt.
Spending the first day of 2009 in jail is probably not on anyone's New Year's resolution list. I also found out it's fairly expensive. The University of Nevada, Las Vegas' Safe Community Partnership reports that the first offense for driving under the influence can cost upwards of $11,000.
And that's only for getting caught. That price tag doesn't include all the property damage and lives ruined that sometimes goes along with drinking and driving.
I'm not saying you shouldn't go out and have some fun. But if you do, make sure you have an alternate plan.
And I'm here to help. Here are some ideas to help avoid drinking and driving.
•A great company called Designated Drivers Inc. will drive you and your car home. And thanks to a state grant, it's free through Jan. 1. All you have to do is call 456-7433. In 2007, the company offered more than 800 rides and transported 2,000 partiers, according to the Safe Community Partnership.
•If you need a cab, here are the phone numbers: A-Cab, 365-1900; Ace Cab, 736-8383; A-North Las Vegas Cab, 643-1041; Checker-Yellow-Star Cab, 873-2000; Deluxe Cab, 568-7700; Desert Cab, 386-9102; Henderson Taxi, 384-2322; Lucky Cab, 732-4400; Nellis Cab, 248-1111; Union Cab, 736-8444; Vegas Western Cab, 736-6121; Virgin Valley Cab, 737-1378; Western Cab, 736-8000; Whittlesea Blue Cab, 384-6111.
•Citizens Area Transit will be offering free bus rides from 6 p.m. Wednesday to 6 p.m. Thursday on all routes.
A special park and ride service will be offered from the three College of Southern Nevada campuses to the Downtown Transportation Center, at 300 Casino Center Boulevard, from 6 p.m. Wednesday to 2 a.m. Thursday. The service will be available every 20 minutes.
Once Las Vegas Boulevard is closed on New Year's Eve, Deuce bus service will travel from downtown to Sahara Avenue. Routes 116, 201 and 202 will be making stops close to the Strip.
•The Las Vegas Monorail is also available for folks heading between the MGM Grand and Sahara hotels behind the Strip's east side. The monorail will be open from 7 a.m. to 3 a.m., with one-way fares of $5.
Play it safe and have a Happy New Year.
If you have a question, tip or tirade, call the Road Warrior at 387-2904, or e-mail him at roadwarrior@reviewjournal.com or fmccabe@reviewjournal.com. Please include your phone number.
The Nevada Department of Transportation announced the following updates on the ongoing $240 million Interstate 15 north widening project:
•The Washington Avenue onramp to northbound Interstate 15 will be closed through February.
•The southbound Interstate 15 offramp to Cheyenne Avenue will be closed through February.
•D Street will be closed to traffic under Interstate 15, from 9 p.m. Monday to 5 a.m. Tuesday for a deck pour.
•Truck traffic seeking to go north on Interstate 15 from U.S. Highway 95 will be diverted off U.S. 95 at Eastern Avenue. Trucks will be directed north on Eastern and then east on Washington Avenue and then north on Lamb Boulevard and onto I-15 north. This detour will be in effect for the next three months.
•Workers will be installing an overhead vehicle warning system at D Street and Interstate 15 through March.
Trucks over the height of 14 feet, 8 inches will not be able to pass under I-15 there.
Motorists should watch for lane shifts and posted detours and use extreme caution in work zones.
LAS VEGAS REVIEW-JOURNAL