NDOT looking at options for path of Interstate 11
Updated March 26, 2018 - 12:54 am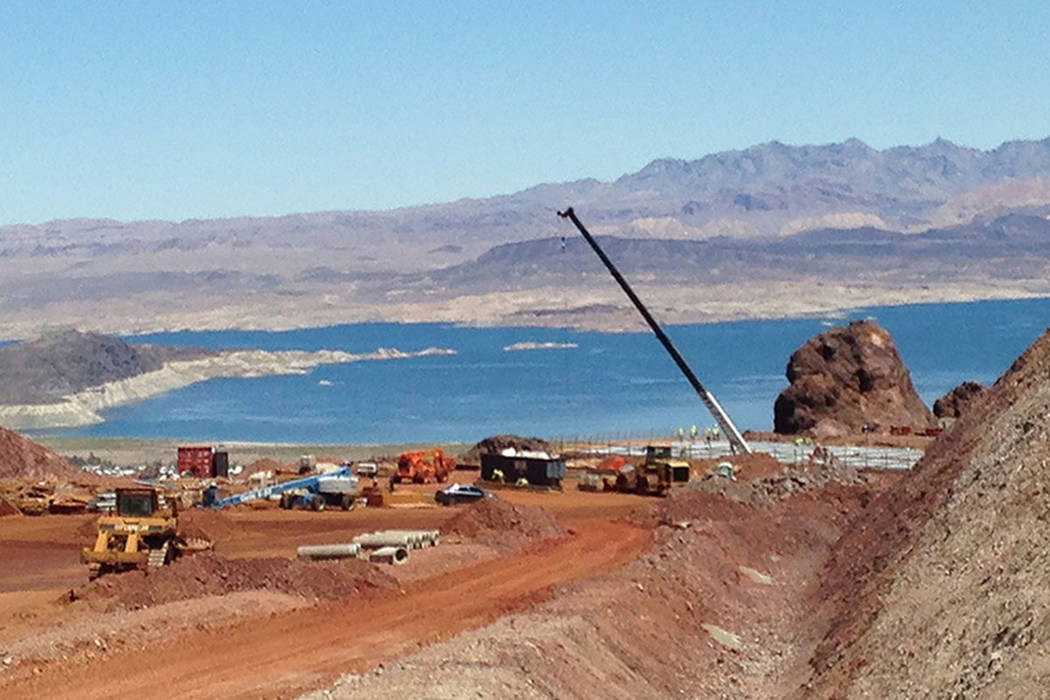 Work isn't even complete on the first stretch of Interstate 11 bypassing Boulder City, but state officials are already eyeing four alternatives on how Nevada's newest freeway should connect to Interstate 80 up north.
In fact, the Nevada Department of Transportation is still studying how I-11 should run through — or around — the Las Vegas Valley.
One thing that appears to be pretty much guaranteed is that state officials envision I-11 leaving northwest Las Vegas to run along an upgraded version of the current U.S. Highway 95 to Tonopah, NDOT transportation planning analyst Kevin Verre told about 45 people at a meeting last week at Santa Fe Station in Las Vegas.
Going past Tonopah, Verre said, NDOT is reviewing four options that call for the use of a mix of existing roads and new traffic lanes leading up to Interstate 80:
— A westward swing toward Carson City and Reno;
— Running up through Silver Springs and Fernley;
— Going through Fallon;
— An eastern route through Salt Wells.
NDOT is running a six-city tour this month to explain the importance of building the freeway and gather public input on where I-11 should be routed in Northern Nevada.
With half of the gatherings completed, NDOT will continue the road trip this week. Stops are scheduled for 4 p.m. Tuesday at the Fallon Convention Center and 4 p.m. Wednesday at Grand Sierra Resort in Reno.
The final meeting, set for 2 p.m. Thursday at the NDOT headquarters in Carson City, will be simulcast to the agency's district offices in Las Vegas, Elko and Winnemucca.
Another round of meetings will likely be held in June, Verre said, with a study scheduled for release this summer.
The meetings are being held as construction wraps up on NDOT's 2.5-mile concrete section of the freeway near Boulder City. The final chunk, set to open in April, will allow southbound I-11 drivers to merge onto southbound U.S. Highway 95 toward Searchlight.
The remaining 12.5-mile asphalt segment headed to the Colorado River is scheduled to open to traffic by October, according to the Regional Transportation Commission of Southern Nevada.
The $318 million freeway segment, known as the Boulder City bypass, is funded by federal and state money along with Clark County's fuel revenue indexing tax. Construction started in April 2015 with work split between NDOT and the RTC.
On a large scale, I-11 is expected to ease cross-border trade from the U.S.-Mexico border to Canada by running through Arizona, Nevada and Idaho.
Getting it right
It turns out bicyclists are allowed to ride on sidewalks, including those along the Las Vegas Strip.
Shortly after the Road Warrior ran a column last week claiming that the opposite was true, Officer Larry Hadfield from the Las Vegas Metropolitan Police Department took it upon himself to call and apologize.
"I gave you some bad information," Hadfield said. "I'm sorry about that."
Thank you, officer. We all make mistakes, so let's set the record straight.
Bicycling is allowed on public portions of sidewalks, unless otherwise posted, Hadfield said. However, sidewalks sometimes run onto private property, like casino-owned areas of the Strip. At that point, Hadfield said, it's up to the property owner to decide whether bicycling is permitted.
Traffic laws can be enforced when bicyclists are on public roads, Hadfield said.
Signal needed
William from Summerlin wanted to know whether a traffic signal will be installed at Dorrell Lane and Hualapai Way in northwest Las Vegas.
"This intersection is extremely dangerous for pedestrians to cross, and I have noticed that many of the vehicles don't bother to stop," William wrote in an email to the Road Warrior.
Margaret Kurtz, a spokeswoman for the city of Las Vegas, said installation of traffic signals at five intersections along Hualapai Way between Grand Teton Drive and Centennial Parkway is expected to start by the end of the year.
And yes, Kurtz said, one of those signals is slated for Hualapai and Dorrell.
"This section of Hualapai Way has many all-way stops of a similar nature and it makes sense to signalize them in one project," Kurtz said.
Aliante exit
During his travels on the westbound 215 Beltway, Ed from North Las Vegas noticed a sign just before the Fifth Street offramp that lists "Aliante Way" as an upcoming exit. All the other road signs correctly name the road as "Aliante Parkway."
Good eye, Ed. Clark County spokesman Dan Kulin said the sign will be corrected this year when crews start work on another construction project on the Beltway.
Questions and comments should be sent to roadwarrior@reviewjournal.com. Please include your phone number. Follow @RJroadwarrior on Twitter.
Road work ahead
Downtown
— The right lane on northbound Interstate 15 at Flamingo Road is closed until 6 a.m. April 6. Crews are restriping the road and installing signs.
— The ramp linking northbound U.S. Highway 95 to southbound Interstate 15 is closed through mid-April. Crews are widening the interchange.
— The outside lane of southbound Interstate 15 is closed between Sahara Avenue and Flamingo Road through late April. Crews are erecting traffic management signs.
— The outside lane of northbound Interstate 15 is closed between Flamingo and Desert Inn roads through late April. Crews are erecting traffic management signs.
— Main Street is restricted between Bonneville Avenue and Las Vegas Boulevard through May. Crews are working on a storm drain.
— The D Street onramp to southbound Interstate 15 is closed through mid-July. Crews are working on Project Neon.
— Sections of Bonneville Avenue, Charleston Boulevard, Grand Central Parkway and Martin Luther King Boulevard will have closed or disrupted lanes surrounding the Spaghetti Bowl as crews work on Project Neon through July.
— The Charleston Boulevard onramps to southbound Interstate 15 are closed until mid-October. Crews are rebuilding the intersection.
— Interstate 15 will be narrowed in both directions between Sahara Avenue and D Street until Nov. 20. Crews are widening the freeway.
— The ramp connecting southbound U.S. Highway 95 to southbound I-15 will be reduced to one lane and detoured through Nov. 20. Crews are widening I-15.
— The ramp linking southbound U.S. 95 to northbound I-15 is closed through Nov. 20. Crews are widening I-15.
— The Martin Luther King Boulevard onramp to southbound U.S. Highway 95 is closed until early 2019. Crews are building a high-occupancy flyover ramp.
— Gass Avenue will be restricted between Las Vegas and Charleston Boulevards through March 2019. Crews are making pedestrians and bicycle improvements.
Northwest
— Both directions of U.S. Highway 95 are narrowed to a single lane between Skye Canyon Park and Paiute drives through July 12. Crews are building a new interchange bridge.
— Both directions of U.S. Highway 95 will be narrowed to two lanes at Elkhorn Road through December. Crews are building a new carpool ramp.
Southwest
— Jones Boulevard will be restricted between Tropicana and University avenues through June 29. Crews are doing sewer work.
Henderson
— Center Street is restricted between Burkholder Boulevard and Lake Mead Parkway through June. Crews are making various road improvements.
North Las Vegas
— Las Vegas Boulevard will be reduced to one lane in each direction between Nellis Boulevard and Range Road through Friday. Crews are installing a sewer pipeline.
— U.S. Highway 93 is restricted between Interstate 15 and Apex Power Parkway through June. Crews are widening the highway and upgrading an interchange.
— Nellis Boulevard is restricted between Cheyenne Avenue and Las Vegas Boulevard from 6 a.m. to 3:30 p.m. weekdays through July. Crews are installing sewer pipes.
Gasoline prices
The average gasoline price Friday in the Las Vegas Valley was $2.88 per gallon. It was $2.91 in Nevada. The national average of $2.60 is up 7 cents from a week ago, up 8 cents from a month ago and up 30 cents from a year ago.