Nevada drivers who pull off a 'California roll' can be ticketed
Updated April 16, 2018 - 7:49 am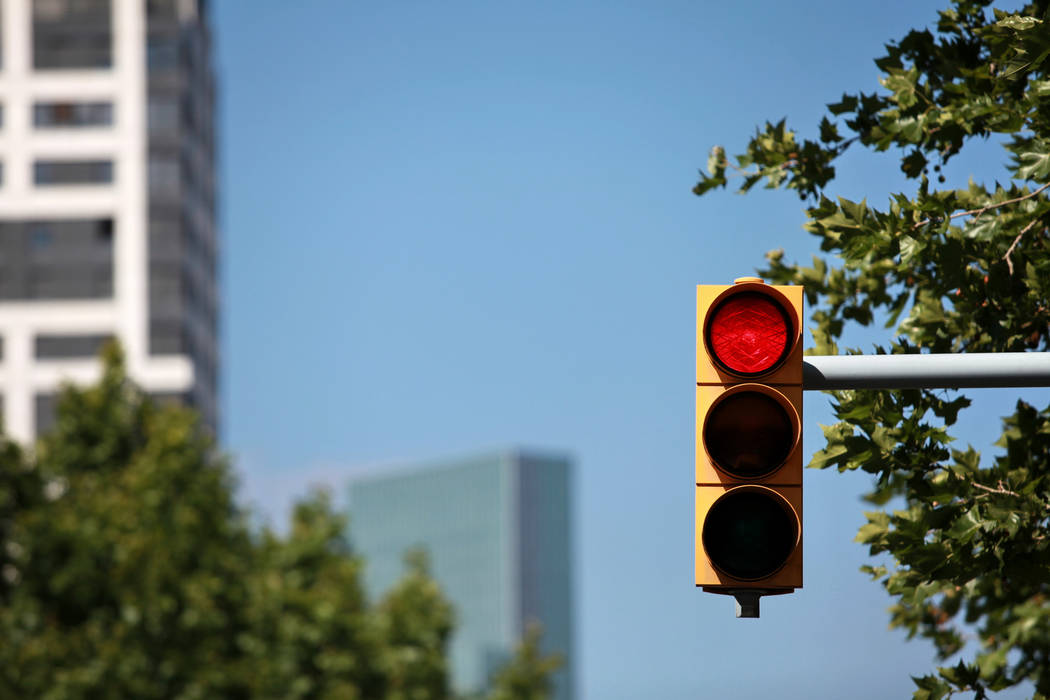 It looks like a few drivers need a reminder on what it means to stop.
Sandra from Las Vegas said she's noticed a few motorists who roll past stop signs at four-way intersections.
In the east valley, Randy said he received a citation for failing to stop at a red light while making a right turn. And in North Las Vegas, Mark said he was nearly sideswiped by a red-light runner who also was turning right.
In all of these cases, it sounds like the offending motorists were pulling a California roll. And we're not talking about the tasty sushi treat.
For those who are unfamiliar, California rolls happen when drivers slow down — rather than stop — then drive through an intersection when they think it's safe.
"This isn't California," Nevada Highway Patrol trooper Jason Buratczuk astutely pointed out.
"If you roll through a stop sign in Nevada, then have your checkbook handy," Buratczuk said. "You will get a ticket."
He said all vehicles must make a complete stop behind the white limit line at red lights and stop signs prior to making a right turn or passing through an intersection.
"Nevada troopers can patrol anywhere in the state, so if we see you on a city street running or rolling through a red light or stop sign, we will enforce that violation," Buratczuk said.
Searchlight road work
A $19.8 million contract was awarded last fall to repave a deteriorated stretch of U.S. Highway 95 from the northern edge of Searchlight to the border with California.
Gail and Gary from Bullhead City recently drove through the area and wanted to know when they would see improvements along this 7.8-mile stretch of road.
Tony Illia, a spokesman for the Nevada Department of Transportation, said work is expected to wrap up this summer on the project, which calls for repaving the highway for the first time in a decade. Other enhancements include the replanting of more than 2,000 cactuses, drainage upgrades and installing 5 miles of fencing meant to protect desert tortoises.
"The project will move enough dirt to fill over 300 swimming pools and enough asphalt to pave 6,200 driveways," Illia said.
Summerlin auxiliary lanes
Barry from Las Vegas wanted to know what's going on with all the construction along the western end of Summerlin Parkway.
Margaret Kurtz, a spokeswoman for the city of Las Vegas, said crews are adding an eastbound auxiliary lane between northbound 215 Beltway and Anasazi Drive, aimed at giving motorists additional time to merge on or off the parkway.
New lights, storm drains, pavement and a concrete safety barrier will be installed by the time construction wraps up in August, Kurtz said.
Work also is expected to last through the end of July on a project that calls for adding auxiliary lanes in both directions of Summerlin Parkway between the Rampart Boulevard and Town Center Drive ramps, Kurtz said.
After those projects are completed, Kurtz said, city officials plan to widen eastbound Summerlin Parkway between Rampart Boulevard and Durango Drive "at a later date."
Northern Beltway ramps
Gary from Las Vegas wanted to know when the northern 215 Beltway onramps and offramps for Lone Mountain and Ann roads will open after more than a year of construction.
Clark County spokesman Dan Kulin said the new interchange at Lone Mountain is now open to traffic, but you'll have to wait a few more months until the Ann Road interchange opens.
Work on the three-year project will be completed by the end of summer, Kulin said.
Signal timing OK
Duane from Las Vegas wanted to know whether the signal timing was properly set at the intersection of Desert Inn Road and Jones Boulevard in the Spring Valley area.
"The signals for Desert Inn are only green for about 15 seconds, allowing five or six cars to get through and causing a big traffic jam, but the green lights seem much longer for the traffic on Jones," Duane wrote in an email to the Road Warrior.
Kulin said county traffic crews recently visited this intersection and found the signals to be "functioning normally."
Questions and comments should be sent to roadwarrior@reviewjournal.com. Please include your phone number. Follow @RJroadwarrior on Twitter.
Road work ahead
Downtown
— Ogden Avenue will be restricted between Main Street and City Parkway from 7 a.m. Monday through mid-October. Crews are making street, sidewalk and lighting improvements.
— The outside lane of southbound Interstate 15 is closed between Sahara Avenue and Flamingo Road through late April. Crews are erecting traffic management signs.
— The outside lane of northbound Interstate 15 is closed between Flamingo and Desert Inn roads through late April. Crews are erecting traffic management signs.
— Main Street is restricted between Bonneville Avenue and Las Vegas Boulevard through May. Crews are working on a storm drain.
— The D Street onramp to southbound Interstate 15 is closed through mid-July. Crews are working on Project Neon.
— Sections of Bonneville Avenue, Charleston Boulevard, Grand Central Parkway and Martin Luther King Boulevard will have closed or disrupted lanes surrounding the Spaghetti Bowl as crews work on Project Neon through July.
— The Charleston Boulevard onramps to southbound Interstate 15 are closed until mid-October. Crews are rebuilding the intersection.
— Interstate 15 will be narrowed in both directions between Sahara Avenue and D Street until Nov. 20. Crews are widening the freeway.
— The ramp connecting southbound U.S. Highway 95 to southbound I-15 will be reduced to one lane and detoured through Nov. 20. Crews are widening I-15.
— The ramp linking southbound U.S. 95 to northbound I-15 is closed through Nov. 20. Crews are widening I-15.
— The Martin Luther King Boulevard onramp to southbound U.S. Highway 95 is closed until early 2019. Crews are building a high-occupancy flyover ramp.
— Gass Avenue will be restricted between Las Vegas and Charleston boulevards through March 2019. Crews are making pedestrian and bicycle improvements.
Northwest
— Both directions of U.S. Highway 95 are narrowed to a single lane between Skye Canyon Park and Paiute drives through July 12. Crews are building a new interchange bridge.
— Both directions of U.S. Highway 95 will be narrowed to two lanes at Elkhorn Road through December. Crews are building a new carpool ramp.
Southwest
— Jones Boulevard will be restricted between Tropicana and University avenues through June 29. Crews are doing sewer work.
East valley
— Eastern Avenue is restricted between Flamingo Road and Tompkins Avenue through June 11. Crews are restoring the street.
Henderson
— Center Street is restricted between Burkholder Boulevard and Lake Mead Parkway through June. Crews are making various road improvements.
North Las Vegas
— U.S. Highway 93 is restricted between Interstate 15 and Apex Power Parkway through June. Crews are widening the highway and upgrading an interchange.
— Nellis Boulevard is restricted between Cheyenne Avenue and Las Vegas Boulevard from 6 a.m. to 3:30 p.m. weekdays through July. Crews are installing sewer pipes.
Gasoline prices
The average gasoline price Friday in the Las Vegas Valley was $3.08 per gallon. It was $3.10 in Nevada. The national average of $2.70 is up 4 cents from a week ago, up 18 cents from a month ago and up 29 cents from a year ago.