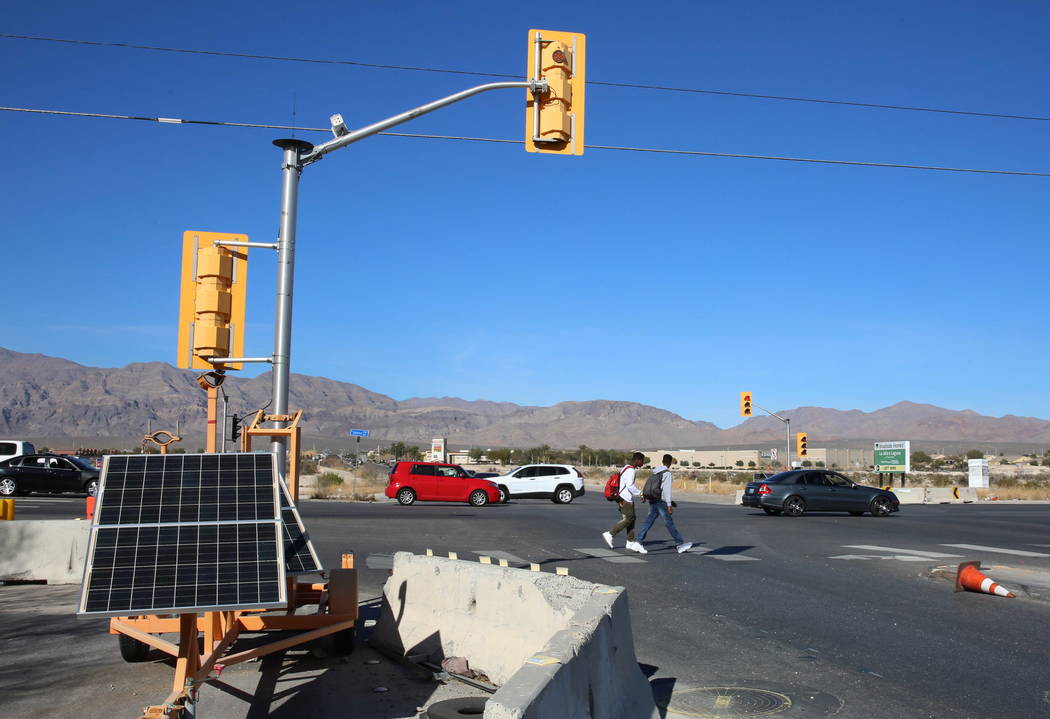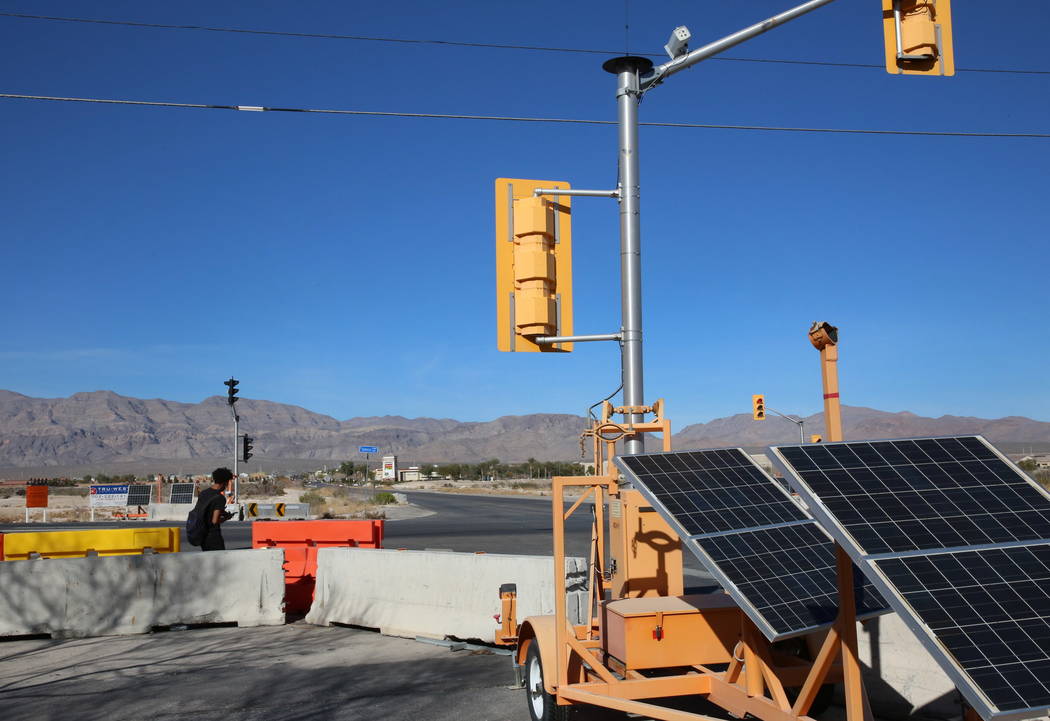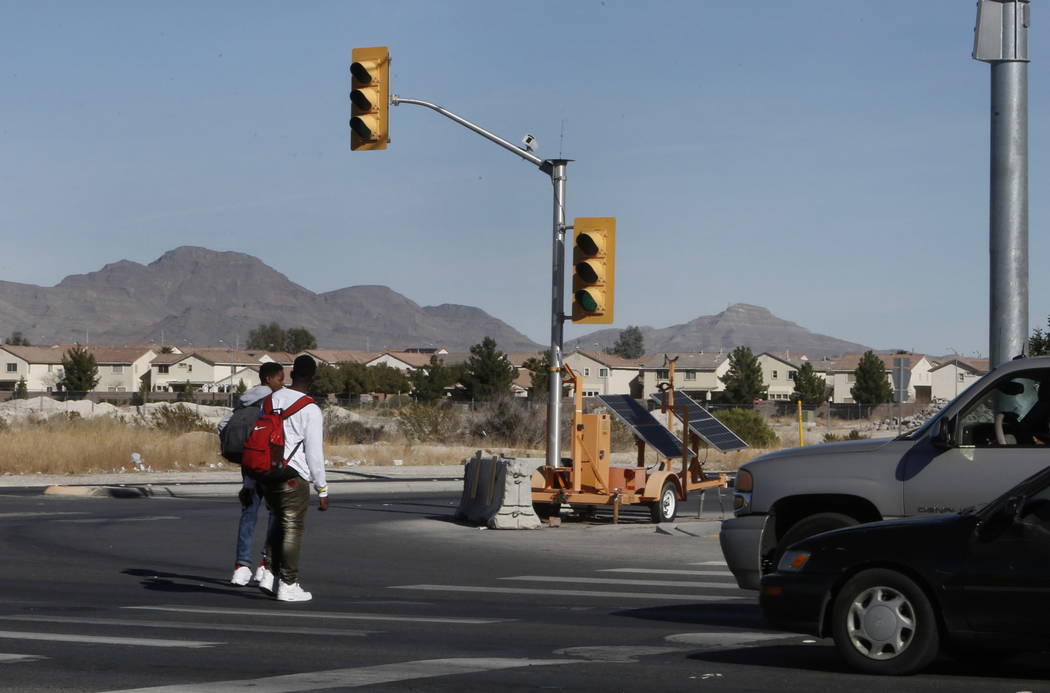 It will take another year before permanent traffic signals start working at a North Las Vegas intersection where a 14-year-old boy was killed and another was seriously injured in a crash last month.
While work appears to be slow, city officials said plans were underway for more than a year before a wrong-way driver struck the teens Jan. 9 on North Fifth Street near East Centennial Parkway.
The Road Warrior's mailbox has been flooded with questions about plans to increase safety at the intersection, which is currently equipped with a set of temporary signals, along with several concrete and plastic barriers that are supposed to act as a traffic-calming measure.
It was raining on and off throughout the day, but Elijah Coggins and Trevor Dodd opted to walk home from Legacy High School.
The teens were walking along an undeveloped section of North Fifth Street that doesn't have sidewalks when they were struck by a 21-year-old driver who crossed the center line around 2 p.m., according to North Las Vegas police.
Coggins died at University Medical Center, while Dodd was hospitalized with serious injuries and later released.
The driver, who cooperated with police, has not been charged as of this time.
It's unclear whether the rainy weather, the road's engineering design or other factors contributed to the crash, which remained under investigation as of last week.
Designs are nearly complete for a permanent traffic signal at Fifth and Centennial, with construction expected to start sometime this summer — depending on when the city is able to obtain one last right-of-way clearance, North Las Vegas city spokeswoman Delen Goldberg said.
After that, Goldberg said it should take another eight to 10 months to wrap up work on the signal. Even though drivers don't like them, the unsightly concrete and plastic barriers will remain until the temporary traffic signal is removed.
The $1.28 million project is funded by the county's fuel revenue index money, Goldberg said.
Light at end of airport tunnel
Most of us have driven through the tunnel connecting the 215 Beltway to McCarran International Airport to catch a flight or use as a commuting shortcut.
Dominick from Las Vegas and Harvey from Henderson both said they regularly travel the tunnel and found the lighting to be a little off.
"I cannot understand why the first half of the tunnels — in both directions — are well lit, while the last half is darker," Harvey wrote in an email to the Road Warrior. "This seems like a safety issue."
Dominick cited a similar concern, adding that the overhead lattice beams cause the sunlight to flash in and out, causing a "visual distraction."
Airport spokeswoman Christine Crews shed some light on the situation, noting that the tunnels meet requirements set by both the American National Standards Institute and the Illuminating Engineering Society of North America.
Additionally, Crews said the latticework at each end of the tunnels allows the driver's eyes to adjust to the change in lighting.
Left wondering
Peter from Las Vegas wanted to know what drivers attempting to turn left at an intersection should do when they cannot see oncoming traffic. In some cases, the view is blocked by a vehicle driving in the opposite direction, a sign or landscaping.
Trooper Jason Buratczuk of the Nevada Highway Patrol said it's always the driver's responsibility to make that turn safely.
"If they cannot see the oncoming traffic lanes, then they should not turn left, and they should not proceed into the intersection and stop," Buratczuk said.
Drivers who pull into the intersection, stop and make their left turn after the signal turns red usually block the flow of opposing traffic. Plus, they would technically be running a red light, Buratczuk said.
"My best advice is to make sure you have a clear view of all travel lanes before committing to a turn," Buratczuk said while noting that Las Vegas is ranked fourth in the country for red-light runners. "Show a little patience. It could save your life."
Questions and comments should be sent to roadwarrior@reviewjournal.com. Please include your phone number. Follow @RJroadwarrior on Twitter.
Road work ahead
Downtown
— The outside lane of northbound Interstate 15 is closed between Desert Inn Road and Sahara Avenue through late February. Crews are erecting traffic management signs.
— The Charleston Boulevard offramp from southbound Interstate 15 is closed through March 6. Crews are building a new offramp.
— The eastbound Charleston Boulevard offramp from northbound Interstate 15 is closed through March 8. Crews are widening the freeway.
— The outside lane of southbound Interstate 15 is closed between Sahara Avenue and Flamingo Road through late April. Crews are erecting traffic management signs.
— The outside lane of northbound Interstate 15 will close between Flamingo and Desert Inn roads from March to late April. Crews are erecting traffic management signs.
— Main Street is restricted between Bonneville Avenue and Las Vegas Boulevard through May. Crews are working on a storm drain.
— Sections of Bonneville Avenue, Charleston Boulevard, Grand Central Parkway and Martin Luther King Boulevard will have closed or disrupted lanes surrounding the Spaghetti Bowl as crews work on Project Neon through July.
Southwest
— Tropicana Avenue will be restricted between Decatur Boulevard and Lindell Road from 9 a.m. to 5 p.m. weekdays through Feb. 28. Crews are doing sewer work.
— State Route 159 will be restricted between Blue Diamond Road and the Red Rock National Recreation Area from 7 a.m. to 3 p.m. on Tuesdays, Wednesdays and Thursdays through March 1. Crews are filling road cracks.
Northwest
— Both directions of U.S. Highway 95 are narrowed to a single lane between Skye Canyon Park and Paiute drives through July 12. Crews are building a new interchange bridge.
Henderson
— Center Street is restricted between Burkholder Boulevard and Lake Mead Parkway through June. Crews are making various road improvements.
North Las Vegas
— U.S. Highway 93 is restricted between Interstate 15 and Apex Power Parkway through June. Crews are widening the highway and upgrading an interchange.
— Nellis Boulevard is restricted between Cheyenne Avenue and Las Vegas Boulevard from 6 a.m. to 3:30 p.m. weekdays through July. Crews are installing sewer pipes.
Gasoline prices
The average gasoline price Friday in the Las Vegas Valley was $2.73 per gallon. It was $2.77 in Nevada. The national average of $2.61 is up 1 cent from a week ago, up 12 cents from a month ago and up 35 cents from a year ago.