October 3, 2007 - 9:00 pm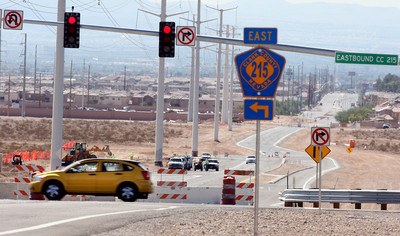 This week readers want to know when a Las Vegas Beltway exit and Lamb Boulevard north of Interstate 15 will be ready for drivers, whether pavement ever will adorn the sandy earth that is Russell Road near Durango Drive, and when local auto dealerships stopped offering turn signals on the list of options available on vehicles sold in the valley.
Alan Welch asks: When is Pecos Road between the Las Vegas Beltway and Centennial Parkway going to open?
Unfortunately, there is no construction planned for Pecos Road between the Beltway and Centennial anytime soon, according to North Las Vegas officials.
I checked out the city's capital improvement plan for 2008 through 2012. Still nothing.
City officials have said any road work for Pecos would have to be done by private developers, but a quick check Tuesday showed no plans have been submitted, said Juliet Casey, a city spokeswoman.
Alan also wanted to know: When is Lamb Boulevard north of I-15 going to open?
North Las Vegas officials have a better answer for you this time, Alan. The $44.5 million project has already begun and should be done in about 17 months, give or take a few, according to Brenda Fischer, spokeswoman for the city of North Las Vegas.
The project will include a bridge over the railroad tracks and flood control facilities.
Don Williams asks: Do you know when work will start on the continuation of Russell Road westward from Buffalo Drive to Durango Drive. I thought I read that it would start the first of 2007?
Good news, Don, the $3.3 million construction project connecting Russell Road between Durango and Cimarron Road (Russell already goes west past Buffalo) will start Oct. 15, said Bobby Shelton, spokesman for Clark County's public works department.
But then you get to wait some more, because the connection won't be finished until the end of March, weather cooperating and all, he said.
Shelton didn't know if the project was supposed to start at the beginning of 2007, but said road construction can often be held up because of design issues or a lack of funding.
I took a ride out to Durango and Russell just to check it out and I certainly feel for anyone turning left from Russell onto Durango, in either direction. You better bring some reading material, because that is a long wait.
The speed limit on Durango is posted at 35 mph, but drivers on Durango seem to only take that as a suggestion.
Instead of waiting, I turned right onto Durango south — I still had to gun it to avoid a speeding pickup — and then left into a parking lot, before turning right onto Durango north.
Jim Brush asks: Is it true that all cars sold in Las Vegas in recent years are not equipped with turn signals?
Mr. Brush asks a logical question since it seems like NOBODY uses turn signals in the valley.
I was going to call some dealerships to see if Mr. Brush's hypothesis is correct, but instead had a better idea while I waited through four cycles of the traffic light at Rainbow Boulevard and Sahara Avenue.
Instead, I'll pose Mr. Brush's question publicly to all valley auto dealerships: Have you all removed the turn signals from cars or what?
The dealership with the best answer will have it printed in next Wednesday's Road Warrior column.
Hit 'n' Run: Best personalized license plate of the week goes to "OVRWLMD." I was heading north on Rainbow and was right behind this car about 3:30 p.m. on Monday.
I don't know if the license plate referred to the traffic on Rainbow, but if it did it was very appropriate.
Until next time: Kids, don't forget to tell your parents to buckle up. It could save your mom or dad's life. And then after they put their seat belt on, remind them that you saved their life and now deserve a new video game system!
If you have a question, tip or tirade, call Francis McCabe at 387-2904, or send an e-mail to roadwarrior@reviewjournal.com. Please include your phone number.
ROAD WARRIORMORE COLUMNSDiscuss this column in the eForums!
Today through at least Friday, the Clark County Water Reclamation District will continue its sewer pipeline rehabilitation project in the east valley. Desert Inn Road will be reduced to one lane, in both directions, between Theme Road and Stephanie Street. We're midway through the first week of paving on U.S. Highway 95 between Valley View and Rainbow boulevards, according to the Nevada Department of Transportation. Today, drivers can expect that work will move to the inside lanes of U.S. 95 between Rancho Drive and Decatur Boulevard. On Thursday, paving will be done on the U.S. 95 southbound Valley View offramp and the northbound outside lanes between Rancho and Valley View. The southbound onramp at Rancho and the Valley View offramp will be closed from 6 a.m. to 5 p.m. On Friday and Saturday, paving will be done on southbound U.S. 95 from 5 a.m. Friday to 9 p.m. Saturday. The Valley View onramp, both Decatur offramps, and the northbound outside lanes of U.S. 95 between Valley View and Decatur will be closed. The Decatur northbound offramp might reopen late Friday or early Saturday.