Planes, Shuttles and Automobiles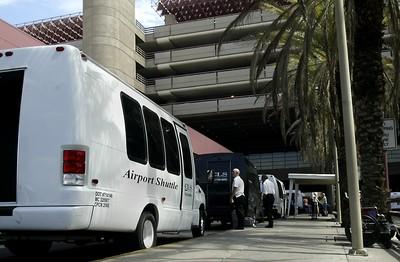 This week, a reader wants to know whether there's a way to avoid taking a car to jet to a jet in Las Vegas. And the Road Warrior hears from a reader who claims a cone zone makes no sense! Never heard that before.
Sally White asks: Why doesn't this city have an airport shuttle service? This is the only place I have ever lived where we either had to drive to the airport, beg a ride from a friend or rely on the vagaries of cabbies who do not want to go off-Strip to the neighborhoods. I've actually put off travel plans because I am horrified to drive my car to the airport and hassle with the parking there, especially in the summer heat.
Good news for you, Sally. There are airport shuttle services!
Bad news for you, Sally. None of the shuttle services will pick you up at your house!
If you want door-to-door service, you'll have to take a cab.
A half-dozen companies operate private shuttles that pick up and drop off on the west side of the baggage claim hall at McCarran International Airport, at Exits 8 through 13, according to the airport.
All shuttles go to Strip and downtown Las Vegas hotels, and most also operate at off-Strip hotels in the neighborhoods. Shuttle rates range from $5 to $7.50 one-way, depending on the operator. Each company operates seven days a week and until at least 11:30 p.m. daily. One company offers shuttles all day, every day.
For more information, you can go online to McCarran's Web page at http://www.mccarran.com/03_shuttles_01.asp.
Or you can contact the shuttle operators by phone: Ambassador/Ritz (889-4242; www.shuttleleasvegas.com), Bell Trans (739-7990; www.bell-trans.com), CLS (740-4050), Executive Las Vegas (646-4661), Gray Line/Coach USA (739-5700) or Showtime (261-6101).
Four of those firms — Ambassador/Ritz, Bell Trans, CLS and Executive Las Vegas — also offer either walk-up limousine or sedan service. Base prices range from $39 to $57 on up.
Also, Citizens Area Transit operates two routes to McCarran: the Paradise Road/Fremont Street Experience/Monorail connector Route 108 and the Maryland Parkway Route 109, which pick up and drop off riders at the Zero Level of Terminal 1. Fares are $1.25 each way.
Folks can catch Route 108 from the Downtown Transportation Center at Third and Stewart Streets, or Route 109 from the DTC or the South Strip Transfer Terminal at Sunset Road and Gilespie Street.
At the SSTT, CAT allows McCarran travelers to park for up to one week at no cost at that facility's 110-car lot. For more information on CAT routes, call 228-7433 or go online to www.rtcsnv.com.
In the future, there might be still more ways to get to McCarran minus a car. The Las Vegas Monorail hopes to open an extension of its line from behind the east side of the Strip to the airport as soon as 2011, if monopeople can come up with the $500 million needed for the new segment. That's iffy, but not totally impossible.
And the Regional Transportation Commission is considering both an extension of its Strip double-decker bus route known as "The Deuce" to McCarran, as well as construction of an express bus line called the Regional Fixed Guideway that would use bus-only lanes and make train-like "station" stops at McCarran and across the valley.
That guideway plan is also many years away and many dollars short of reality right now. But we'll see what happens.
Hit 'n' Run: Nobody is a fan of lane closures on Interstate 15 toward California. Especially not Jim Green.
"Most traveling north on I-15 from Stateline have scratched their heads in bewilderment over the most unnecessary lane closures and low speed limits," he wrote not long ago. But what he saw in late June "took the cake.
"After traveling for miles and miles with the northbound (side) down to one lane, the road finally opened up again to three lanes by the (truck) scales near Sloan. Only then we came up on a truck painting a line on the shoulder, with no cones or protection of any kind," Green wrote. "What a joke?"
It's a joke? I don't get it.
If you have a question, tip or tirade, call the City Desk at 383-0264, or send an e-mail to roadwarrior@reviewjournal.com. Please include your phone number.
ROAD WARRIORMORE COLUMNSDiscuss this column in the eForums!
Lane restrictions are in effect on state Route 160 (Blue Diamond Road) from Dean Martin Drive to Decatur Boulevard and from the Mountain Springs Summit to just north of the Clark County/Nye County line. Drivers should use caution. Traffic fines are doubled in these construction zones. Various overnight lane restrictions can be expected on U.S. Highway 95 from Las Vegas Boulevard to Henderson from 9 p.m. to 5 a.m., Sunday nights through Friday mornings. The Jones Boulevard northbound offramp from U.S. 95 will be closed from 9 p.m. tonight through Aug. 18 for reconstruction of Jones Boulevard. The Jones Boulevard onramp to U.S. 95 northbound is closed until late summer. Martin Luther King Boulevard at U.S. 95 will be closed in each direction from 9 p.m. to 5 a.m. through Saturday.Drivers can expect lane restrictions on northbound and southbound Interstate 15 between the California-Nevada state line and the Cajon Pass near Devore, Calif., in San Bernardino County, Calif. Drivers should anticipate delays and watch for updates on specific closures. To sign up for e-mail alerts on I-15 road work in California or for more project information, go online to www.caltrans8.info. For phone updates on Southern California road work, call (916) 445-7623 or (909) 383-7960.