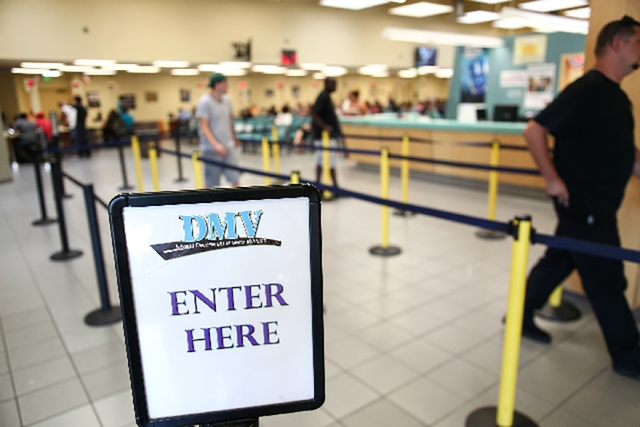 Avoid the Department of Motor Vehicles on Monday and Tuesday if you don't feel like spending most of your day in line.
For some odd reason, those are the busiest days of the year for the DMV.
"People naturally hesitate to do something at the DMV before a holiday, so they're always putting it off until afterward," DMV spokesman Kevin Malone said.
Another possibility is that this is the only time of the year when the DMV is closed for four consecutive days, from Thanksgiving to Sunday.
About 5,379 people visited the DMV's offices across the Las Vegas Valley on Nov. 30, 2015 — the Monday following the Thanksgiving weekend, Malone said. That's a significant jump from the 4,043 who visited the DMV offices on the Monday prior to the holiday last year.
Another 4,515 people trekked to the DMV on the Tuesday after Thanksgiving 2015, up from 4,043 one week earlier, Malone said.
It's unclear when this trend started, but "we've seen this before I started working for the DMV about 20 years ago," Malone said. "We always have to warn people about it every year."
April, October and December tend to be the slowest times for the DMV, which might actually come in handy next month. Services will be suspended for two weeks at the DMV's office at 2701 E. Sahara Ave. on Dec. 3, as workers move into a new facility located next door at 2621 E. Sahara Ave. That office is scheduled to open Dec. 19.
Expect to see a crunch at the DMV's three other offices in Las Vegas and Henderson during that two-week closure, Malone said. As with any time of the year, you should try to complete your DMV services online, while appointments can be made at dmvnv.com/dashpass.
"Of course," Malone added, "if you make an appointment any time of the year, then you don't have to wait at all."
FREEWAY UPGRADES
With the $1 billion widening of the Spaghetti Bowl interchange underway, Bart from Las Vegas wanted to know whether the Nevada Department of Transportation intends to improve access along southbound U.S. Highway 95 between downtown Las Vegas and Eastern Avenue.
Yes, Bart, NDOT is drawing up some improvements, and they extend farther south than you think. Just don't expect to see the work completed anytime soon.
Plans are underway to upgrade the entire 20-mile U.S. 95 corridor from the Spaghetti Bowl to an area just north of Railroad Pass in southeastern Henderson, NDOT spokesman Tony Illia said. However, construction will depend on available funding.
"At present, the department lacks the financial resources" to complete the upgrade all at once, Illia said. The work will likely be completed in piecemeal fashion, one segment at a time, after work on Project Neon wraps up in 2019.
DRIPPY TUNNEL
Robert from Las Vegas noticed some liquid dripping onto his car while driving through the tunnel to McCarran International Airport. He wanted to know what it was and whether this substance would affect the tunnel's structural integrity.
Rest assured, Robert, this mystery liquid is just water, airport spokeswoman Christine Crews said.
"We don't have any concerns about the structural integrity," Crews said. "The tunnel is regularly maintained and constantly evaluated."
KAREN CONSTRUCTION
Karen Avenue is apparently in "bad shape" between Maryland Parkway and Paradise Road, according to Paul from Las Vegas, who wanted to know when the road will be repaired.
"I was told by the county's public works staff that funding to resurface and repave Karen has been approved, but it was not designed and might get done next year," Paul wrote in an email to the Road Warrior. "An assistant for County Commissioner Chris Giunchigliani told me this was on the priority list for the next three years, but funding wasn't identified. What's going on?"
Clark County spokesman Dan Kulin said he expects design work to start next year on a project to rebuild Karen Avenue. However, it was unclear when construction would start.
TRAFFIC LIGHT
Robert said he's seen "lots of growth and road construction" since moving to Las Vegas about 42 years ago. He wanted to know whether the county plans to install a traffic light at Russell Road and Buffalo Drive in the southwest end of town.
Expect to see crews to start working on this project sometime in 2017, Kulin said.
Questions and comments should be sent to roadwarrior@reviewjournal.com. Please include your phone number. Follow the Road Warrior on Twitter: @RJroadwarrior