Public bus breakdowns for heat are decreasing in Las Vegas
September 9, 2018 - 11:38 pm
Updated September 10, 2018 - 6:04 am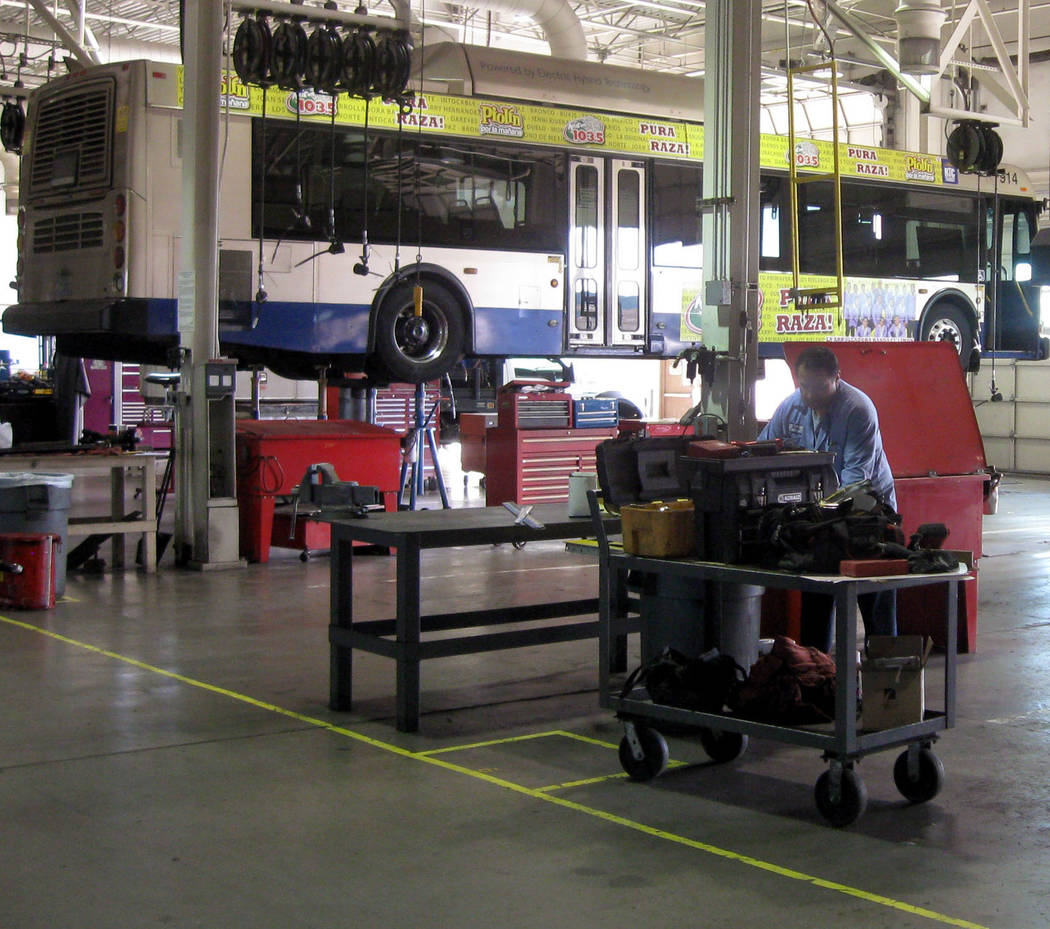 Public buses are still breaking down because of the extreme summertime heat in the Las Vegas Valley, but the instances are decreasing, according to the Regional Transportation Commission of Southern Nevada.
About 265 buses with overheated engines needed to be repaired during the fiscal year that ended June 30, down from 426 instances in 2017.
Still, Brad from Henderson said he frequently saw troubles while riding the double-decker buses for Route 202 along Flamingo Road over the past summer. The problems often force Brad and other riders to get off a stalled bus and wait for a replacement to come along.
RTC spokeswoman Catherine Lu said the agency's oldest double-decker buses are being replaced to help resolve the issue. Ten buses were recently retired, with another 54 expected to be replaced between November and May.
With the RTC's fleet of double-decker buses from British manufacturer Alexander Dennis, there are 90 single-staircase vehicles that are known to overheat when temperatures rise above 107 degrees, RTC officials told the Road Warrior last year. The problem is not noticed with the RTC's double-level buses with two staircases.
The older single-staircase buses will be replaced with a new set of buses varying from 40 to 60 feet long, equipped with the latest technology in engine cooling and air conditioning for the passengers, Lu said.
When a bus engine does overheat, the driver is allowed to flip a switch and engage in "fast idling." The trick increases the vehicle's RPMs to make the engine fan spin faster so that the coolant can move more quickly.
Drivers also conduct pretrip inspections of coolant levels, the air conditioning system, windows, doors and seals on every bus prior to pulling out for the day.
Secondary seat belt law
Shirley from Las Vegas wanted to know whether a driver could be pulled over for failing to wear a seat belt. She also wanted to know if any citations are issued if the driver is wearing a seat belt but the passenger is not.
Nevada is among a small handful of states that have a "secondary" seat belt law, which means law enforcement officers can issue a ticket for not wearing a seat belt only when there is another citable traffic offense, said Trooper Jason Buratczuk of the Nevada Highway Patrol.
That means an officer can't pull over drivers solely based on the seat belt not being used.
However, if the officer pulls you over for speeding and you are not wearing a seat belt, he will write a citation for both violations, Buratczuk said. If a passenger over 18 is not wearing a seat belt, he will be cited. If the violating passenger is under 18, the driver is cited.
Henderson interchange needs improvement
During his evening commute home, Dan said he regularly sees near-miss crashes on the eastbound 215 between Gibson Road and U.S. Highway 95 in Henderson.
"It doesn't seem like there's enough room for vehicles entering the 215 to merge into the appropriate lane," Dan said in an email to the Road Warrior. "The lack of room and crisscrossing traffic seems to be causing accidents, or at least major slow-downs."
Several safety improvements are "coming soon," said Tony Illia, a spokesman for the Nevada Department of Transportation.
Plans call for repainting the lane stripes at the freeway interchange, along with adjusting ramp access at Gibson and Auto Show Drive.
"While efforts are being made to establish a larger scale project for the freeway interchange, this project was identified to address the more immediate congestion and safety concerns," Illia said.
No truck route
Even though there are posted signs prohibiting commercial truck traffic on Lake Mead Boulevard from Sun City Boulevard to the 215 Beltway in the northwest valley, Jeff said he regularly sees big rigs rumbling through his neighborhood.
Las Vegas city spokeswoman Margaret Kurtz said that sign is intended to clarify that this road segment is not a designated truck route.
Despite that, Kurtz said that the city cannot restrict a truck that's making a delivery on the shortest route possible — which often means using the Beltway and Lake Mead Boulevard.
Questions and comments should be sent to roadwarrior@reviewjournal.com. Please include your phone number.
Road work ahead
Downtown
— Rancho Drive will be restricted at Washington Avenue from 9 p.m. to 5:30 a.m. daily through Sept. 14. Crews are working on a storm drain project.
— Washington Avenue is restricted between Robin Street and Baker Avenue through October. Crews are working on a storm drain project.
— Ogden Avenue will be restricted between Main Street and City Parkway through mid-October. Crews are making street, sidewalk and lighting improvements.
— The Charleston Boulevard onramps to southbound Interstate 15 are closed until mid-October. Crews are rebuilding the intersection.
— The D Street offramp from northbound Interstate 15 is closed through mid-November. Crews are widening the freeway.
— Interstate 15 will be narrowed in both directions between Sahara Avenue and D Street until Nov. 20. Crews are widening the freeway.
— The ramp connecting southbound U.S. Highway 95 to southbound I-15 will be reduced to one lane and detoured through Nov. 20. Crews are widening I-15.
— The ramp linking southbound U.S. 95 to northbound I-15 is closed through Nov. 20. Crews are widening I-15.
— The Martin Luther King Boulevard onramp to southbound U.S. Highway 95 is closed until early 2019. Crews are building a high-occupancy flyover ramp.
— Gass Avenue will be restricted between Las Vegas and Charleston Boulevards through March 2019. Crews are making pedestrians and bicycle improvements.
Northwest
— Both directions of U.S. Highway 95 will be narrowed to two lanes at Elkhorn Road through December. Crews are building a new carpool ramp.
— El Capitan will be restricted between Lone Mountain and Ann roads from Monday to the beginning of August 2019. Crews are installing a storm drain system.
North Las Vegas
— Pecos Road will be closed at the 215 Beltway through the end of October. Crews are building a freeway bridge.
Henderson
— Stephanie Street will be restricted between the 215 Beltway and Cielo Abierto Way through October. Crews are repaving the road and making other improvements.
Gasoline prices
The average gasoline price Friday in the Las Vegas Valley was $3.11 per gallon. It was $3.18 in Nevada. The national average of $2.85 is up 1.5 cents from a week ago, down 1.5 cents from a month ago and up 17.7 cents from a year ago.