Road blocked but signals keep on ticking as usual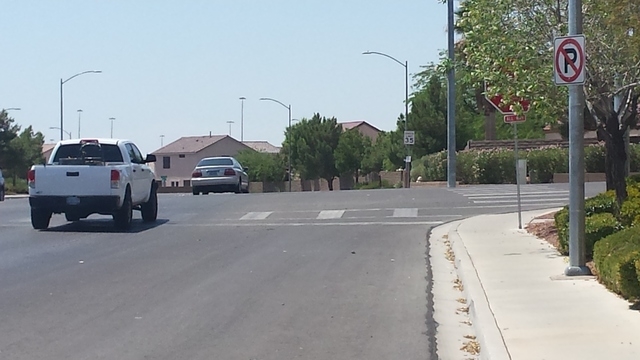 As I sat lamenting my decision not to buy stock in the company that manufactures orange traffic cones, I pondered a question from Warrior reader Gerry.
It may be one all of us have contemplated as more and more of our streets undergo repairs in this Fuel Revenue Indexing era.
In most road work, a lane is closed or traffic is moved to the other side of the street and signs or markers show the way.
In other situations, streets are completely closed and blocked. One would think that traffic signals on streets intersecting the closed streets would be modified since there's no traffic as a result of the closure. And that's where Gerry's question comes in:
"I was sad to see that work at Craig Road and Simmons Street won't be completed until February. But that means I really want to ask this question about a situation that leads to long lines of traffic every day.
"Why does the light at Simmons and Craig turn red every minute when there are no pedestrians or construction traffic crossing the street? The cross street is completely closed. So this makes no sense. This didn't happen until they reduced Craig from two lanes to one in each direction. Now traffic backs up all the time because we have to stop for a red light for no reason!"
The answer has to do with people on foot who are still patronizing some Craig Road businesses in the area.
"While there is no vehicular traffic north- and southbound, there is still pedestrian traffic present at the intersection that were causing safety concerns," said Jennifer Doody, deputy director of public works for the city of North Las Vegas.
"The extent of the construction makes the pedestrian push buttons inaccessible, so the city has had to time the signal to bring up the pedestrian movement each cycle. While this does create some delay for drivers, it makes the situation much safer for pedestrians," she said.
"The one lane each direction configuration should only be in place for a few more weeks. We are hoping that once the roadway is opened back up to two lanes in each direction, the construction site will allow access to the pedestrian push button and the signal timing can be altered accordingly."
And don't forget, Craig is a pretty wide street. It takes longer for pedestrians to cross it. Therefore, the light change cycles are going to be longer.
Obviously, that's not something that motorists sitting in traffic want to hear.
WHAT GIVES ON LOSEE?
Deadlines. Most of us have them. Most of us hate them.
And when an announced project doesn't get done when the engineers say it will be done, we get cranky.
Warrior reader Ryan has been contemplating the Losee Road widening project near Cheyenne Avenue and its deadline:
"Do you know how much longer the Losee widening project is going to last? We originally thought it would take a year but they're at least two months past that already."
The project is known as Losee 2B and once again, North Las Vegas' Jennifer Doody has an answer.
"The Losee 2B Project will be completed by mid-October. Additional days were added to the construction schedule due to some unforeseen underground utility conflicts and some additional work added to the project including a sewer line upsizing and installation of traffic loops and pedestrian push buttons."
So hopefully you're no longer asking, "2B or not 2B?"
HEAVY TRAFFIC
While it isn't one of those blockbuster megaevents that always seem to snarl traffic, the National Basketball Association Summer League is likely to bring more vehicles to the vicinity of the Thomas & Mack Center than usual over the next week.
Traffic might be just a little heavier than normal on Tropicana Avenue, Paradise Road, Swenson Street and Harmon Avenue and games are played throughout the day.
BIG CHANGES AHEAD
If you're an occasional taxi user or a fan of Uber (or Lyft), big changes are on the horizon, with the operation of transportation network companies in Nevada just weeks away.
Hopefully, we'll soon get answers to questions like, "Where can I pick up my Uber ride at McCarran?" and "How much will it cost for a lift on Lyft?"
The Nevada Transportation Authority, which is writing the rules based on guidelines established in laws written by the Nevada Legislature, is having workshop meetings on proposed regulations Thursday and July 22 at the Sawyer Building.
That would be the best time to chime in with what you think the rules should say.
Questions and comments should be sent to roadwarrior@reviewjournal.com. Please include your phone number. Follow the Road Warrior on Twitter @RJroadwarrior.
ROAD WORK AHEAD
■ Lane closures and shifts are planned on Durango Drive between Tropicana Avenue and Desert Inn Road beginning Monday through October. Traffic delays are expected and motorists are encouraged to find alternative routes while the paving and sidewalk replacement project is completed.
■ Five bus stops on Las Vegas Boulevard will have asphalt replaced by more durable concrete in two phases over two weeks. Work is planned from 2 a.m. to 10 a.m. through Wednesday and lanes will be closed all day on the southbound lane in front of Treasure Island, The Mirage and Caesars Palace. Work is scheduled July 20-22 northbound near the Tropicana and southbound near Slots A Fun.
■ Oakey Boulevard will be closed at the east side of Decatur Boulevard for a storm drain installation through mid-July. Oakey will remain open to Decatur on the west leg of the intersection. Decatur will remain open.
■ East Lake Mead Boulevard will undergo a widening for 4.5 miles from Hollywood Boulevard to the entrance to Lake Mead National Recreational Area. The project will continue through July. One lane of traffic will remain open, and motorists should expect delays. Alternate routes are recommended.
■ Power line relocations are scheduled through midsummer for 1.5 miles of Interstate 15 between U.S. Highway 95 and Charleston Boulevard. Restrictions are planned for the northbound onramps and offramps of Grand Central Parkway at I-15 for Project Neon, with utility relocation scheduled for completion by July 29.
GASOLINE PRICES
The average gasoline price Friday in the Las Vegas Valley was $3.27 per gallon. It was $3.23 in Nevada. The national average of $2.76 is down 1 cent from a week ago, up 1 cent from a month ago and down 88 cents from a year ago.