Road Warrior rewind: the top transportation stories of 2016
December 25, 2016 - 2:32 pm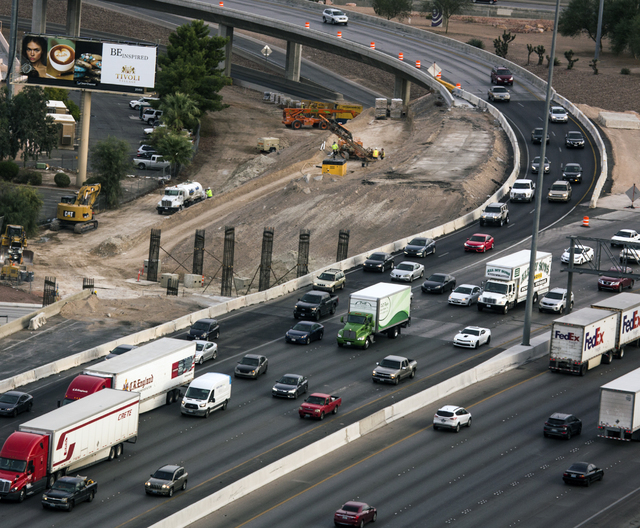 Las Vegas drivers continued to be inundated with construction and traffic in 2016, making for some pretty great news stories.
Headlines for some of the most important topics heralded the death of free parking at hotels along the Strip. Passenger traffic took off to all-time highs at McCarran International Airport as Las Vegas landed its first direct flights to China.
And Clark County voters comfortably approved Question 5 to allow for a 10-year extension of a fuel revenue index tax that aims to generate $3 billion for nearly 200 local transportation projects.
Believe it or not, there were also a few tales that made us laugh, feel proud or caught us by surprise.
Before driving full speed into 2017, let's take a look back at some of Southern Nevada's most interesting, intriguing and inspirational transportation stories of 2016.
CAR-NADO CONSTERNATION
The four-month construction storm known as Car-nado came in like a zephyr but failed to live up to the hype.
Up north in Carson City, Gov. Brian Sandoval chastised the Nevada Department of Transportation for developing a marketing ploy that branded Nevada's largest infrastructure project as a natural disaster.
"'Traffic Hell' is not the headline we're looking for," Sandoval said nearly three weeks after several ramps were closed at the Spaghetti Bowl interchange in downtown Las Vegas.
Sorry, guv. You can blame my editors for that one.
But the sensational headline, appearing online and on the front page of the Review-Journal on Oct. 26, may have helped motorists steer clear from the closures at Interstate 15's southbound and northbound ramps connecting to northbound U.S. Highway 95, along with closed ramps at Martin Luther King Boulevard through the end of February.
The nickname could have been cheesier: Ramp-nado, Fix-a-palooza, Ramp-enstein and Repair-a-palooza were among the suggestions considered by NDOT.
Let's see if one of those monikers pops up for several lane restrictions planned for U.S. 95 in 2017.
STADIUM, STREETS AND SOUTHWEST
Sandoval ordered a report to determine the cost of freeway improvements that would be needed if a domed stadium is built on the south end of Las Vegas.
The result: NDOT would need to fast-track at least $899 million in projects that were previously scheduled for construction over the next few decades.
The report was released just as state lawmakers were debating in October's special session whether to approve $750 million in public financing to help build the $1.9 billion stadium, the proposed home of the NFL's Oakland Raiders and UNLV's football team.
It also prompted lawmakers to hold an unanticipated, late-night meeting where NDOT Director Rudy Malfabon explained that several transportation projects within Clark County probably will be delayed in order to accelerate freeway improvements surrounding two potential stadium sites.
One of those sites will likely fall by the wayside. In September, Southwest Airlines — the busiest commercial carrier at McCarran International — warned that airport operations could be restricted if the 65,000-seat stadium is built at the site of Bali Hai Golf Course. The 140-acre property sits just west of McCarran's runways, separated only by Las Vegas Boulevard.
Southwest sounded the same alarm in July for a proposed stadium site at Tropicana Avenue and Koval Lane, which was eventually nixed. For now, the preferred location among the stadium's developers is a 62-acre parcel northwest of Russell Road and Interstate 15.
BACK IN THE DRIVER'S SEAT
Paralyzed former IndyCar driver Sam Schmidt raced toward history in September as the first person in the nation to receive a restricted driver's license for a semi-autonomous vehicle, courtesy of the Nevada Department of Motor Vehicles.
The Henderson resident made 27 career IndyCar starts until he crashed during a test run in January 2000 at Walt Disney World Speedway in Orlando, Florida. The accident severely injured Schmidt's spinal cord, and he was diagnosed as a quadriplegic.
Arrow Electronics, a Fortune 500 company in Colorado, began developing the technology in 2014 that now allows Schmidt to drive a modified 2016 Corvette Z06.
Over the past year, Arrow and Schmidt worked with the DMV to update regulations that provide safety buffers allowing Schmidt to drive on state roads while also maintaining safety for fellow Nevada motorists.
RISE OF RIDE-SHARING
Uber and Lyft aren't just eating away at ridership on taxis and bus lines running along the Strip. The transportation network companies are crushing the competition just one year after being permitted to operate in Nevada.
Taxi ridership across Clark County plummeted more than 19 percent, while ridership aboard the Deuce and the Strip &Downtown Express bus routes dropped more than 17 percent.
The Nevada Taxicab Authority is attempting to stem the tide by considering a series of initiatives aimed at making the industry more competitive by eliminating or reducing fuel surcharges and a $3 credit card fee, while also dealing with drivers who take a longer route than necessary in a practice known as long-hauling.
Those ideas are creating a struggle with the Livery Operators Association, which represents some local taxi companies. The group opposes changes to the fee structure because the money is paying for new dispatch systems, smart meters and smartphone apps that will help taxicab companies remain competitive with Uber and Lyft.
In the meantime, the Deuce and the Strip &Downtown Express bus routes continue to be the most profitable routes in the United States, generating up to $9 million in profit annually, according to the Regional Transportation Commission of Southern Nevada. The money helps pay for residential service in other areas of the Las Vegas Valley.
But RTC officials have warned that if ridership continues to significantly decline on those routes over the next decade, service frequency might be affected in outlying residential neighborhoods.
NORWEGIAN NO-GO
Las Vegas summers are brutal for tourists and residents alike, but Norwegian Air Shuttle simply can't fly during the extreme heat.
The discount, long-haul carrier is forced to ground midday flights anytime temperatures soar to 104 degrees or hotter. That usually leads to long delays until temperatures cool, resulting in lost profits for Norwegian.
Norwegian's heat problems stem from an unusually high passenger capacity aboard the Boeing 787-8 jetliners that the carrier uses on its Las Vegas routes. Most airlines operate the plane with an average of 200 seats, but Norwegian puts 291 seats for sale on the 787-8 aircraft to keep costs down.
In short, the plane's weight makes it difficult to take off in the heat.
The discovery prompted Norwegian to suspend flights from Las Vegas to four European cities in late March, resuming with "seasonal service" in November 2017. In the meantime, airline officials are now studying whether to offer flights during the cooler early morning or late night hours from Las Vegas. The carrier might also use planes with engines strong enough to withstand high passenger volumes during the searing desert heat.
Questions and comments should be sent to roadwarrior@reviewjournal.com. Please include your phone number. Follow the Road Warrior on Twitter: @RJroadwarrior