Sandoval reveals transportation goals for final year in office
January 14, 2018 - 11:55 pm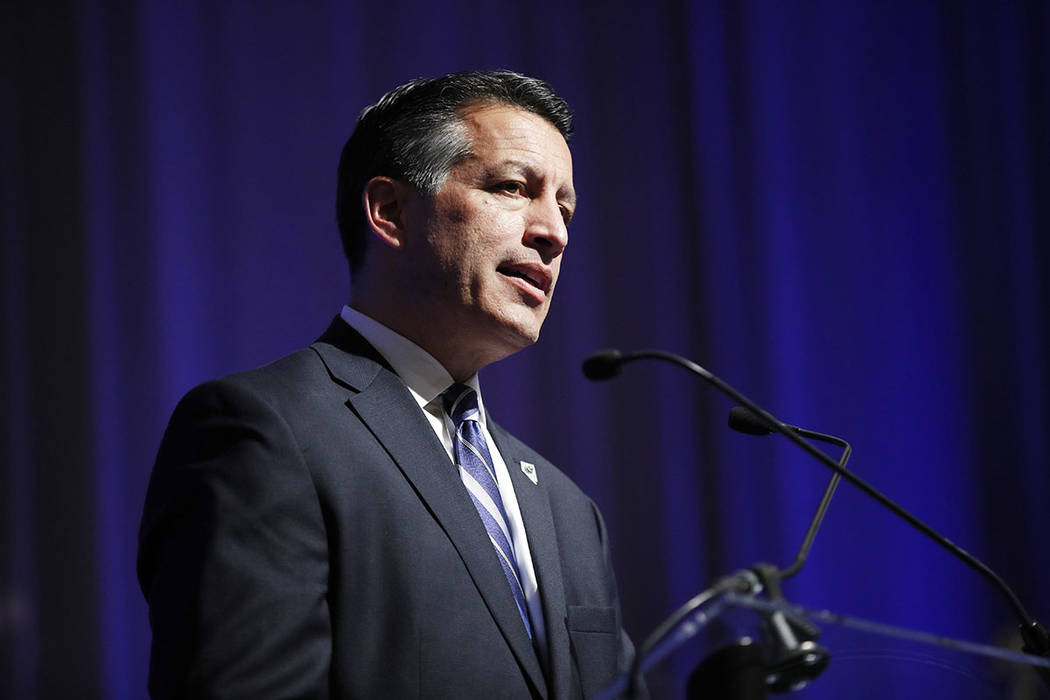 The past seven years were a road well-traveled by Gov. Brian Sandoval when it comes to Nevada's transportation infrastructure.
In his role as chairman of the board of the Nevada Department of Transportation, Sandoval pushed for several vital projects, including the $1 billion overhaul of the Spaghetti Bowl interchange in downtown Las Vegas, along with the first leg of Interstate 11, which might someday serve as a critical trade route between Mexico and Canada.
During the NDOT meeting held last week, Sandoval said Nevada was in the midst of a "transportation renaissance." But with a year left in office, the governor acknowledged there's a lot of work left to do.
Sandoval sat down last week for a one-on-one chat with the Road Warrior to discuss his legacy on transportation projects across the Silver State. The interview has been edited for length and clarity.
What would you consider your biggest achievements in transportation over the last seven years?
I'm really excited about the fact we've been able to do a comprehensive transportation package for the state, particularly Project Neon. It originally would have been built out over 20 years, but why would we build something that would be obsolete by the time it was finished? We were able to put together a financing package that allows us to get it done in five years.
Up north, we're planning to do the same thing in Reno for their version of the Spaghetti Bowl. I'm also proud that we constantly rank within the top of the country for the condition of our roads and bridges, and we've done a good job in getting federal funds that are competitive.
What types of road improvements would you like to see for the Raiders stadium set to open in 2020?
We certainly want to make sure everybody can navigate around there and have a pleasant game day experience. You're going to see some changes, and I think it's going to be good.
That project is going to change some of the activity we've had planned but it will not be funded by new money. The improvements will recognize that there's going to be an approximately $2 billion stadium going in there, and we'll have to adjust accordingly.
You signed a bill last year allowing the Regional Transportation Commission of Southern Nevada to seek funding for a light rail line in Las Vegas. What do you envision?
I think it's time for light rail in Las Vegas. This is a grown-up city with 2 million people, and we need to recognize that. But this is one of those things where I will rely on the experts and engineers to determine the best mode of transportation and routing.
You've heavily promoted Nevada as a place to test electric and driverless vehicles over the last few years. What's next?
We're in the midst of a competitive process to be one of those centers that would allow us to take a leadership role in autonomous vehicles. I want to make sure that we're adding the infrastructure to anticipate the use of autonomous vehicles in the valley and throughout the state.
Additionally, we'll finish this year with the Electric Highway program on U.S. Highway 95 between Las Vegas and Reno. My goal has been to provide charging stations on all highways in the state, no matter how remote. We need to make sure Nevada is the place where drivers won't have any range anxiety when they use electric vehicles here.
Any advice for the next governor on how to continue building Nevada's transportation system?
I hope he or she recognizes that infrastructure is incredibly important to the future of this state, particularly with regard to logistics, because we're going to be a distribution capital in this country. He or she will also have to recognize that we are one of the fastest-growing states in the country, and we will need the infrastructure and technology to match that.
Charleston crashes
Larissa from Las Vegas has noticed an increase in vehicle crashes at Charleston Boulevard and Hualapai Way, and she believes they may be caused by a combination of a "blind spot" and the flashing left-turn arrows for the traffic signals posted at Charleston.
Traffic engineers recently examined this intersection and suppressed the flashing yellow arrow for drivers wanting to make a left turn from westbound Charleston from 6:30 a.m. to 7 p.m. daily, Las Vegas city spokeswoman Margaret Kurtz said.
"This means drivers will only be allowed to turn on a protected green arrow during these hours," Kurtz said.
Beltway chunks
Dave said he's noticed some "missing chunks" of pavement along the 215 Beltway near the Aliante area of North Las Vegas.
"It's hard on me and the car," Dave wrote in an email to the Road Warrior.
Clark County spokesman Dan Kulin said crews did not notice any large areas of missing asphalt on the Beltway, but "a few small potholes" were spotted and will soon get patched up.
Questions and comments should be sent to roadwarrior@reviewjournal.com. Please include your phone number. Follow @RJroadwarrior on Twitter.
Road work ahead
Downtown
— The Charleston Boulevard offramp from southbound Interstate 15 will close from 6 a.m. Monday to March 6. Crews are building a new offramp.
— The outside lane of northbound Interstate 15 is closed between Desert Inn Road and Sahara Avenue through late February. Crews are erecting traffic management signs.
— The outside lane of southbound Interstate 15 is closed between Sahara Avenue and Flamingo Road through late April. Crews are erecting traffic management signs.
— The outside lane of northbound Interstate 15 will close between Flamingo and Desert Inn roads from March to late April. Crews are erecting traffic management signs.
— Main Street is restricted between Bonneville Avenue and Las Vegas Boulevard through May. Crews are working on a storm drain.
— Sections of Bonneville Avenue, Charleston Boulevard, Grand Central Parkway and Martin Luther King Boulevard will have closed or disrupted lanes surrounding the Spaghetti Bowl as crews work on Project Neon through July.
Northwest
— Both directions of U.S. Highway 95 are narrowed to a single lane between Skye Canyon Park and Paiute drives through July 12. Crews are building a new interchange bridge.
Henderson
— Center Street is restricted between Burkholder Boulevard and Lake Mead Parkway through June. Crews are making various road improvements.
North Las Vegas
— Nellis Boulevard is restricted between Cheyenne Avenue and Las Vegas Boulevard from 6 a.m. to 3:30 p.m. weekdays through July. Crews are installing sewer pipes.
Gasoline prices
The average gasoline price Friday in the Las Vegas Valley was $2.61 per gallon. It was $2.67 in Nevada. The national average of $2.53 is up 4 cents from a week ago, up 8 cents from a month ago and up 18 cents from a year ago.