Short-handed troopers just keep on trucking
October 28, 2007 - 9:00 pm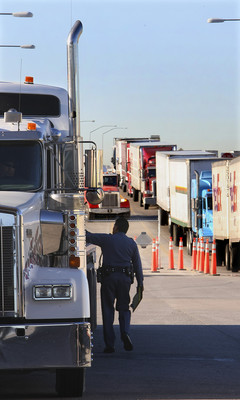 The afternoon sun beat down on Jim Brannum and the surrounding wasteland known as Sloan.
Tons of metal bore down on the Nevada Highway Patrol trooper as he stood under a metal roof that looks more like an aircraft hanger with two port a-potties than a security checkpoint.
Dressed in his navy blue uniform, Brannum seemed oblivious to the passing tailpipes that pumped out noxious fumes for him and his comrades to inhale.
It may not look like much, but this outpost 10 miles south of Sin City on Interstate 15 could be considered a front line in the valley's homeland security efforts.
For 12 hours, from 6:30 a.m. to 6:30 p.m., on Tuesday, Wednesday and Thursday, Brannum and other troopers ordered a majority of trucks on Interstate 15 into the checkpoint. The effort this past week was part of a program called Operation Safe Driver.
Most of the trucks, which carried everything from produce to safes, were weighed, until the scale went on the fritz.
Others were pulled aside and the drivers were given a licensing check. The troopers checked for expired driver's licenses, medical cards and log books, all of which they're required to have.
Troopers also did quick safety inspections, checking trailers for dangerously dangling wires or rusty parts and loose lug nuts.
License plates on the semis came from all over North America, including 49 states and 10 Canadian provinces. There was also the occasional Mexican state plate, Brannum said.
Things were going pretty smoothly when I visited on Thursday. Not every truck was pulled over. Some had stickers showing they had been inspected in Nevada recently. Others were just lucky.
Troopers didn't make any dramatic finds last week. There were no terrorists on their way to target the Strip, or truckloads of drugs headed for valley streets, or drunken truckers who might crash their 80,000-pound loads.
Their biggest accomplishment might have been symbolic.
Some truckers were surprised they were ordered off the road for the checkpoint, Brannum said.
"They'll say, 'We didn't think this checkpoint was ever open,'" Brannum said.
It's an opinion common among Southern Nevada motorists who see the checkpoint empty when they drive past.
The Sloan checkpoint is randomly opened about four times a week, three times during the morning and once in the afternoon. There is also a checkpoint north of the valley in Apex.
Two times a year, just before New Year's Eve and during the summer, it remains open for 72 hours straight.
The problem is the Highway Patrol is understaffed and the state has largely ignored pleas from the Nevada Department of Public Safety to put more troopers on our roads.
Brannum belongs to one of two commercial enforcement teams in Clark County for the Highway Patrol who are trained to inspect tractor trailers.
The two teams work day and evening shifts. Typically, no teams work overnight.
When the checkpoints aren't open, the commercial enforcement teams are out on the road doing enforcement.
The troopers are doing their best with the limited staffing they have. But it makes you wonder what could and does drive past the checkpoint during the hours it isn't staffed.
The reality is that another large-scale terrorist attack is still expected, no matter how well our president tells us the war in Iraq is going. And an attack using our highways and byways would be especially difficult to prevent, given the freedoms we enjoy: Interstate travel without military checkpoints.
Former terrorism czar Richard A. Clarke has opined that a terrorist attack in the Las Vegas Valley would likely come on the ground, from car bombs.
Seems getting more Jim Brannums on the road would be a wise investment.
The 2007 Legislature provided funding for another 60 troopers to be hired.
Studies indicated about 90 were needed.
If you have a question, tip or tirade, call the Road Warrior at (702) 387-2904, or e-mail him at roadwarrior@reviewjournal.com or fmccabe@reviewjournal.com. Please include your phone number.
ROAD WARRIORMORE COLUMNSDiscuss this column in the eForums!
Road crews will trim median oleanders, closing the Interstate 15 southbound onramp from westbound Lake Mead Boulevard and the left traffic lane of I-15 in each direction between Washington Avenue and Lake Mead from 10 p.m. to 8 a.m. on Saturday, the Nevada Department of Transportation announced. Watch for lane shifts and posted detours.
Grand Central Parkway between Bonneville Avenue and City Parkway will be closed through Jan. 25 for road construction, according to the Transportation Department.
Flood control improvements that will disrupt traffic on Lone Mountain Road between Durango Drive and the Las Vegas Beltway should continue through Nov. 24, according to the city of Las Vegas.
Ackerman Avenue between Durango Drive and El Capitan Way will be closed through Nov. 9 for storm drain work, the city of Las Vegas announced.