January 18, 2009 - 10:00 pm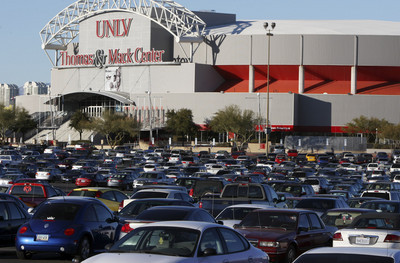 I'm sometimes asked what's the worst traffic situation in the Las Vegas Valley outside of Las Vegas Boulevard.
"Any cars in front of me," I deadpan.
But the truth is a no brainer.
Trying to leave UNLV's Thomas & Mack Center parking lot after a major event is about as awful a traffic situation I've ever seen here. I've seen better controlled traffic leaving New Orleans after Katrina.
Maybe I'm exaggerating. A little.
Do the math.
The Thomas & Mack can hold almost 20,000 and there are about 13,000 parking spaces around campus.
On top of that, there are only three exits from that southeast corner of campus.
Over the years, that parking lot has witnessed flashing high beams and middle fingers, as well as belligerent and caustic language as motorists cut each other off trying to escape.
If you have ever attended a UNLV men's basketball game, you know what I'm talking about.
But I bear good tidings. There are actually plans to relieve the situation.
Gerry Bomotti, vice president of finance for the university, told me that construction began just a week ago to build a 1,000-space parking garage. The four-story garage will be directly south of the Cox Pavillion and just west of the Student Recreation and Wellness Center.
It's designed to allow faster access to and from the arena, Bomotti said.
Of course things have been worse on campus lately seeing as 400 spaces are no longer available as a result of the construction.
Officials believe that once the new garage is erected, it will greatly improve the parking situation for students attending class and fans attending games.
The garage's price tag is about $13.5 million.
Bomotti said the fact that construction costs have lowered recently made it quite a deal. A few years ago the same project would have cost upwards of $18 million, he said.
Bomotti said the garage is being built using parking revenues (in case students ever wondered what happens to all the money collected from campus parking tickets) as well as athletic funds.
But building more parking spaces is not really going to help the post basketball game traffic jam.
Bomotti said the university is exploring a solution to that problem, too.
Motorists leaving to exit onto Tropicana Avenue quickly get tied up in a massive merge as vehicles from at least 10 parking lanes try to squeeze into four lanes of moving traffic.
That traffic follows a path known as Gym Road.
Part of the problem with Gym Road, Bomotti explained, is that it loops around to the east before emptying out onto Tropicana.
The plan to fix that problem is to build a full exit and erect a traffic signal onto Tropicana, across from Bock Street.
Instead of Gym Road looping around, it would be more of a straight path to Tropicana.
But before any traffic signals are erected, the university must receive approval from the Nevada Department of Transportation, which oversees Tropicana in the area.
Rudy Malfabon, the Transportation Department's deputy director for Southern Nevada, said the approval process isn't too complicated.
Basically, the university needs to complete a traffic analysis on how a new exit and signal will effect traffic on Tropicana.
If the analysis shows traffic won't be impeded, then all UNLV needs to do is come up with the money for construction, Malfabon said.
"If they had the money and showed it wouldn't mess up traffic, it could be done in a year's time," he said.
Of course, having the money is a big if, considering our governor just announced he wants to axe the university system's budget by $473 million.
Meanwhile, fans of the Rebels will have to put up with fewer parking spaces and clogged exits to area roads, at least for the remainder of this season.
But some helpful alternatives are being pushed by traffic experts.
Car pooling is still the best option for fans.
Local watering-hole chain PT's allows fans to meet at an area pub's parking lot and car pool to the game. You can find a list of locations on the Web site www.GoldenTavernGroup.com.
The Regional Transportation Commission offers the South Strip Transfer Terminal at Sunset Road and Gillespie Street as a meeting place. Parking there is free.
Fans can either meet there to car pool or hop on the Citizens Area Transit Route 109. A 13-minute bus ride drops passengers off on the Maryland Parkway side of the UNLV campus. Fans would then have about a half mile walk to the Thomas & Mack. Round trip fare is $3.50.
Besides asking for patience, Las Vegas police also suggested fans take an alternate route to the game.
Since much of the traffic is concentrated at Swenson Street and Tropicana, police have encouraged fans to take the longer way to the game and approach from the northern end of the campus.
From the north valley, take Interstate 15 south and exit at Spring Mountain Road and take Paradise south to the parking lot.
From Henderson, head north on Maryland Parkway from Russell Road and go to Flamingo Road before heading west to Paradise.
Fans should also consider parking in other lots around campus, especially ones that don't exit at Tropicana and Swenson. Most parking spaces around campus are available to everyone during games, on weekends and holidays and at night.
On the east side of the campus, there are parking lots at Maryland and College Grove Avenue and Maryland at University Road.
Fans also can consider parking near the UNLV Athletic Complex, north of the Thomas & Mack near Swenson and Harmon Avenue.
A campus parking map can be found at maps.unlv.edu.
I think relieving the parking problem will go a long way in helping "Pack the Mack."
If you have a question, tip or tirade, call the Road Warrior at 387-2904, or e-mail him at roadwarrior@reviewjournal.com or fmccabe@reviewjournal.com. Please include your phone number.
The Nevada Department of Transportation announced the following updates on the ongoing $240 million Interstate 15 north widening project:
Bonanza Road at Interstate 15 will be closed to traffic from 1 a.m. to 11 p.m. Thursday for a deck pour. Motorists should detour via Washington Avenue.
The Interstate 15 southbound offramp to Cheyenne Avenue is closed through March. Use detours at Craig Road or Lake Mead Boulevard.
The Washington Avenue onramp to Interstate 15 northbound is closed through Feb. 15. Motorists should use Las Vegas Boulevard north to Cheyenne Avenue, Craig Road or Lamb Boulevard to access I-15 northbound.
Lane restrictions are in place at the intersection of Oakey Boulevard and Rancho Drive and will continue through the end of February for utility work. From 9 a.m. to 3 p.m. weekdays, Oakey and Rancho will narrow to one lane in each direction. Sahara Avenue and Charleston Boulevard are suggested as alternate routes for east-west travel, and Valley View Boulevard and Western Avenue are suggested as north-south alternatives. The work is taking place in advance of a $19 million storm drainage improvement project by the city. Oakey and Rancho should reopen to full access during non-work hours.
New traffic signals have begun operating at Farm Road and Tenaya Way. Motorists are asked to proceed with caution until they are familiar with the new signals.
Las Vegas Review-Journal