Traffic drives bus stop locations
August 15, 2007 - 9:00 pm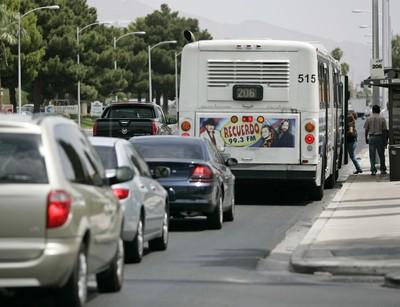 This week, readers want to know why buses stop where they do and why scooters are allowed to scoot around the Las Vegas Valley.
And the Road Warrior hears from a reader wondering how many Hail Marys, and not points, a traffic ticket might cost 'em these days.
Gene Bernacki asks: Have you ever done a column on the location of Citizens Area Transit bus stops? It seems to be that having the bus stops after the intersections is a major cause of accidents here in the valley. I remember living in the East many years ago, the bus stops were before the intersections.
Your perception of where people board the bus is correct. In the Las Vegas Valley, most bus stops are located just beyond intersections. That's different from the traditional locales for bus stops. In most places, stops are either just before or right at an intersection.
But folks overseeing CAT, who say they have nothing to indicate stop locations are causing crashes, have their reasons for swapping stops here.
"Most stops are located after the intersection to avoid traffic impacts," Tracy Bower, a spokeswoman for the Regional Transportation Commission that oversees CAT, said by e-mail. "If stops are located before the intersection, they block the right-turn lane, causing a backup."
No small concern in a traffic-jammed valley where the smallest disruption can trigger road rage.
"Placing stops after the intersection also gives the bus a chance to pull out from the stop when the light behind the bus is red and there isn't much oncoming traffic," Bower said. "It is tough for buses to pull out from stops located before the intersection because of the traffic approaching the vehicle."
Sanford Manchester asks: I've been here two years. Motorbikes — not motorcycles, but scooters, mopeds and minibikes — don't have any license plates on them. Does this mean they don't need a license to drive them? Otherwise, why aren't the police giving out tickets or taking bikes off the road when seen?
Mopeds and smaller scooters do not need license plates, but larger scooters and motorcycles do, according to the Nevada Revised Statutes, which is the state's official law book.
But regardless of what you call your two-wheeled thingy, you need a driver's license, state law says.
Confused? Here's some technobabble that'll further muddle your mind. The law differentiates between a motorcycle and a moped. NRS 484.0798 claims a moped is "a vehicle which looks and handles essentially like a bicycle" with an engine "which produces not more than 2 gross brake horsepower and which has a displacement of not more than 50 cubic centimeters" and which can't top 30 mph on a flat surface.
What does that displacement stuff mean? Beats me. But cops have historically said that the moped definition meets the standards set by those super-teeny scooters that have been popular with valley kids over the past few years.
And NRS 482.210 said mopeds and their brethren, along with golf carts and powered wheelchairs, do not need to be registered.
Regardless, whoever rides a scooter or motorcycle needs a driver's license, sayeth NRS 483.230: "A person shall not drive any motor vehicle upon a highway in this state unless such person has a valid license as a driver." Powered wheelchairs on sidewalks and golf carts not on streets or sidewalks are exempted in the fine print.
And just about anything with an engine and wheels, minus golf carts, farm equipment and powered wheelchairs, requires a licensed driver. "'Motor vehicle' means every vehicle which is self-propelled but not operated upon rails," says NRS 484.081.
So if a copper sees a kid scooting around, somebody might be getting a ticket.
Hit 'n Run: My Aug. 5 column about the pope issuing a second set of 10 Commandments — this one for drivers — has Road Warrior unindicted coconspirator and lifelong Catholic Susan Goforth a bit confused.
"If you break one of the new commandments, do you go to hell?" Goforth asked. "How about if you don't do so well on one of the (sets of) commandments, but obey the other set? Just wondering."
Just stick with the shalt-not-kill part and I'm sure you'll get the "up" elevator.
If you have a question, tip or tirade, call the City Desk at 383-0264, or send an e-mail to roadwarrior@reviewjournal.com. Please include your phone number.
ROAD WARRIORMORE COLUMNSDiscuss this column in the eForums!
The southbound Interstate 15 offramp at St. Rose Parkway (state Route 146) will be closed from 9 p.m. to 5 a.m. daily through Friday to allow road work. Drivers are advised to use alternate ramps at Blue Diamond Road (state Route 160) or Sloan Road. The southbound U.S. Highway 95 onramp and offramp at Jones Boulevard will be closed through Oct. 18 to allow interchange reconstruction work. Additionally, Jones Boulevard between Alta Drive and Washington Street will be reduced to one lane in each direction during that time. Freeway traffic is advised to detour at the Rainbow Boulevard or Decatur Boulevard interchanges. Overnight freeway closures can be expected on northbound and southbound Interstate 15 in Victorville, Calif., Monday night through Friday morning between 8 p.m. and 5:30 a.m. to allow bridge work. Traffic will be detoured off and back onto the freeway at Mojave Drive. Minor delays can be expected.