With arrival of '100 Deadliest Days' on roads, drivers should be extra cautious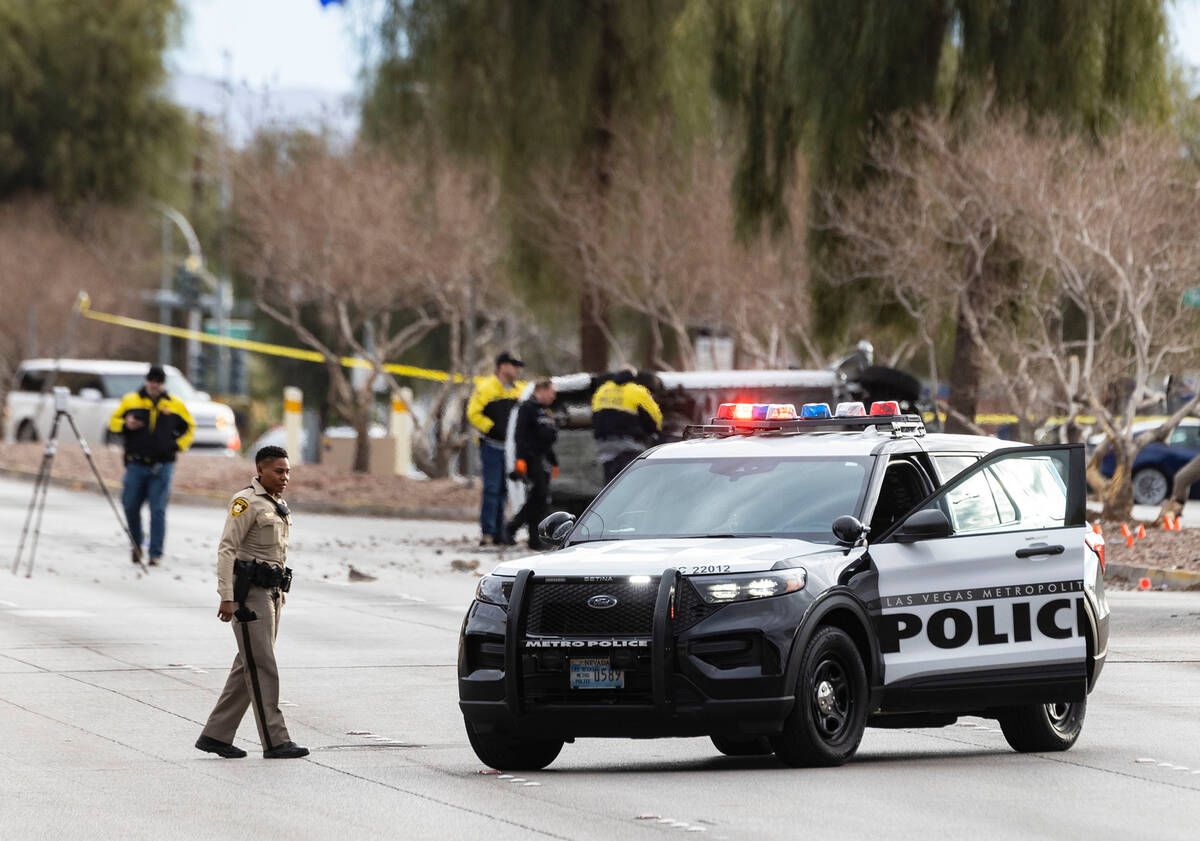 With summer arriving, Las Vegas drivers should be extra cautious as these are historically the deadliest days annually for motor vehicle crashes.
Because of an increase in fatal crashes during the span between Memorial Day and Labor Day, the summer months are considered the "100 Deadliest Days of the Year" on U.S. roadways.
Through April, 107 fatal crashes have occurred on Nevada roads, according to the Nevada Office of Traffic Safety. Of those, 69 took place in Clark County.
The top driving factors involved in deadly crashes are speeding and impairment.
Last year about 33 percent of fatal crashes involved at least one speeding vehicle, with the suspected number for critical crashes even higher, according to UNLV's Transportation Research Center.
Impaired driving is responsible for about 60 percent crashes in Nevada, information from the research center shows.
Among impaired crashes, polysubstance instances, in which a person involved in a fatal crash has more than one impairing agent in their system, is the fastest rising type.
Three of the top five deadliest holidays on roads fall within the 100 days: Memorial Day, Independence Day and Labor Day, according to the National Highway Traffic Safety Administration.
Driving impaired is not only dangerous and against the law, it could be costly. Aside from posing dangers to other drivers around them, a person charged with DUI in Clark County can expect to pay around $13,000 in fines and legal fees, according to UNLV's research center data. Not to mention the potential to lose one's license and see insurance rates skyrocket.
Outside of dangerous driving activities, motorists on the road more during the summer months also increases crashes during the deadliest stretch.
"Exposure is another reason the summer months are more deadly, we literally travel more during these months; our behaviors during non-work times is yet another reason, we might sleep less, recreate more, which often includes impairing substances," said Erin Breen, coordinator of UNLV's Traffic Safety Coalition.
That especially rings true regarding younger drivers who are out of school and driving more often. Younger drivers (ages 16 to 20) are involved in 15 percent of all fatal crashes during the summer months, according to the NHTSA.
Pedestrians, cyclists and motorcyclists also are more vulnerable during the summer months. During summer of 2022 in Clark County, 23 pedestrians, 11 motorcyclists and three bicyclists were killed on area roads between Memorial Day and Labor Day.
Summer is time to travel and enjoy the warmer weather. Just be sure to be extra vigilant behind the wheel to ensure it's not only an enjoyable summer but a safe one as well.
How to increase safety
Zero Fatalities Nevada urges all drivers to use caution behind the wheel and to be proactive to help prevent needless crashes.
Wear a seat belt: Buckling up is the most impactful safety device in a vehicle. Wearing one reduces the risk of sustaining serious injury or death. Driver should always ensure passengers also buckle up. Deaths involving vehicle occupants who didn't wear a seat belt rose 15 percent in 2022 over the prior year in Clark County.
Don't drive impaired: Being under the influence of alcohol and drugs significantly decreases a driver's ability to react and process situations behind the wheel.
Slow down: The faster you drive, the higher the likelihood a driver sustains serious or critical injuries during a crash and puts other motorists at risk.
Nevada law enforcement officials issued 5,137 citations to drivers traveling over 100 mph.
If you are approached by a speeding, aggressive driver and are in the far left lane move over and let them pass. Speeding is a contributing factor to aggressive driving. If a motorists begins to pose a risk to you, call police.
The two Ds: Drivers should not get behind the wheel when they're drowsy or distracted. If drivers find themselves yawning or having heavy eyelids, pull over at the nearest, safest area to rest. While driving, resist the urge to look at your smartphone or other devices and keep your eyes on the road. All it takes is a split second for a situation to occur on the road, and having your full attention while driving is key to avoiding crashes.
Contact Mick Akers at makers@reviewjournal.com or 702-387-2920. Follow @mickakers on Twitter. Send questions and comments to roadwarrior@reviewjournal.com.