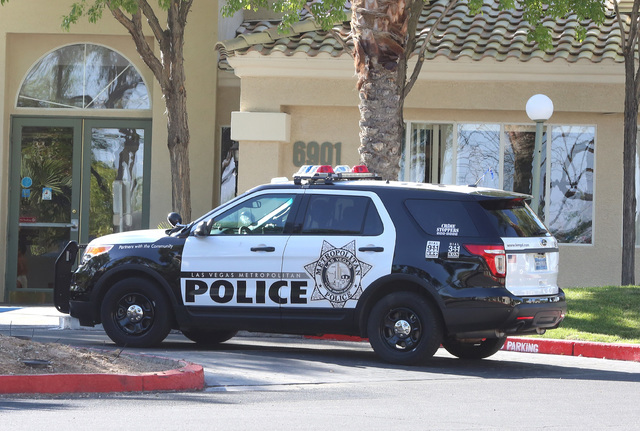 On Aug. 8, one of the more than 100 homicides the Las Vegas Valley has seen this year started as a shooting call: Miguil Jackson, 20, was struck by a few bullets randomly fired through one of his apartment's walls.
As he lay bleeding, the woman with him knew she was at 6901 E. Lake Mead Blvd., the apartment complex where Jackson lived. But she wasn't sure of the unit or building number. Traumatized, she told dispatchers she was visiting and didn't live at the apartment. And since stray bullets had just ripped through a wall, she was scared to go outside and check.
The Metropolitan Police Department took her call at 10:45 p.m., records show. Officers arrived at the complex at 10:52 p.m. But because the specific unit number wasn't clear, "It wasn't until 11:02 p.m. that we actually got to the guy," Metro spokesman Michael Rodriguez said.
Jackson was taken to University Medical Center, where he died two days later.
As a crime unfolds, communication is important — for police and people who need help.
Officers responding to a crime immediately radio dispatchers when they've arrived, when they've found the scene and whether they need backup. When someone is hurt, they often render aid, recite injuries and clear the scene for medical crews. This happens in minutes.
But before police even know a crime has happened, someone has to call it in. And if the caller doesn't know the exact location, it can make it harder for help to get there.
"I think that there's a large misconception that police can just locate a phone, that we can just turn on a switch, like a 'Find My iPhone' kind of thing," Rodriguez said. "It's just not that easy."
On Jackson's call, officers spent crucial moments searching for him within the complex. Meanwhile, the woman scoured Jackson's mail for an address and mentioned that the apartment was by a pool.
"It's clear that she was trying to direct officers; she just didn't know. We have that problem a lot," Rodriguez said. "When someone calls in, the only information we have is what you the caller is telling us."
Rodriguez didn't fault the woman who called. He said her situation was "obviously stressful," and there's no way to know whether Jackson would have survived had officers found him more quickly. But Rodriguez did recommend that people take note of exactly where they are at all times in case tragedy strikes.
He offered other tips: Know how to use cardinal directions — north, south, east and west — to describe a location instead of left and right. Identify landmarks, like the woman identified the apartment pool. And when describing a suspect, "clothing, a vehicle description and a direction of travel are very important," he said.
"At the end of the day, what we need is specific stuff," he said. "That will help us find the bad guys faster."
Vegas Vice will appear every other Saturday.
Contact Rachel Crosby at rcrosby@reviewjournal.com or 702-387-5290. Find @rachelacrosby on Twitter.