Sorry doesn't bring back lives lost to drunken driving
September 15, 2017 - 3:10 pm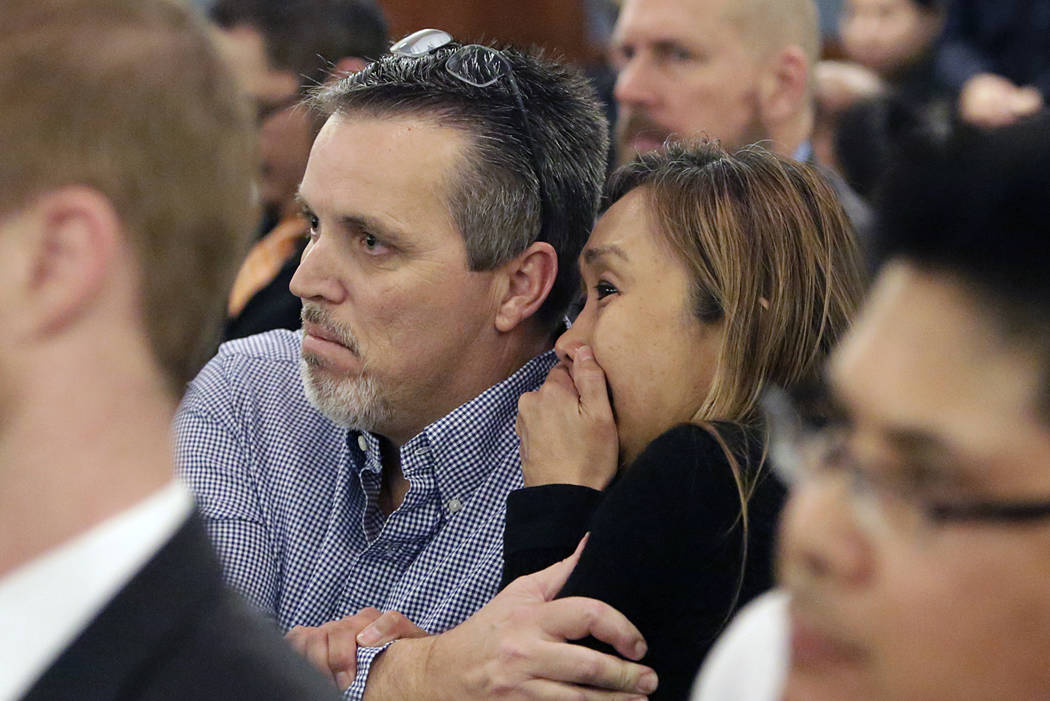 Sorry doesn't bring them back.
In the last few weeks, in different courtrooms, filled with different families, I have seen people who are so, so sorry. It's almost like watching the same play, unfolding in front of you with different characters, different scenarios, but the same plot: Death after driving under the influence.
Just this week, a young woman, Whitney Greco, stood next to her attorney as she listened to the mourning family of Idan Cohen, the 29-year-old man she killed while driving under the influence. Greco's family listened, too.
It happened in June 2016, a few months before Cohen was supposed to get married. He had been jogging in the area of Sunset and Fort Apache roads — trying to shed some pounds before the wedding, his rabbi said — when Greco's vehicle slammed into him, then failed to stop. She was 25 at the time.
Cohen's body was dragged about the length of a football field before it came loose, prosecutors said. He died there, and so did the life he pledged to build with his fiancee.
Instead, she sat with her never-to-be in-laws in court. His father battles suicidal thoughts, and his mother can't cope — she could barely get through her "victim impact" statement, she was wailing so hard. Cohen will never know his sister's third child, born shortly after his death.
"I just want to say that I'm so, so sorry," Greco said in court Monday to Cohen's family, her cries muffling her words, her voice getting louder. "I wish I could do something to take all their pain away, but I can't, and I'm sorry!"
Her guilt, painful to hear, reaffirmed their truth: She can't do anything for them. Not now. Cohen is already gone.
So is Jaelan Fajardo, the 16-year-old killed by a drunken driver on the way to Shadow Ridge High School this year.
So is Alejandro Jaracuaro, the 21-year-old who died when his first love drunkenly ran a red light in February.
So are Moises Rivera, 16, and Oscar Ayala, 14, boys killed when a DUI suspect blew a stop sign in June and hit their family's car.
Those are just cases I've covered recently.
"You'd be surprised," said Teri Staggs, who helps coordinate court-ordered DUI "victim impact panels" with New Beginnings Counseling Centers in the east valley.
During the panels, suspects hear from victims of DUI crashes. The main speaker is a woman whose daughter was killed by a drunken driver. Anywhere from six to 60 people attend each session, one of several options around the valley.
"Unfortunately, it is something that is issued by the courts on a regular basis," Staggs said, shedding light on how common DUIs are in Clark County.
The panels often resonate with suspects, she said.
"Just today, (the main speaker) received a beautiful card from someone who attended," Staggs said this week. "It does make a difference."
Still, the only person who can prevent the possibility of death and prison from a DUI is the one under the influence of alcohol or drugs. Get a ride, or take a cab. The man sentenced in Jaelan's death had four prior DUIs, one of which required him to attend a similar panel.
Vegas Vice runs every other Saturday. Contact Rachel Crosby at rcrosby@reviewjournal.com or 702-380-8135. Follow @rachelacrosby on Twitter.