Community mourns teen victims in suspected DUI crash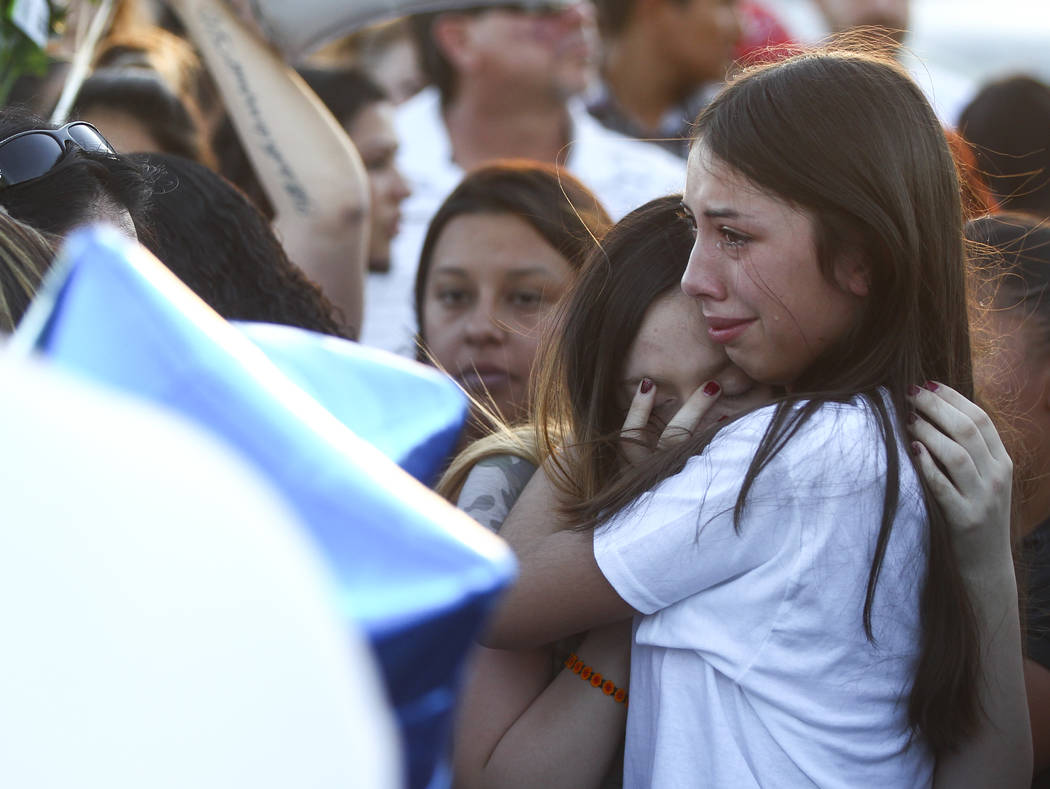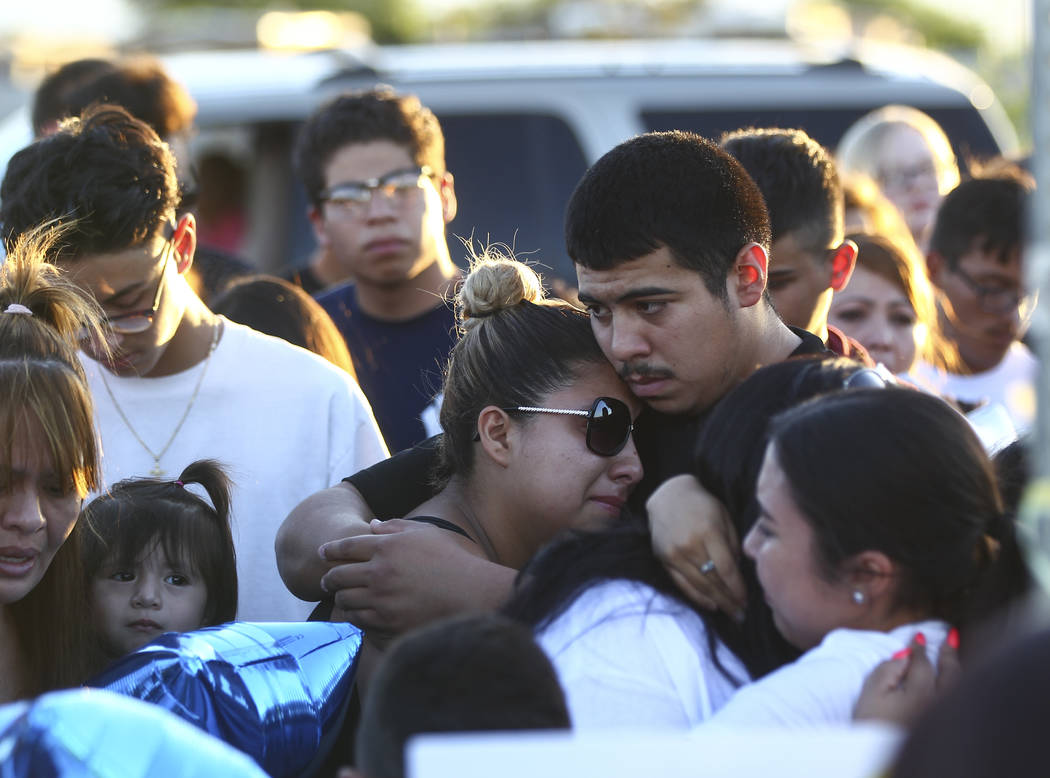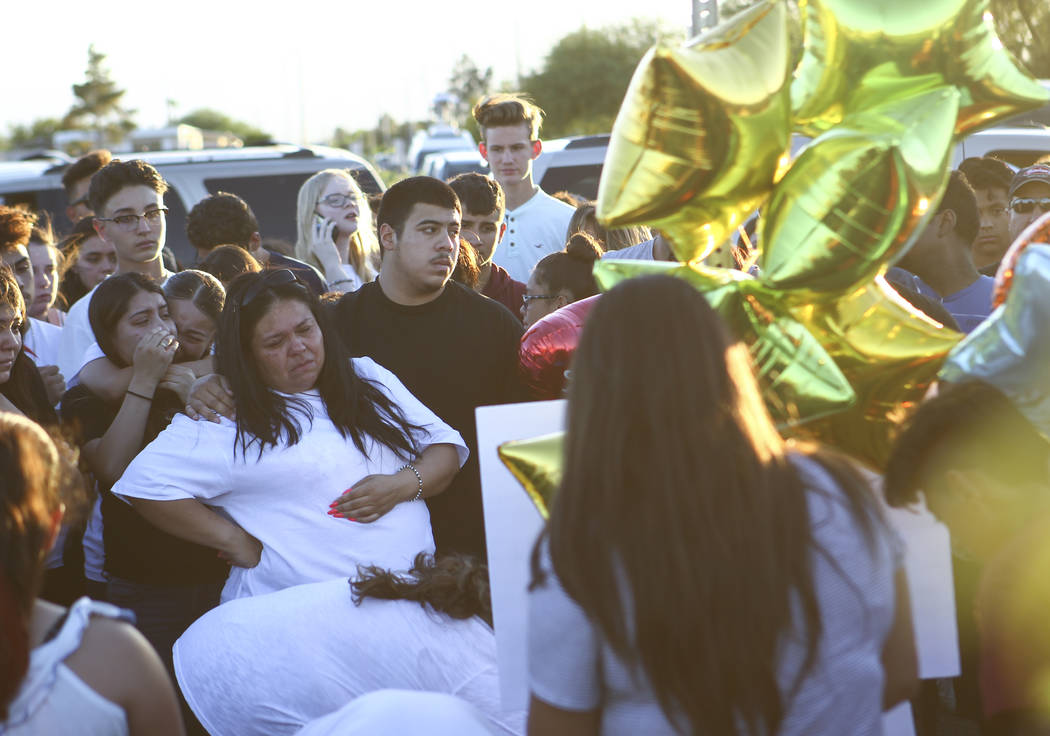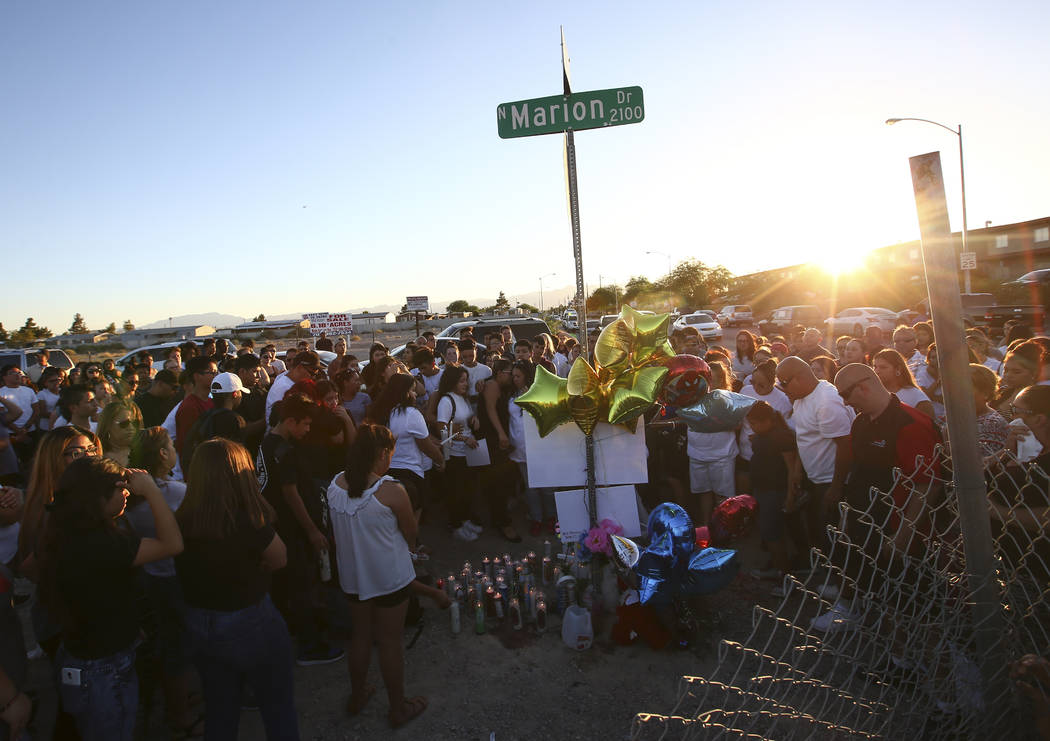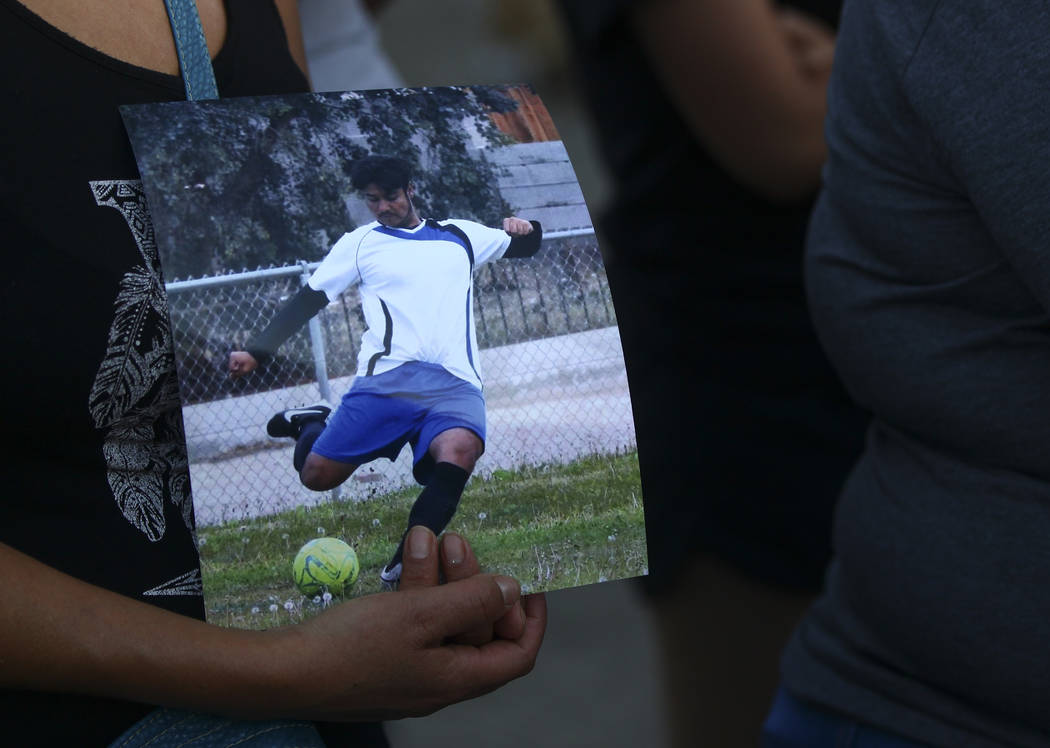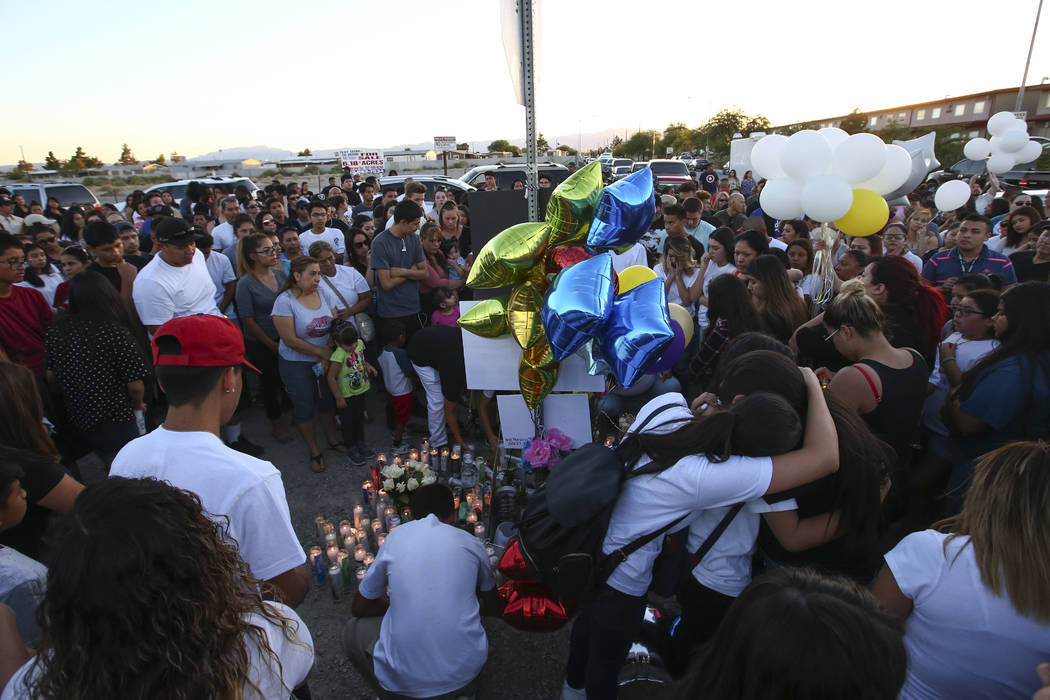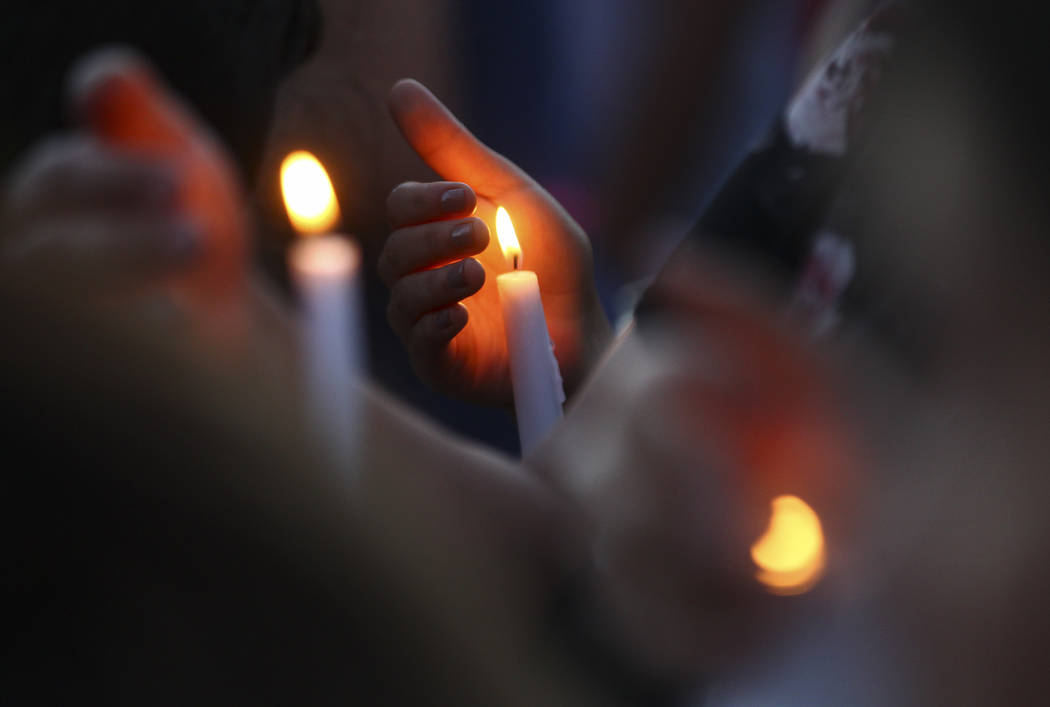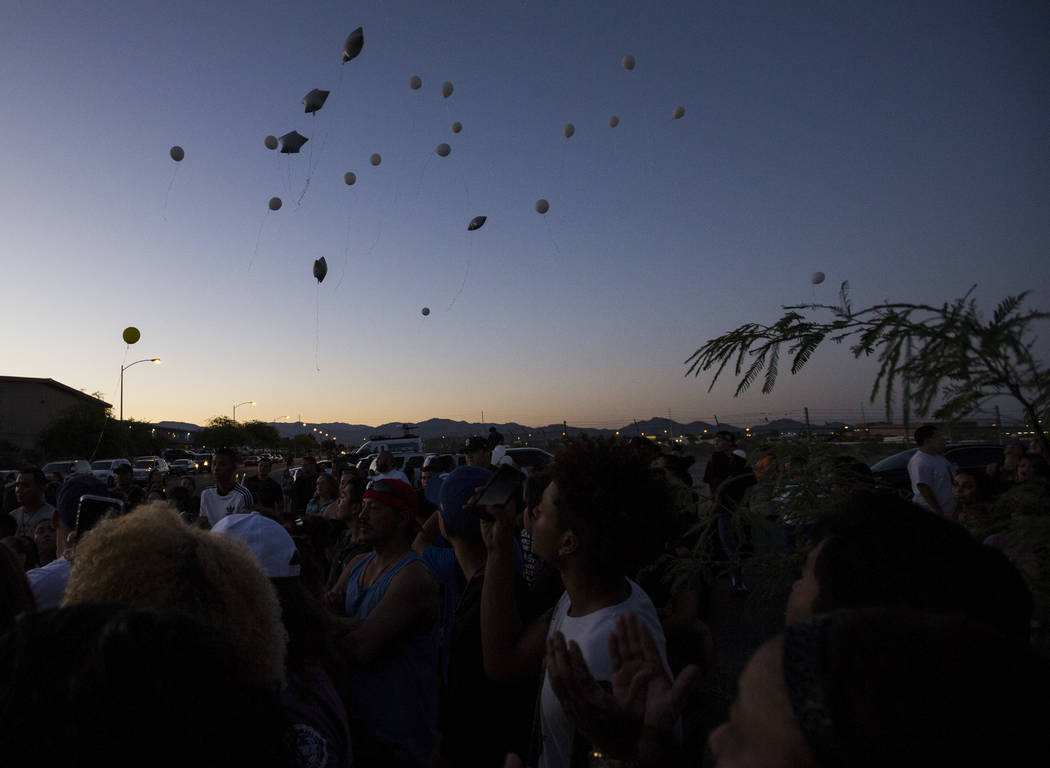 At a small east valley intersection Tuesday, just as the sun set, a community's pain was palpable.
It was at this intersection — Marion Drive and Judson Avenue, just north of Lake Mead Boulevard — where two teen boys were killed late Saturday when a suspected drunken driver plowed into their family's car.
More than 100 people huddled together Tuesday under a street sign marking the boys' place of death, lighting candles and leaving cards and flowers. The large crowd — composed of relatives, friends, neighbors and strangers — was mostly silent, listening as the boys' mothers broke down in bouts of sobs and gasps for air.
As those in the crowd shuffled around, quietly embracing different people, they stepped over mangled fencing, torn down when the boys' car shot out of the intersection on impact, rolling several times before coming to a stop in a nearby patch of desert.
It was here where, just seconds after the wreck, one of the boys' mothers called relatives, asking for help, barely understandable.
"She didn't tell me anything. She was just screaming," said Alexandra Sanchez, 24, who answered the phone. "They were searching for the boys. They flew out of the car. They couldn't find them."
The women wandered, bloodied and inconsolable, looking for Oscar Ayala, 14, and Moises Rivera, 16, until police and paramedics arrived. Officers found the teens dead, far from the intersection.
On the way home
Before the boys were ejected, they were on their way home, riding in the back seat, happy. Over a big dinner, they had just celebrated an aunt's birthday.
Now, the women in the front seat wanted to go to a nightclub and continue the celebration.
"They were all ready, makeup done," Sanchez said at the vigil Tuesday. But first, they needed to drop off the boys.
The group was almost to the house when police said Pablo Torres-Esparza, 36, ran a stop sign, smashing into the family's Kia Soul.
Visibly impaired
Shortly before the fatal crash, Torres-Esparza's boyfriend told officers that the couple had been drinking at a party, according to an arrest report.
The boyfriend, Jose Morales, and Torres-Esparza had just left the party when they began arguing in Torres-Esparza's vehicle about 10 p.m., the report said.
Morales told detectives he made his boyfriend pull over on Marion Drive so he could get out of the vehicle. He then watched as his boyfriend drove off at a high speed.
Moments later, police say, Torres-Esparza ran a stop sign at Marion and Judson, colliding with the Kia Soul and killing the two teens.
Police officers who responded to the crash described Torres-Esparza as visibly impaired. He told detectives he could not remember how the crash happened and admitted that he was drunk, the report said. Department of Motor Vehicles records revealed that he had a revoked Nevada driver's license.
Torres-Esparza has been charged with driving under the influence of alcohol, resulting in a death. He is being held without bail at the Clark County Detention Center. A hearing is scheduled for Wednesday.
At the vigil, when Oscar's mother was asked whether she had anything to say to the driver who caused the fatal wreck, the woman grimaced, looked down and slowly shook her head. She had no words.
Contact Rachel Crosby at rcrosby@reviewjournal.com or 702-387-5290. Follow @rachelacrosby on Twitter. Review-Journal writer Dana Rutkin contributed to this report.
Remembering young victims
The boys who died were cousins, and relatives said they had grown extremely close in recent months.
Moises Rivera, 16, loved to play soccer. He was a bit of a homebody, but relatives said he lit up around family during parties and holidays, telling jokes. His high-school girlfriend was also at the vigil, along with several friends.
Oscar Ayala, 14, was a Bailey Middle School student who loved "girls" and prided himself in "dressing well," classmates said. He often went to the movies or the mall after school with his many friends, who cried together at the vigil.
The boy also collected shoes, relatives said, specifically Air Jordan sneakers.
"He just got some new ones," an aunt said of Oscar at the vigil Tuesday. "He'll be wearing them at his funeral."