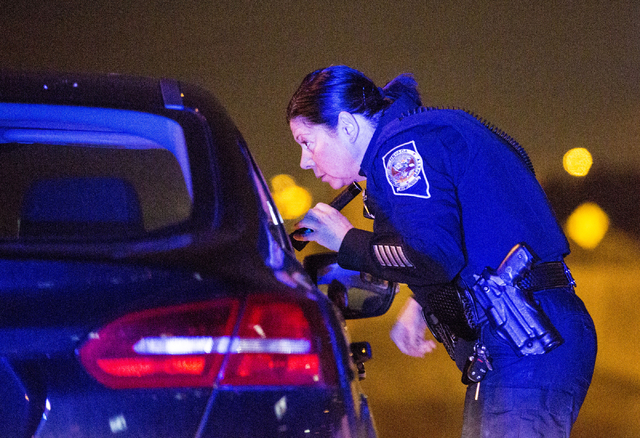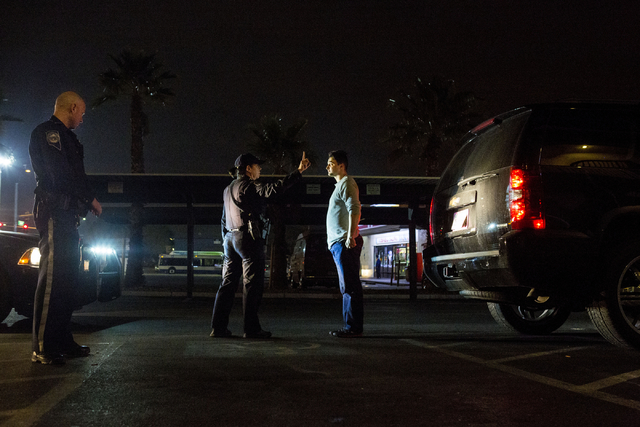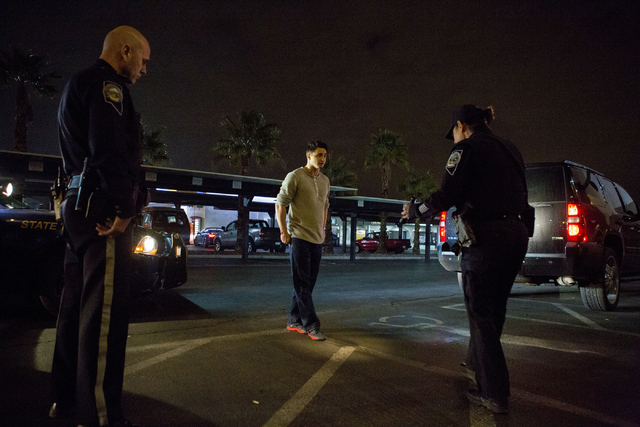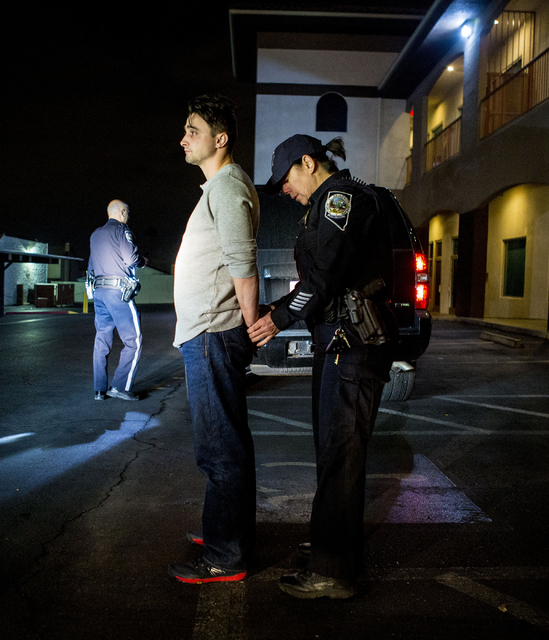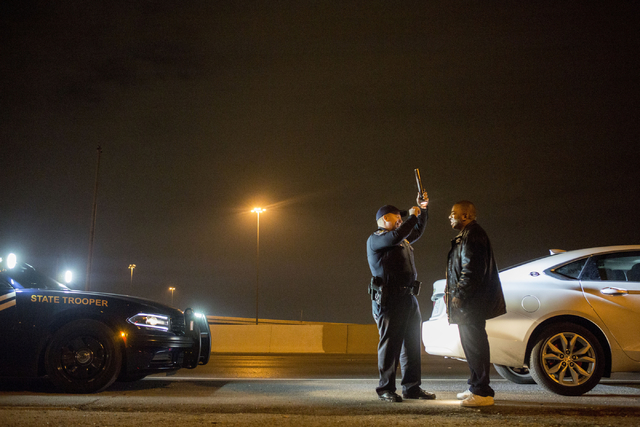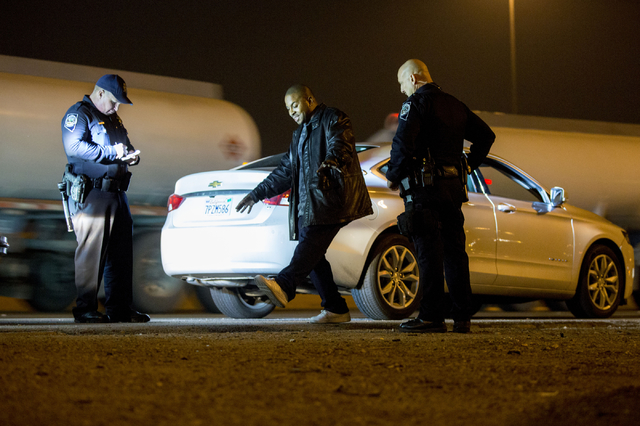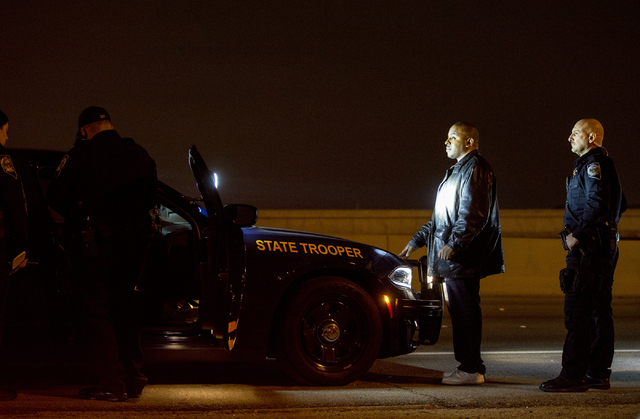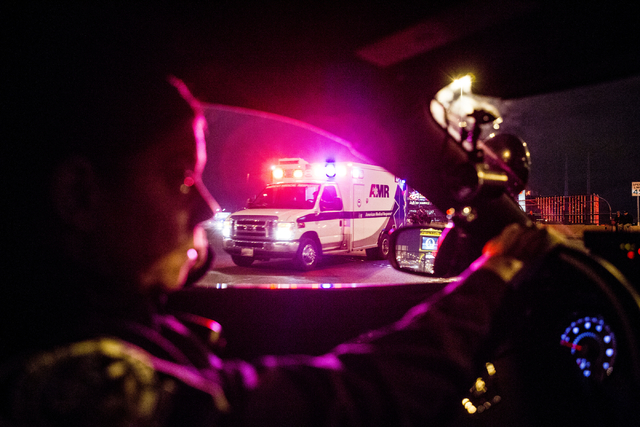 I spent the first few minutes of 2017 in the back of a patrol car.
I wasn't in trouble — I was riding along with veteran Nevada Highway Patrol trooper Angie Wolff, tasked with spotting drunken drivers on the busiest night of the year for them.
Long story short: The task was easy. Scarily easy.
As we drove up and down the valley's major roadways, Wolff explained what she looks for: headlights off, speeding (and not slowing down once the driver has spotted a trooper), swerving at least twice out of a lane.
As early as 9 p.m., when I started the ride-along on the last night of 2016, we were searching. It felt like a hunt.
I asked Wolff, who started the shift with a large peppermint mocha from McDonald's, how she felt about working on such a long and dangerous night. She said she did it by choice.
"I choose to work graveyard every New Year's Eve because, I mean, I'm a trooper," she said. "Our job is to protect the citizens of the state of Nevada, and to me, protecting them means taking drunk drivers off the road."
Most people who have run-ins with the Highway Patrol get speeding tickets, and generally, they're not happy. But for Wolff, it's not about making people happy. It's about safety.
"I've seen a lot of people die," she said.
Sometimes, drivers forget troopers are often the first on the scene at fatal wrecks.
Troopers arrested 24 DUI suspects in the valley between 5 p.m. Dec. 31 and noon Jan. 1. I was with Wolff for two of those.
The second happened just before 1 a.m. on New Year's Day. The clock had struck 12, and the mass exodus from the Strip and downtown Las Vegas was in full force. In other words, prime time for DUIs.
The man we stopped blew a red light right in front of us. Actually, if Wolff hadn't stopped when she spotted him, the driver would have hit us head-on. She pulled him over, and it didn't take long to tell he seemed plastered.
He failed every field sobriety test, then tried to explain to Wolff that he was an active military member. For sympathy? Maybe. But she wouldn't have it.
"Then I'm very disappointed in you," she responded. He also had a loaded gun on him, which she placed on the floorboard near my feet in the front seat, where I'd moved during a pit stop a few minutes earlier.
It wasn't long before the man was in cuffs on the way to jail and his wife was called to pick up his SUV.
"My wife's gonna kill me," he said in the back seat of the patrol car.
Shortly after his arrest, I called it quits and headed home. Wolff would be on patrol till 6 a.m.
On my drive home, I thought about everything that had happened and how little I actually pay attention to everyone around me on the road. And somewhere between Decatur and Jones boulevards, I spotted what I was sure was a drunken driver.
She swerved left and right. She went slowly, then fast. She rode with her right wheels in the shoulder.
I thought of Wolff and called 311.
Vegas Vice runs every other Saturday. Contact Rachel Crosby at rcrosby@reviewjournal.com or 702-387-5290. Follow @rachelacrosby on Twitter.