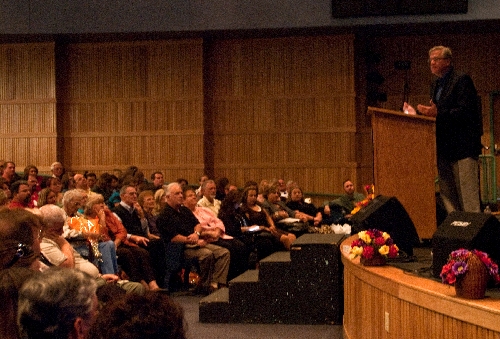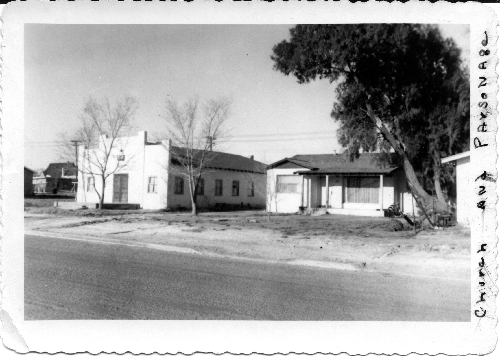 A celebration of the past gave a breath of new life, faith and fellowship to NorthGate Christian Church.
The worship center recently marked its 70th anniversary with a weekend celebration, or "family reunion" as it was dubbed, in which friends reunited, voices lifted, visitors from 15 states attended and former pastors were represented.
At the spiritual center of it all was NorthGate Christian Church, the first International Church of the Foursquare Gospel branch in Las Vegas. The decades were filled with name and location changes when leadership swapped and the congregation swelled. It had a humble following in 1941, and now its roughly 250 members await a new building planned for Washburn Road and Donna Street.
The church's first gatherings, in August 1941, were open-air preachings on a rented vacant lot in the 300 block of South Ninth Street by Rev. Ralph Barber. The California native felt called to start Las Vegas Foursquare Church with his wife and children, said Rev. Sheri Stine, a longtime congregation member.
Barber began services in Boulder City and Henderson. He would preach in Boulder City on Sunday morning, Las Vegas on Sunday night and Henderson on Wednesday evening.
Las Vegas became the church's hub, and a permanent place of worship, which Barber built mostly himself, was constructed at 318 S. 11th St. in 1942. Leadership changed in 1952, and the original building was updated to accommodate growth.
Rev. W. H. Higginbotham purchased a four-unit apartment building behind the church, and rent income funded construction of a new building at Cedar Avenue and 30th Street in the 1960s. The church's name was changed to Calvary Foursquare Church during the transition.
In the 1970s, the church purchased a nearby house and animal shelter for Sunday school classrooms, youth group gatherings and Clark County Christian School, which Calvary Foursqure Church assumed and ran throughout the decade.
More space — classrooms, a gymnasium and meeting hall — was added in the 1980s and 1990s, and the church and Christian school flourished, Stine said. Smaller International Church of the Foursquare Gospel congregations split off from Calvary Foursquare Church and set up around Southern Nevada.
In the early 2000s, the church was renamed Solid Rock, and the school closed before the church's move to North Las Vegas.
Its latest name change, NorthGate Christian Church, reflected the congregation's new home and "God welcoming the multitudes through Christ," said Kathy Polaski, church secretary.
Services are hosted at Canyon Springs High School, 350 E. Alexander Road, and church offices are at 2553 E. Washburn Road. Groundbreaking for the new church is slated for the end of the year, and pastor Greg Niemeyer hopes to be worshipping inside the 10,000-square-foot building by Easter.
Throughout the decades and changes were a flurry of worship services, mission trips, choirs, youth groups, homeless outreach and new relationships, Stine said.
Her father was third pastor, and she has spent almost five decades as a member. She met her husband through the church and has worn many hats as a church leader.
Niemeyer tasked Stine and another longtime member to plan a weekend of festivities to honor the 70th anniversary and reunite former members and devotees like them. Events included a choir concert, a golf outing, barbecue for former Clark County Christian School students and youth group participants, a banquet and Sunday service. Niemeyer said despite all the transitions, it's the people who have kept NorthGate Christian Church in motion.
"There are people who extremely love this church," he said. "I don't think it matters who is pastor; they're sticking together."
For more information, visit north
gatechristian.com or call 384-6960.
Contact Centennial and North Las Vegas View reporter Maggie Lillis at mlillis@viewnews.com or 477-3839.
1941-1944
Las Vegas Foursquare Church held open-air meetings in a rented vacant lot in the 300 block of South Ninth Street. Later, property at 318 S. 11th St. was purchased; services were held in a tent across the street until construction was completed in 1944.
1952-1955
Pastors Rev. and Mrs. Ralph Barber resigned; Rev. W. H. Higginbotham and Agnes Higginbotham took over. From 1954 to 1955, the church building was expanded to include Sunday school and office space; parsonage purchased at 217 N. 19th St.
1962
Five acres were purchased at Cedar Avenue and 30th Street. A building was constructed in 1963, and the church's name changed to Calvary Foursquare Church.
1971-1976
Revs. Fred and Carol Dawson become the new pastors. A house at 2915 Cedar Ave. was purchased for expansion needs in 1974. A former animal shelter across the street was purchased in 1976. The facilities were rented to Clark County Christian School in June 1976, and Calvary Foursquare Church took over.
1985-1989
New multipurpose/gymnasium areas constructed.
1992-2000
Rev. Rich and Maggie Taylor assumed the pastor position. The Clark County Christian School's name was changed to Calvary Church Christian School. In 2000, the church's name changed to Solid Rock.
2001-2004
Calvary Church Christian School changed its name to Solid Rock Academy. Rev. Mark and Brenda Lebsack took over in 2002; Pastor Victor and Annette Fuentes started Spanish church Roca Solida under the umbrella of Solid Rock.
2004-present
The church relocated to North Las Vegas and changed to NorthGate Christian Church. Roca Solida did not make the move, and Solid Rock Academy closed beforehand. In 2006, the church services were held in the Cannery Galaxy Theatre . In 2010, services moved to Canyon Springs High School, 350 E. Alexander Road. NorthGate is hoping to break ground at the corner of Washburn Road and Donna Street by the end of the year.