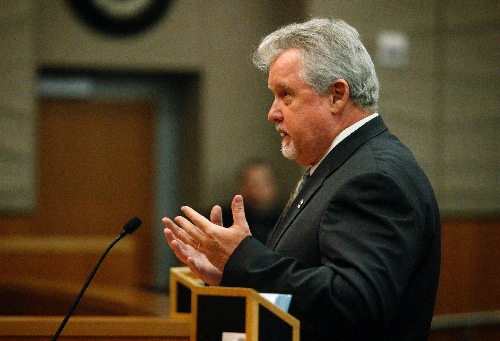 North Las Vegas is headed back to the cutting board.
The cash-strapped city must bridge a $33.3 million deficit in its fiscal 2013 budget, according to a tentative spending plan released Tuesday.
"Financial planning is going to be extremely important for this city" over the next several years, said Al Zochowski, the city's finance director.
North Las Vegas officials are in talks with employee labor unions in hopes of coming to concession agreements to help bridge the shortfall.
"There's still more to be worked on in the next month with this budget," Mayor Shari Buck said. "There's a lot of hard work to be done, conversations to be had and partnerships to be brought to the table."
The City Council approved a 2013 tentative operating budget of $123.4 million, compared with $125 million approved last year and $149 million in 2010.
The council is expected to adopt a final budget in May. The plan is due to state officials by June 1.
Fiscal year 2013 starts July 1 and runs through June 30, 2013.
The 2013 shortfall includes a
$21.8 million gap in the general fund and an $11.5 million deficit in the public safety tax fund.
The 45-minute council meeting included none of the drama of some past budget meetings. Council members asked few questions and unanimously approved the budget plan. No members of the public commented.
Nobody mentioned potential layoffs.
"Realistically, where could we lay off?" Councilwoman Anita Wood said after the meeting. "It's not an option anymore."
The city has cut or frozen about 800 city jobs since 2008.
North Las Vegas was once among the country's fastest-growing communities and flush with cash. But city officials had to trim more than $60 million from the city's general fund in recent years because of plummeting tax and other revenues during the economic downturn.
State officials last year were alarmed at the city's failure to balance its fiscal 2012 budget, leading to worries about a potential state takeover of the municipality. The city finally balanced that budget thanks to a combination of cuts, layoffs and union contract concessions. Those concessions expire at the end of the current fiscal year.
City officials also are exploring other ways to save money. City Manager Tim Hacker late last month sent a letter to Sheriff Doug Gillespie asking to "explore shared services opportunities" that could include the Metropolitan Police Department "assuming some functions … or potentially all the functions" of North Las Vegas' police department.
Gillespie and Buck are planning to meet on Monday to discuss the possibilities. Buck said the two departments will not merge, and the entities are simply "talking about contracting for some services, if it makes sense."
In a Tuesday email to county officials, the sheriff said he has made no commitment other than to evaluate North Las Vegas's request. He later declined to comment further.
It wasn't clear how much sharing services would save.
Zochowski did deliver a bit of good news Tuesday. The city is starting to see a "stabilization overall" in revenues, he said.
"Hopefully they are leveling out and starting a return to an area where they used to be."
Review-Journal writer Brian Haynes contributed to this report. Contact reporter Lynnette Curtis at lcurtis@
reviewjournal.com.