Nursing aide accused of assault won't testify in own defense
February 20, 2014 - 5:44 pm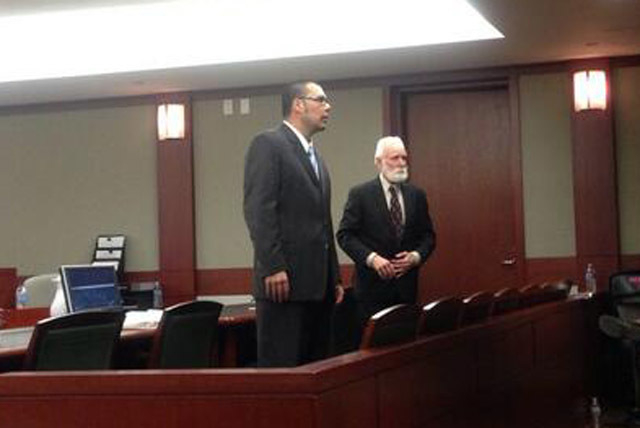 Both the prosecution and the defense rested their cases Thursday in the sexual assault trial of a certified nursing assistant accused of victimizing five female patients.
Outside the presence of the jury Thursday, District Judge Carolyn Ellsworth asked the defendant, Steven Farmer, whether he wished to testify.
"No," Farmer replied.
She advised Farmer that he could not be compelled to take the witness stand and that prosecutors would not be allowed to comment on his silence during closing arguments, which are set to begin Friday afternoon.
Farmer, 61, is accused of victimizing patients at Centennial Hills Hospital Medical Center in 2008.
Two of those women reported that Farmer sexually assaulted them. The other three reported behavior that led to charges of open and gross lewdness.
The trial began with jury selection on Feb. 3, and prosecutors began calling witnesses a week later.
Four former patients testified about disturbing encounters with Farmer. Jurors watched the videotaped testimony of another former patient, who committed suicide last year. She was one of the women who accused Farmer of sexual assault.
The defense called just one witness during the trial. Certified nursing assistant Carine Brown testified Thursday and said she was working with Farmer on May 16, 2008.
A woman previously testified that she was recovering from a seizure on that date when Farmer sexually assaulted her at the hospital.
Brown said Farmer brought the woman from the emergency room to her hospital room.
The witness said she checked on the patient after Farmer left the floor, and the woman did not seem upset or scared. The patient also did not mention that anyone had touched her inappropriately.
Farmer has been held at the Clark County Detention Center for nearly six years while awaiting trial.
Contact reporter Carri Geer Thevenot at cgeer@reviewjournal.com or 702-384-8710. Follow @CarriGeer on Twitter.