Nye County residents split over Yucca's potential impacts
September 18, 2015 - 5:56 pm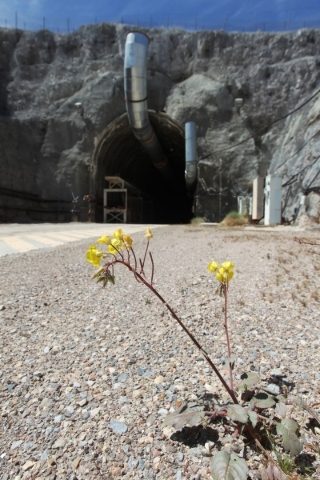 AMARGOSA VALLEY — Nye County residents and officials are still divided on possible safety and environmental impacts of the proposed Yucca Mountain nuclear waste repository, five years after the project was abandoned.
Several dozen residents and authorities who attended a public meeting Thursday night offered mixed views on a recent report by the Nuclear Regulatory Commission staff that concluded a nuclear repository 100 miles northwest of Las Vegas would yield "only a negligible increase" in health risk from radioactive particles that might leak into groundwater.
Any pollution leaking into the groundwater beneath the repository would eventually travel through Amargosa Valley and into Death Valley.
While the project could boost the fortunes of cash-strapped Nye County, which has been involved in the Yucca license application process since the site was approved by Congress in 2002, some residents expressed skepticism about its safety.
Amy Noel, general manager of Tecopa Hot Springs Resort, said the potential contamination from the repository would affect local eco-tourism, which has been booming for the past couple of years.
"It seems like a really bad idea. I know this is about this groundwater study, but to be transporting nuclear waste across the country to one of the only places that doesn't produce (it), it is bothersome," Noel said.
Others were less critical of the idea. Bruce Crater, an Amargosa Valley resident, said he was hoping the project was going to go through.
"I would much rather have that material here at Yucca Mountain, 11 miles from where I live, a 1,000 feet underground secure, because it's on a site where no one is going to go in there and bother with the material that's there. They can't shoot it, they can't do anything that they do on these other sites," Crater said.
The licensing process for the project was stopped when the Obama administration trimmed federal funding for the site in 2010. However, a 2013 ruling of the U.S. Circuit Court of Appeals for the District of Columbia forced the regulatory commission to proceed with license hearings.
An NRC panel conducted Thursday's meeting and another one in Las Vegas on Tuesday.
Contact Daria Sokolova at dsokolova@pvtimes.com.