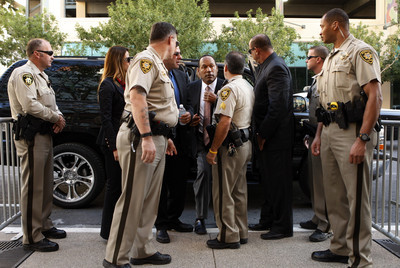 One lawyer compared it to having teeth pulled. Another likened it to watching paint dry.
And no one in the courtroom disagreed as jury selection in the O.J. Simpson armed robbery and kidnapping trial crawled into its second day Tuesday.
The day was filled with continued questioning of potential jurors in the case against Simpson and co-defendant Clarence "C.J." Stewart, who are charged in connection with last September's sports memorabilia heist at a Palace Station hotel room.
"This will end at some point. It always does," joked Chief Deputy District Attorney Christopher Owens, who later used the paint drying analogy.
In a process known as voir dire, prosecutors, defense lawyers and, occasionally, the judge took turns questioning potential jurors on a variety of topics, including their personal backgrounds, experiences with the criminal justice system and opinions about Simpson and his 1995 acquittal on double-murder charges.
Lawyers use voir dire to find jurors they believe can be fair and impartial.
One juror was dismissed Tuesday after she admitted that her feelings about that trial might influence her decision-making as a juror in the current case.
"The first trial, I thought he got away with murder," said the woman, an office manager who has lived in Las Vegas for 41 years.
The second potential juror dismissed during questioning seemed eager to get the boot.
The certified nursing assistant who has lived in Las Vegas for a dozen years responded to many questions from District Attorney David Roger with, "I don't know how to answer that question."
He revealed even less on the questionnaire given to 500 prospective jurors, answering many of the 116 questions with "NIAA," meaning "not interested at all," he said.
Glass excused him from the jury pool.
"You're getting your wish," she told him.
A third juror was dismissed Tuesday because she had trouble arranging child care. Twenty potential jurors were excused for various reasons in the first two days of jury selection.
Many of the potential jurors questioned Tuesday said they had little knowledge of Simpson's previous trials.
One woman, a registered nurse with 31 years in Las Vegas, recounted how she had little interest in the double-murder trial even though her roommate was glued to the television coverage.
"She seemed to enjoy the glove, the car chase, Marcia's hairdo. All of that," she said, referring to Los Angeles County prosecutor Marcia Clark.
Another woman, who sells sunglasses at a mall kiosk, said Simpson should get no special treatment.
"He's just like everybody else," she said. "He puts his pants on one leg at a time."
Another potential juror, a legal secretary, described how a friend received a "harsh" prison sentence in a criminal case last year. Coincidentally, Glass was the sentencing judge, but the woman said that wouldn't influence her in this case.
"It's not like I have a vendetta. It's a different case," she said.
By day's end, nine potential jurors had passed voir dire, bringing the two-day total to 12. When that total reaches 40, prosecutors and defense lawyers will use their peremptory challenges, which allow them to remove potential jurors without giving a reason.
Prosecutors have 11 peremptory challenges, Simpson has six and Stewart has five, which will reduce the jury pool to the 12 jurors and six alternates needed for trial.
Fifty-three potential jurors will return to court today.
"Believe it or not, folks, we're making progress," Glass said.
Contact reporter Brian Haynes at bhaynes@reviewjournal.com or 702-383-0281.
View the slideshow O.J. TRIAL: DAY 2 • Three more potential jurors were excused, bringing the total to 20. • Nine potential jurors passed questioning by attorneys, bringing the total to 12. The total must reach 40 before the next phase of jury selection can begin.