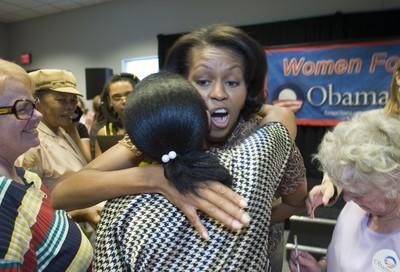 Sitting in a car on the Strip, with the glitz-covered facades of the giant casinos in the background, Michelle Obama said she saw Nevada as a place of natural beauty and down-to-earth people.
"I love the state," the wife of Sen. Barack Obama said Wednesday. "It's a place where you feel like you're connected to the land."
The Strip, she said, "is just one component of it, a very small part of a big state. A blip in the landscape of the state. I try not to think of the state as just Las Vegas."
She was in town to make her pitch that her husband should be president. The 43-year-old hospital executive brought the couple's two daughters, ages 6 and 8, with her to Las Vegas and said they were lounging by the pool at their hotel while she spoke to a group of about 100 Women for Obama at the Cambridge Community Center, near Maryland Parkway and Flamingo Road.
Michelle Obama was not the only wannabe First Spouse to visit Nevada in recent days. On Sunday, Jackie Dodd, the wife of Connecticut Sen. Chris Dodd, visited a retirement home and met with local Democrats.
Jackie Dodd, who belongs to the Church of Jesus Christ of Latter-day Saints, also attended a church service with state Sen. John Lee, D-North Las Vegas, the Dodd campaign said.
Michelle Obama said that behind all the hubbub of the campaign machine, her husband, the Illinois senator seeking the Democratic presidential nomination, "is really simple."
Over the course of a high-profile political campaign, "people try to dissect a guy who's really simple," she said. He puts his family first and loves basketball, she said.
"He's got like five suits and three ties, and people call him one of the best-dressed men — that's the crackup," she said. "He's like, 'What do you mean? I dress nice.'"
Her job was not to explain policy positions or sell stances on issues but to "introduce our family to the country," she told the women at the rally. "I believe what's going to make a difference in this race is your ability to feel connected. Can you trust us? Do you know who we are?"
She told the story of how she met her husband, when he came as a trainee to the law firm where she worked. "When I first met Barack Obama, I was a little skeptical," she said. "I made assumptions. I thought, this is probably just a black man who can talk straight, that's why they're excited."
But her opinion changed as she got to know him and found him sincere and compassionate, she said. "Barack has been consistent as a person who has lived his life by his principles, not some pursuit of power," she said. "That's why I am here. I know there's something special about this man's voice."
Michelle Obama said she understands women's problems in today's society. "We are struggling to keep our heads above water as women, as families," she said.
"The toilet overflows, who's the one who's got to rearrange their schedule to be there for the plumber? It's us," she said. "And to top it off, we have the added social pressure of being attractive, pleasant, caring, in shape."
Society, she said, has told women, "Dream big, but after that, you're on your own."
She urged the women in the audience to become politically involved and get their friends and family involved. "I'm not going to ask you just to vote for Barack Obama. I'm asking you to be engaged. That is the point," she said.
Audience member Irene Battle, a 64-year-old Baptist minister, said she found Michelle Obama refreshing. "Being a woman, she touched a lot of points about the problems we face," Battle said.
She said that as a black woman she was torn between Barack Obama and Hillary Clinton.
"If Obama was not running, I would vote for Hillary," she said. "I have nothing against her, but Hillary hasn't moved me the way that Obama has. I believe he's the one to bring the country together, with his wife working by his side."