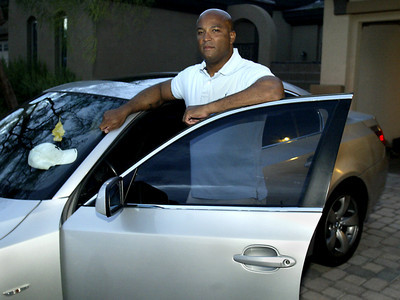 A Las Vegas police officer claims he felt "dirty" after two North Las Vegas police officers ordered him out of his car in March and handcuffed him for no reason.
The incident has prompted Augustus "Larry" Symonette and his wife, Michelle, to file a civil rights lawsuit against the city of North Las Vegas and its police department.
"People — whether they're white, black or green — don't expect to be unjustly stopped by police," said attorney Cal Potter III, who represents the couple.
The complaint, which was filed Wednesday in U.S. District Court, identifies the individual defendants only by their last names: officers Tonry and Stuckey, and Sgt. Middlebrook. Symonette is black, and all of the defendants are white.
"We believe the only reason they stopped him is because he's black," Potter said.
Officials with the city of North Las Vegas and North Las Vegas Police Department declined to comment on the allegations.
The incident began around 9 p.m. on March 28 when Symonette went to pick up his 18-year-old son, who was working at a tanning salon in northwest Las Vegas. The off-duty officer was sitting in his 2006 BMW sedan in a parking lot near Durango Drive and Farm Road while waiting for his son and saw that North Las Vegas police were conducting a traffic stop nearby.
According to the lawsuit, Symonette noticed two officers looking at his license plate before one of the officers, Tonry, approached him and asked, "What are you doing here?"
After Symonette answered, Tonry asked for his driver's license. According to the lawsuit, Symonette "asked why and what he was doing wrong."
During an exchange that lasted less than a minute, the complaint alleges, Tonry "refused to tell why he wanted identification and what plaintiff was doing wrong."
According to the document, Symonette gave his last name and identified himself as the "R.O." of the vehicle. "R.O." is police lingo for "registered owner."
Symonette also asked the officer, according to the lawsuit, "Weren't they a little far from their jurisdiction and why are they talking to him on private property when he hasn't done anything wrong?"
The lawsuit claims the North Las Vegas officers then ordered Symonette out of his car, and Stuckey pulled out his stun gun and pointed it at him.
At that point, according to the document, Symonette exited his car and identified himself as a police officer. The North Las Vegas officers proceeded to handcuff him in front of his son, the lawsuit alleges.
According to the complaint, Symonette was freed after about 15 minutes. He said one of the officers told him they thought he was driving a "lay-off car," or a car used by someone who keeps an eye out for police during a drug deal.
The lawsuit says Middlebrook arrived a few minutes later in an unmarked car and told Symonette to follow him behind a nearby grocery store. Tonry and Stuckey also followed.
Middlebrook "got up close" to Symonette and proceeded to talk to him in a threatening manner, according to the lawsuit. The Las Vegas officer then was allowed to leave.
"The defendant police officers had no warrant for the arrest of plaintiff, no probable cause for the arrest of the plaintiff and were outside of their jurisdictional boundaries and had no legal cause or excuse to seize the person of the plaintiff," the lawsuit alleges.
Symonette said a white woman driving a BMW pulled into the parking lot at the same time he did that night and sat in her car, but she was not stopped. Nor was the driver of a Dodge pickup who also pulled into the lot at the same time and parked illegally in a red zone.
Symonette, 40, has been employed by the Metropolitan Police Department for nearly 11 years. He started as a corrections officer and has worked as a patrol officer for 71/2 years. He said he has never been disciplined, although the March incident sparked an internal affairs investigation.
Symonette said an initial recommendation that he receive discipline ranging from a written reprimand to a 10-hour suspension was overturned. Instead, he said, he was counseled to avoid such situations in the future by immediately identifying himself as a police officer.
That doesn't make sense to him.
"I don't understand why I have to warn you that I'm a police officer so that I'll get treated with respect," Symonette said.
And, he said, department officials frown on police officers using their positions to receive special treatment.
"They say when you're off duty, you're supposed to act like a normal citizen," he said.
Symonette said he spent 10 years in the Army before joining the police department. He and his wife, a property manager, also have a 13-year-old son and an 8-year-old daughter.