On this day, poverty-stricken Fremont corner not forgotten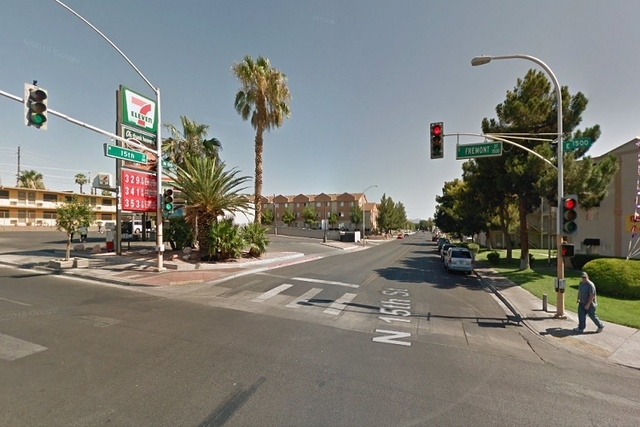 The trash-strewn lot at 15th and Fremont streets wasn't much of a picnic ground, but down here barbecues don't come along every day.
The aroma of grilled burgers and hot dogs filled the noon hour Thursday and brought residents out from hard-worn apartments misnamed "Suites" and "Gardens." Some approached the lot tentatively, others more confidently, and most were met by uniformed Metro officers and event volunteers who welcomed them to the neighborhood outreach.
The line began to form before the burgers started to sizzle. All ages, all colors assembled. Some pushed walkers, others strollers. A woman received help with her wheelchair. Another walked with the aid of a white cane. The cross-section of humanity was clear. The most common demographic: poverty.
And they kept coming. Before long, the line stretched outside the lot and ran 30 yards down Fremont Street. They mixed with cops they often see working these streets where crime is commonplace, the victimization of the poor mundane, and life reminds them daily there's no such thing as a free lunch.
Except on Thursday.
Metro Crime Prevention Specialist Denise Stride helped organize the event and made sure handbills circulated the area, where gang-related drug deals run like clockwork when the cops aren't on the scene. A recent stabbing a few blocks away on Sunrise Avenue, in fact, took place with police and a surveillance camera nearby.
Southern Nevada native Laura Roper calls it home. On Thursday she wore a blue T-shirt with "Las Vegas" on the front. Her friend in the black Patriots cap decline to give his name. Roper and her friend were among the early arrivals.
"I seen it on a light pole, that's the first time I heard about it," she said of the handbill. Bob Marley began to play from scratchy stereo speakers. "It's pretty good. They'd usually have something like this in the park when my kids were growing up. The fire department, all of them would come. And they would have a cookout for everyone."
She admitted it isn't often she sees Metro cops in a relaxed posture. When they arrive at 15th and Fremont, it's usually with lights flashing and sirens blaring.
She laughed a little and said, "There's crime, drugs, prostitution, robberies. But it's all right for me to live down here because I mind my own business, know what I mean? I see the crime and hear of the crime. I just stay to myself when it comes around. I was born and raised here, in Las Vegas. I know all the stories."
Roper, who described herself as an "assistant housekeeper," said she liked the idea of the cops coming around on a good day, instead of just on all the bad ones. Her friend in the Patriots cap did, too.
"I think it does some good," he said, noting the nonstop crime, drugs, burglaries and panhandling. "It's supposed to bring the community together, and that's good. Of course the gangs see it, too, and come for the free food."
Thanks to substantial investment and some creative development, the upper end of Fremont Street has changed dramatically in recent years. But there are still plenty of areas challenged by crime and poverty.
This is a work in progress, but then all communities are.
"Everything you see here that's a resource is donated from different groups in the community," Downtown Area Command Capt. Andrew Walsh said, pointing out the plentiful food and drink. The area, he said, was actually improving. "We had a violent incident that occurred right over here a week ago. So it's getting to the point where, when the violence does occur it's not an everyday thing anymore. When you compare it to 10 years ago, it wouldn't have shocked your conscience."
He knows the scary perception, and the tough reality. This isn't Summerlin. Then he studied the line.
"When you look at this line of people that live here, you have all different types of races, religions, ethnicities, gender, you have all that. This is the picture of our community right here, and this is a picture of who lives in and around 15th and Fremont. Does that lady in the wheelchair look like a gangster? Does that child in a stroller there look like one?"
But Walsh also knows the problems of the human condition aren't cured with hamburgers and hot dogs, or even a 24-hour police presence.
"You still have that element that comes in through here and is the cause of the violence," he said. "So how do I harden this area as a target for disorder and a target for violence? It starts with events like this, where people can come out and see us for who we are, see that we do something other than enforcement.
"We have to care about every one of these people. It can't just be a forgotten corner of the Earth because it's 15th and Fremont."
On Thursday, with the burgers on the grill and the March sun shining on the care-worn lot, there was something like hope floating on the breeze.
John L. Smith's column appears Sunday, Tuesday, Wednesday, Friday, and Saturday. Contact him at 702 383-0295, or jsmith@reviewjournal.com. On Twitter: @jlnevadasmith