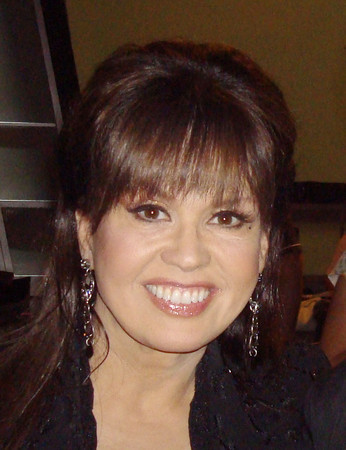 Will Sarah Palin be bowling for campaign dollars when she comes to Las Vegas in May?
You betcha.
The 2008 Republican vice presidential nominee will for sure get a nice paycheck for keynote speech at the Bowling Proprietors' Association of America's International Bowl Expo 2010 at the Las Vegas Hilton.
She'll be targeting a crowd that likely wasn't impressed with President Barack Obama's bowling skills during the 2008 presidential campaign.
While campaigning for the middle America vote in Pennsylvania he didn't break 100, although he's reportedly been practicing with his daughters on the White House bowling facility.
"Sarah Palin is a great friend to the bowling industry," according to Steven Johnson, executive director of the BPAA. "Regardless of your political affiliation, Ms. Palin is a force in American politics and culture."
THE SCENE AND HEARD
Happy 52nd birthday, Donny Osmond, but little sis Marie will be stealing the show. She taped Ellen DeGeneres' talk show on Tuesday and it will air today (3 p.m., KLAS-TV, Channel 8). Before flying back to Las Vegas, she posted this tweet on her Twitter site: "Supposed to be on stage in an hour. Hope Donny can dance his way through this if I don't get there."…
Col. Dave Belote, the 99th Air Base Wing commander at Nellis Air Force Base, is on a roll on "Jeopardy." His five-day run has earned him $134,801 in winnings so far. He goes for more tonight on KVBC-TV, Channel 3, 6:30 p.m. …
Look for a helicopter and a 60-vehicle caravan of Christmas cheer about 2:45 p.m. today at the 11th annual toy drive by Chet Buchanan and the Morning Zoo (KLUC-FM, 98.5) at NV Energy (formerly Nevada Power), 6226 W. Sahara. I hear XS/Tryst nightclubs will be donating close to $70,000 worth of toys, gifts, etc., more than doubling their $32,000 donation last year. …
Jay Leno is on the air at 9 a.m. with tickets for his upcoming show in Las Vegas. To promote the drive, Buchanan is living in a tent on a 30-foot scaffolding until Monday morning. …
Late Monday I posted a blurb on my Twitter site (norm_clarke) saying Beyonce was doing a long-term deal with Wynn Las Vegas worth $3 million a week, which pencils out to $750,000 a night for four nights. Wynn's PR issued statement Tuesday saying an agreement has not been "established" but added there are "preliminary discussions to explore this opportunity."
Deal of the Day: Boxing legend "Sugar" Ray Leonard, who had two stirring fights with Thomas Hearns at Caesars Palace in the 1980s, will be hosting the 11-bout Fight Club 3 charity event tonight at The Joint inside the Hard Rock Hotel. Local nightlife and casino personalities square off with gloves in support of Smile Train, the cleft charity and Barry's Boxing, a nonprofit organization in affiliation and coordination with USA Boxing. Tickets: $20 in advance, $25 at the door.
SIGHTINGS
Holly Madison and Josh Strickland of "Peepshow," doing a 944 magazine photo shoot Monday at Capo's on Sahara. … Drew Carey, treating 32 members of his production team from "The Price is Right" to the 9:30 p.m. performance of "KA" (MGM Grand) on Saturday night.
THE PUNCH LINE
"Release list of women he did not have sex with." — From David Letterman's Top Ten Ways Tiger Woods Can Improve His Image
Norm Clarke can be reached at (702) 383-0244 or norm@reviewjournal.com. Find additional sightings and more online at www.normclarke.com.