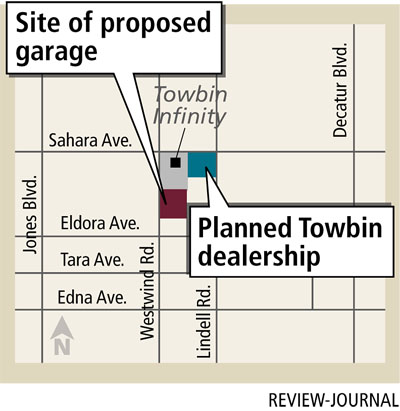 During a contentious public debate about whether a parking garage for high-end cars should be built in a west valley neighborhood, some residents claimed the project was secretly linked to an area car dealer with whom they'd feuded for years.
Homeowners have fought to preserve the last semi-rural vestiges of this neighborhood two blocks south of Sahara Avenue's bustling business corridor.
Their houses stand on lots as large as an acre, not far from where Dan Towbin's car dealerships line Sahara Avenue.
Two weeks ago, Mike Iannuccilli, who paints luxury cars, received the go-ahead from the Clark County Commission to pursue plans for a two-level garage, half-underground, half above ground on 1.6 acres. It would cater to clientele whose cars are pricier than many people's homes.
During the public hearings, neighbors voiced suspicions of Iannuccilli and Towbin collaborating. After the project was approved, several residents explained that their suspicions were based partly on a new dealership that Towbin aims to build on the same block as Iannuccilli's garage.
Back in September, the commission approved Towbin's 47,000-square-foot dealership for the corner of Sahara and Lindell Road. Like Iannuccilli's garage, this dealership will have underground parking.
Now, four months later, Iannuccilli is presenting plans for a parking garage, said Nancy Carver, a longtime resident and avid opponent of the garage.
Carver noted that a decade ago, Towbin sought to build a parking structure on the same spot where Iannuccilli's garage will go, but the commission turned him down.
"It makes me wonder a lot," Carver said. "I just think it's too coincidental."
Perhaps Towbin will buy the garage when it's finished or lease space there to store his cars, Carver said.
Towbin didn't return the Review-Journal's calls seeking comment.
Jay Brown, an attorney representing Iannuccilli, said there is no connection between the two men, despite appearances.
"Mike Iannuccilli is not making a deal with Towbin," Brown said. "That would never happen."
Brown said he's avoiding the word "coincidence" because he doesn't know enough about Towbin's plans to make even that much of a comparison.
Iannuccilli won't lease space to Towbin, partly because he doesn't want to anger residents and also because Towbin couldn't afford the rates, Brown said.
But Don Tingey, an attorney and resident, contends that too many things point to Towbin.
Towbin would need someone to front for him because he is at odds with neighbors and some commissioners, Tingey said.
Residents are irked that Towbin's employees park on side streets, even though no-parking signs have been posted, Tingey said. The parked cars create hassles and hazards for neighbors, he added.
Towbin proposed a parking garage in the late 1990s to help solve the parking problem, but residents feared he was trying to expand his dealership into the neighborhood, Tingey said.
Commissioners sided with neighbors.
At a January forum, several residents said Iannuccilli's initial request to rezone the land from residential to commercial seemed fishy. The plan called for car sales, maintenance and services typical of dealerships, making it seem tailor-made for Towbin, they said.
Brown said it was not a conspiracy, just a miscue.
He and his client thought this type of zoning was necessary for the garage, when in fact the land simply needed to be zoned for office use, Brown said. "That was unfortunate."
County Commissioners Chip Maxfield and Susan Brager, whose districts both fall into the neighborhood, voted in favor of the garage.
Maxfield said the office zoning will prevent Towbin from buying it and turning it into a dealership.
All four commissioners who backed the project argued that the garage was the best option, given that no one would build houses behind a car dealership.
Tingey disagreed.
Several years ago, a developer put a cluster of homes behind one of Towbin's lots near Edmond Street, and erected a 10- to 12-foot wall as a visual shield, Tingey said.
A parking garage could turn into who knows what, he said, especially if Towbin gets his hands on it.
But Brown insisted the building will be tastefully done, and Towbin won't be involved.
"You'll love the end of the movie," Brown said. "If people want to speculate that he (Iannuccilli) is not the real deal, I can't stop them."
Contact reporter Scott Wyland at swyland@reviewjournal.com or (702) 455-4519.