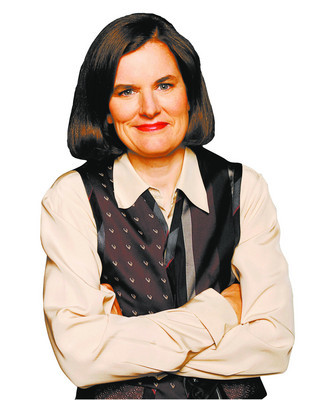 And now just for you, Review-Journal readers, Paula Poundstone gives you deep thoughts — before she performs stand-up tonight at Boulder Station ($26.50-$43; 547-5300).
• At his inauguration, President Barack Obama said we should do more public service. Everybody applauded. Then they left the Lincoln Memorial covered in litter:
"I just love that. People are called to service, and they leave their trash."
• She worries Americans aren't ready to embrace the work ethic of public service. She used to wait tables at an IHOP in Orlando, Fla., where fellow employees dumped on her for making the restaurant "the cleanest it had ever been."
"Another waitress there tried to beat me up. Yeah, I was coming out of the ladies room, and she jacked me up with my uniform, and she said, 'Have you been rinsing off the syrups?' And I said, 'Yes,' because I thought it was a good thing. And she said if I rinse off the syrups, they're gonna make EVERYONE rinse off the syrups.
"To this day, when I go to IHOP, I rinse the syrups off."
• TV reporters' freedom of speech is sacrosanct, but:
"I'm willing to put that aside in order to make an absolute law that they cannot continue to cover an event after it's over," she says. After Obama's inauguration, "NBC went on for another two hours, I think. They were interviewing stragglers!
"One guy said, 'I thought it was a great speech.' They said, 'What do you think is great about it?' He said, 'I'm not so good at remembering the speech.' … Oh Jesus!"
LEANN RIMES
Country singer LeAnn Rimes has notched two recent hits on the electronic dance charts. If you see her in a Vegas club this weekend — she's in the area to sing Saturday in Primm — you might want to request a DJ to spin her club hits because she won't.
"I think that would be really tacky," she says.
Rimes talks about her reputation and career, in my column in the back of today's Neon section.
OTHER BIGS
• Mötley Crüe closes The Joint at the Hard Rock tonight and Saturday ($100). DJ Jazzy Jeff spins at Rain in the Palms at 11 p.m. Friday. The first Japanese Playboy Playmate, Hiromi Oshima, kicks off a birthday party at 10 p.m. Saturday at the Playboy Club. Merle Haggard sings tonight at Aliante ($44-$77). Cast members from Cirque du Soleil show their artworks during the free First Friday downtown, at Rever Gallery at the Arts Factory. If you watch Grammys coverage on TV Guide Channel on Sunday, that'll be Las Vegas group Mosaic — which is doing its first headlining show Feb. 21 at the Hilton — performing Joey Fatone's accompaniment. Heart plays the Hilton tonight and Saturday ($80.91-$113.91). Charo is at South Point tonight and Saturday ($45-$55). Ray Romano and Brad Garrett do The Mirage tonight and Saturday ($113.90-$135.90).
• Read my blog for more on Poundstone, to make Valentine's Day plans and to get tips on taking nude photos (really).
What do you think about all this? Write your thoughts on my blog (reviewjournal.com/elfman) or e-mail me (delfman@reviewjournal.com), and I'll post them. My column runs Sundays, Mondays, Tuesdays and Fridays. See you then.