Pedestrian safety concerns spur rally
November 4, 2013 - 7:15 pm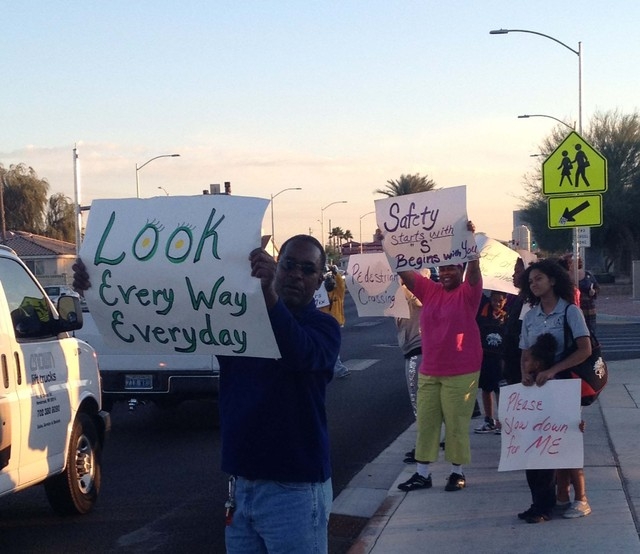 At the busy intersection of Martin Luther King Boulevard and Balzar Avenue, many drivers fly by without a wink of caution as pedestrians cross the street.
Juge Brooks, 60, was the second pedestrian since mid-September to be killed near the intersection when he was struck by a driver that failed to stop about 7 p.m. on Friday.
To show their dismay at the intersection's safety issues and to pay tribute to the man they called "J.B.," 100 people rallied on Monday to raise driver awareness about pedestrians crossing the street. A 78-year-old woman in a motorized wheelchair was fatally struck while using a crosswalk on Balzar Avenue on Sept. 19.
The demonstrators were upset with Las Vegas City Council for a perceived lack of action in making the intersection safer.
"How many lives are lost before you step in and do something?" asked demonstrator Beverly Walton. "We know it costs money but it shouldn't be about money when it comes to lives. What are we electing them for?"
Demonstrators gathered near Booker Elementary School about 3:30 p.m. Monday, one of the busiest times of the day as drivers speed home after work.
"We've lost two lives in a month. Something needs to be done," said the Reverend S.S. Rogers. "I would like some statement concerning the safety of our city. We'd like them to step up to the plate."
City Councilman Ricki Barlow said he's already had discussions with concerned citizens about the intersection. Barlow, who knew "J.B." for many years, said he plans on meeting with his staff in order to make the intersection safer.
"We have to find the problem in order to find the solution," he said.
Barlow said the city would have to either install a full push-button flashing pedestrian crosswalk, or a fully-engaged traffic signal in order for it to be effective, something that would take several months to accomplish.
"People here are already starving for food and jobs," said demonstrator Henry Thorns. "Now we can't even cross the street."
Contact reporter Steven Slivka at sslivka@reviewjournal.com. Follow @StevenSlivka on Twitter.