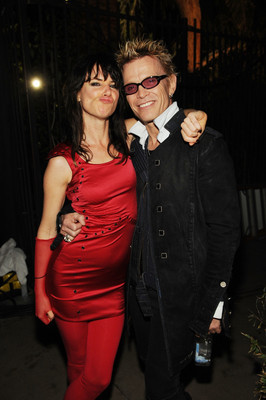 Penn & Teller are agents for charity this week. On Wednesday morning, the Rio headliners will donate suits to Goodwill in a publicity push to help needy job seekers.
Rio employees have been dropping suits into donation boxes on the property. The comedy duo will hand them over to Goodwill, along with their own fancy duds.
"We know about suits. We've been wearing them for 35 years, side by side," Penn Jillette says. "Andy Warhol used to say about the homeless: What they really needed was just a place to get cleaned up and get their hair done. That's a pretty important point for people who are trying to get a career started."
The full charity program isn't just for the homeless. Anyone can go to the Rio Pavilion from 10 a.m. to 4 p.m. Thursday for a job resource fair. This isn't a job fair, so no specific jobs are on the table.
Instead, businesses and organizations will present seminars and workshops on how to build a resume, how to dress and interview, and how to manage finances.
Women can get free mammograms — for real.
On Sunday, Penn & Teller are the grand marshals of AFAN's AIDS Walk. Sign-in is at 8 a.m. and the opening ceremony at 9 a.m. at the World Market Center. Jillette and Raymond Teller will match donations of people who sign up for their donation team.
Last year, the duo dished out $50,000 in matching funds. So what happens if someone donates $2 million to the Penn & Teller team?
"If somebody came and gave $2 million, we'd say, 'Listen (David) Copperfield, cut it out, you're just doing this to bring us to our knees.'"
For the Rio resource fair, just show up. For the AIDS Walk, check out Afanlv.org.
VEGASPALOOZA
There was a moment during Perry Farrell's 50th birthday party Saturday at Mirage's Bare pool when Billy Idol sang "Eyes Without a Face," accompanied by guitarist Tom Morello, with backup singing from Juliette Lewis and Dave Navarro, while Farrell danced with his wife, Etty Farrell, and Rosanna Arquette.
You can read the recap on the blog I wrote at 6 a.m. Sunday. But here are the top quotes from the stage:
• "What is that douche bag Mark McGrath doing on stage?" — McGrath himself said this in his self-deprecating style
• "I want to get hiiiiigh." — Sen Dog from Cypress Hill
• "Hey man, give us the 'Rebel Yell,' Billy." — Perry Farrell to old friend Idol
• "I don't really give a (crap) about this (song, 'Eyes Without a Face'). He (Farrell) wanted me to do it." — Idol
• "Tom Morello … It might as well be my birthday party, if he's going to play." — Idol
HIS PREROGATIVE
Bobby Brown, of Whitney Houston fame, performed "My Prerogative" at the Luxor on Saturday night, during the taping of the finale of Bill Bellamy's "Who's Got Jokes?," the comic competition show.
Backstage, I asked Brown (the historic, uh, party animal) what he was going to do for fun. He said he was headed to the afterparty at LAX.
"I'm expecting it to be wild," he said.
Next question: "What's the wildest time you've ever had in Vegas?"
"Ah, man," Brown said with a smile. "You don't want to know that."
Oh yes, yes I do, I said.
"I don't want to tell you," he said, grinning. "I've had some pretty wild times in Vegas."
With that, he left, performed the song and strolled to LAX. He showed up with a crew but left early-ish. Insiders said he was keeping things quiet, because he was accompanied by his pregnant fiancee.
FACEBOOK IN OUR TIME
Notes from friends on Facebook:
S writes: "I saw Carrot Top at Whole Foods Saturday. He was with an older woman, kind of mother age, and a younger woman. They were discussing the coffee."
M writes of Easter skywriting proclaiming "Jesus (hearts)": "What does Jesus heart? No idea, that's all it said. Either Jesus just hearts, or whoever paid the skywriter ran out of money. Does Jesus (heart) you? Jesus (hearts) the Easter Bunny? Jesus (hearts) Peeps? Cadbury Eggs? What? WHAT?"
Who/What did you just do, see, smell, taste, touch or overhear in Vegas? Tell me for publication at delfman@reviewjournal.com or reviewjournal.com/elfman.